Getting a blue ribbon from All Things Thrifty is meant to be a prestigious award. I don't just shell these awards out to just "anyone," ya know!?! The project has to "WOW" me, and although I am impressed EVERY single DAY out there in blogland, a blue ribbon is a bit beyond being impressed. It makes me FLAB-ER-GASTED of the creativity gone into the project. The project goes into my "inspiration" folder for the future, and I think about the project all day because I loved it so much. It makes me a tiny. bit. jealous. It makes me want to meet the project's owner.
If you have seen a project out there that has blown you away and that fits this criteria:
1: Ultra Unique
2. Demonstrates Originality
3. Crazily Creative
4. Thrifty
5. and you LOVE it!
It qualifies for a blue ribbon from All Things Thrifty.
This project qualifies for a blue ribbon award. In fact, when my husband got home from work yesterday, I just HAD to show him this project! This project was completed over at Perfectly Imperfect.
She made doors into an amazing daybed! I am in love with the end result! Check out her post here.
I'll tease you with a few pictures.
Are you dying…….like I was!?!?
I was "WOW"d to say the least.
Go check her out over at Perfectly Imperfect.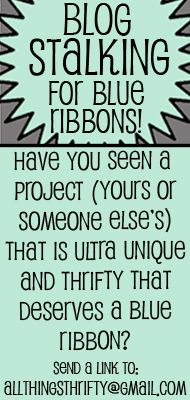 Have you earned a blue ribbon, click here to get your award button!