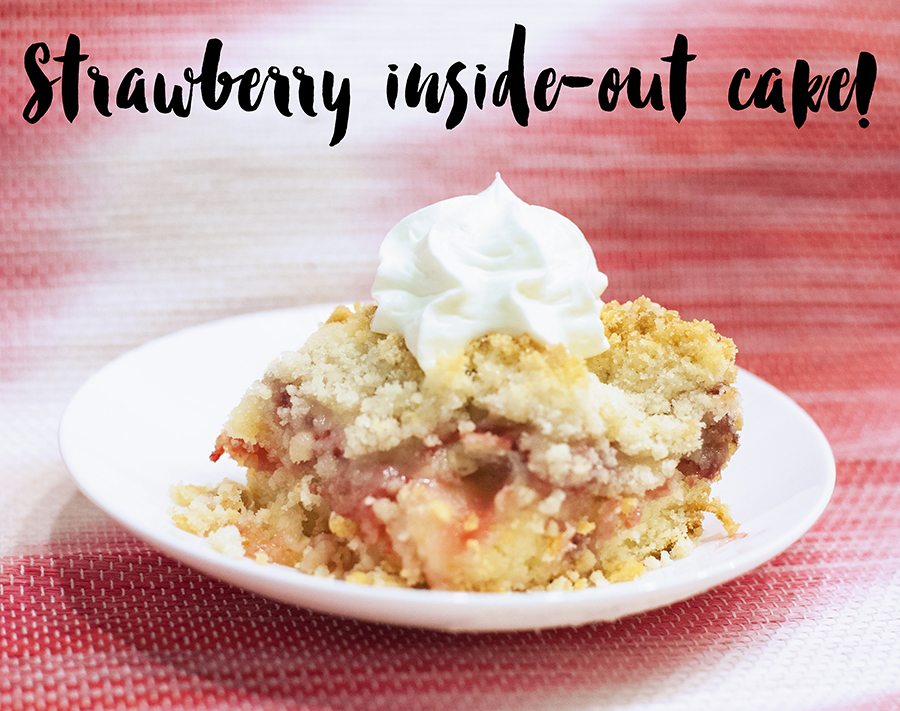 **Disclaimer: this dessert is good. Crazy delicious good. You will want to eat the whole thing. With a fork. Right out of the pan. It is that good. ** Ha!
So one of my besties is an amazing cook and she recently shared this recipe with me. Ever since then, I've been dying to share it with you. It's super easy and like I said, delicious! And even made from scratch!!! Here we go…
Inside Out Strawberry Shortcake
Ingredients
Cake:
1 cup flour
1/2 cup sugar
2 tsp baking powder
1/2 tsp salt
1/2 cup milk
1 egg
2 tblsp melted butter
Topper: (I usually double this!)
1/2 cup flour
1/2 cup sugar
1/4 cup softened butter, not melted
Instructions
Beat the cake ingredients together for two minutes. Put into greased 8×8 pan. Set aside.
Cut up your fresh strawberries. (I have only ever used fresh, so as far as any other kind go, that is up to you.) There really isn't a measurement here. I just put them on until there is a nice good layer on top of the cake batter.
Put your "topper" ingredients into another bowl and using a butter knife or pastry blender, "cut" them together until you get a good crumbly mixture.
Sprinkle your topper on top of the strawberries which should be on the cake batter.
Bake this for 35 minutes at 375.
When cooled, serve with a dollop of your most favorite whipped cream.
http://www.allthingsthrifty.com/2013/09/inside-out-strawberry-shortcake.html
As strawberry season comes to a close, I suggest you make this as many times as possible. It's that good!
Enjoy!
xoxo, Brooke