My kids LOVE this brown rice recipe. But, before I give details, you have to know that it is actually NOT brown rice. It is white rice, but since it is brown when you make it, my kids call it brown rice. It is definitely delicious, I can attest to that.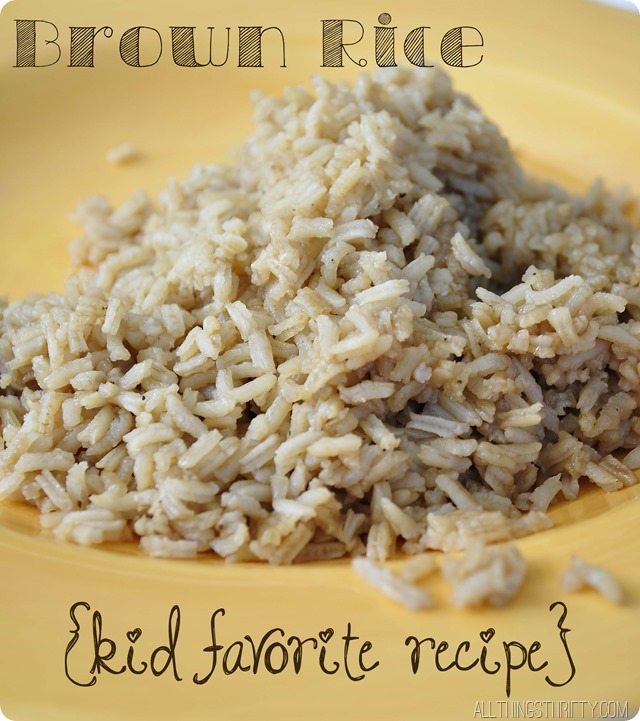 Ingredients needed:
1 1/2 c. White Rice
2 cans Beef Consommé
1 can Hot Water
1 Tbsp. Butter
1 Tbsp. Minced Onion
Black pepper to taste
Add all ingredients into a pan with a lid. I use my glass CorningWare and it works great. Place it onto your stove and cook and stir on high until it boils rapidly. After it is boiling stir it well one more time and put on the lid. Turn the heat down to low and cook for 20-25 minutes. You can also put it in the oven and cook it on 325 degrees for 40-45 minutes.
My kids absolutely love this stuff. It's a great side dish with sooo many dinners. We use it a lot when we are grilling outside. So, if you are grilling chicken, pork, or fish this recipe is PERFECT!
Remember that all Recipes shared on All Things Delicious share the "stamp of approval."
STAMP OF APPROVAL DEFINITION: I never share a recipe that is not tried and tested and approved personally by me.
xoxo,
Brooke