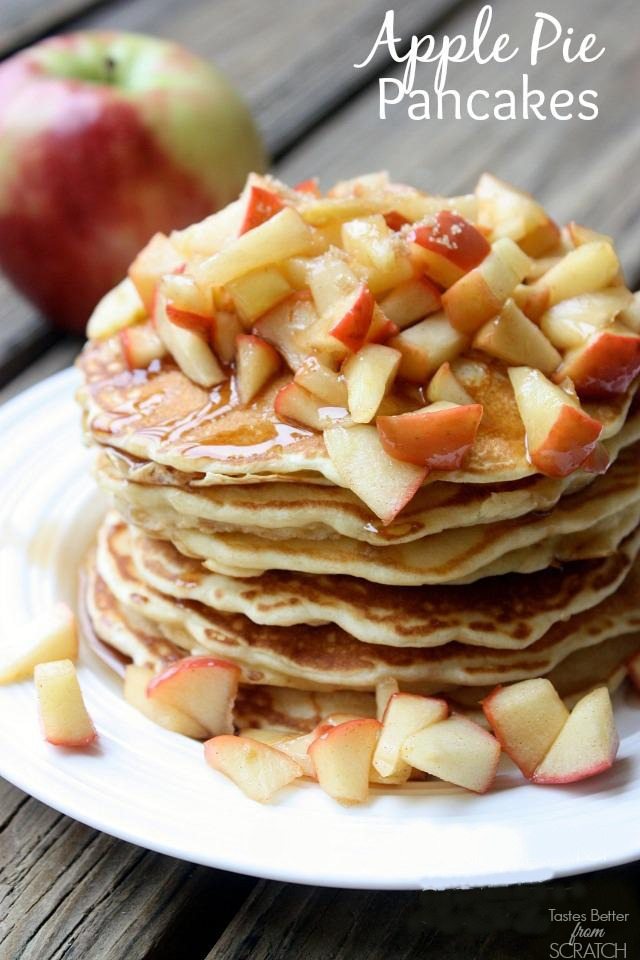 Hi everyone, this is Lauren visiting again from Tastes Better From Scratch, and I'm SOO excited to share one of my all time favorite pancake recipes with you all! 
I know we're still in the heat of summer, but I've got to admit that I'm itching for Fall to begin–my favorite time of the year!  Doesn't everyone just love the fall though? The leaves changing color, the cooler weather, and everything Halloween and thanksgiving related? I love being able to wear my jeans and a light jacket. I love not having to turn my AC or heater on. And, I love that I finally have an excuse to make comfort foods! I've gotta tell you, these Apple Pie Pancakes are some of my FAVORITES! They have the perfect blend of spices and there's even freshly grated apple in them–they taste like Fall! If I'm honest I'll admit that I hardly ever even make them with the diced apple topping. They're definitely delicious with that addition, but if your in a hurry and just want the pancakes, these taste just as fantastic with plain old maple syrup!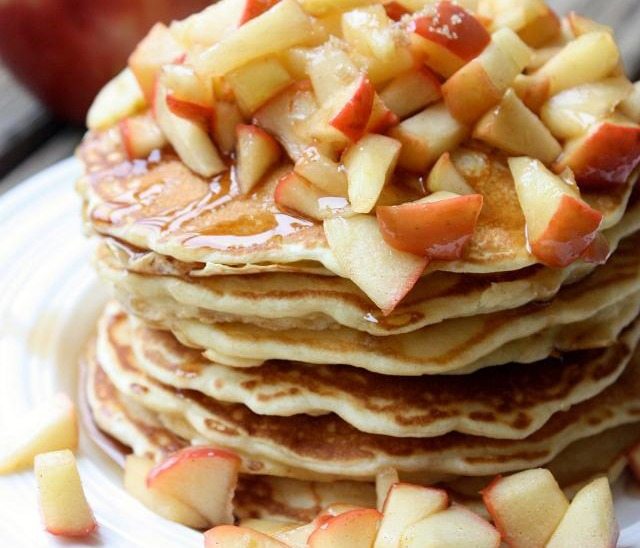 I'm currently visiting family in Park City, Utah, and since I was debating what to share on All Things Thrifty this month I asked for some of their opinions. No sooner did the suggestion "Apple Pie Pancakes" come out of my mouth than everyone unanimously answered "YES!"  Even just talking about how good they are made everyone crave some, so of course I ended up making them the next morning 🙂  They are seriously delicious!  I hope you all love them as much as my family does!
Apple Pie Pancakes, from Tastes Better From Scratch
Ingredients:
1 cup all-purpose flour
2 Tbsp light brown sugar, packed
1 tsp baking powder
1 1/2 tsp ground cinnamon
1/4 tsp ground nutmeg
1/2 tsp ground clove
1/8 tsp salt
1 cup whole milk
1 large egg
1 Tbsp butter, melted and cooled slightly
1 tsp vanilla extract
1 cup grated apple (about 1 medium apple, peeled and grated)
For the diced apple topping (*Optional):
1 apple diced
1 1/2 tsp Brown sugar
1 1/2 tsp sugar
1 Tbsp butter
Cinnamon, to taste
Instructions:
In a medium bowl, whisk together the flour, brown sugar, baking powder, cinnamon, nutmeg, clove and salt.
In a separate small bowl combine the milk, egg, butter and vanilla and beat to combine.
Preheat your skillet over medium heat and grease lightly with butter or cooking spray.
Add the wet ingredients to the dry ingredients and mix just until combined–don't over mix, the batter should have some small lumps. Gently fold in the grated apple.
Spoon about 1/4 cup of batter for each pancake. Cook until small bubbles form on the surface of the pancakes (2-3 minutes), and then flip and cook on the opposite side until golden brown.
For the topping, combine diced applies, brown sugar, sugar, butter and cinnamon in a small saucepan. Cook over medium heat until apples are slightly softened (about 5-8 minutes).
Serve pancakes immediately with diced apple topping and your favorite syrup.
*Note – The pancakes are just as yummy without the apple topping
***
I hope you'll stop by Tastes Better From Scratch, or follow me on Pinterest, Facebook, Twitter, Instagram, or Google+ for some more delicious Fall recipes, like:
Pumpkin Pancakes with Cinnamon Syrup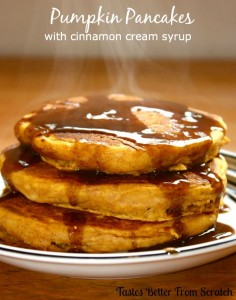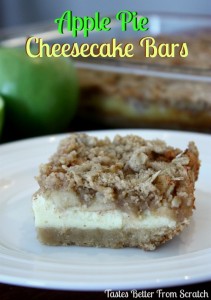 The BEST EVER Pumpkin Chocolate Chip Cookies