Hi, we're Marg and Liz the Fancy Farmgirls!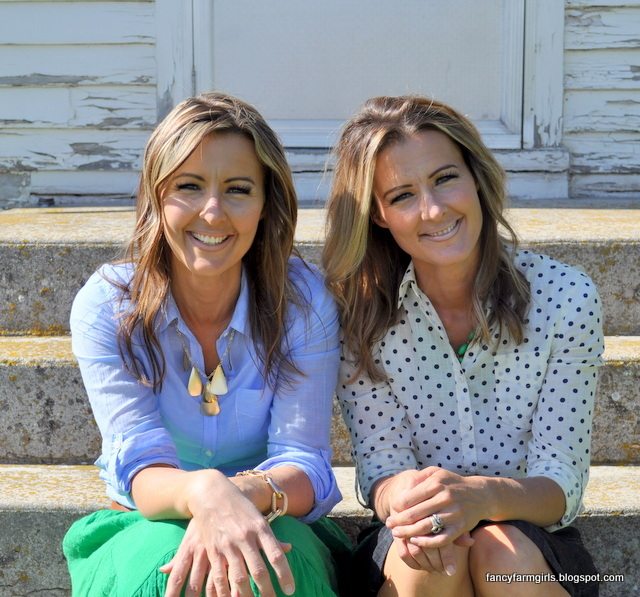 We like to transform things through the power of paint.
You'll usually find us collecting (hoarding) and redoing furniture.
But today we want to show you this dramatic makeover of Liz's entryway,
done mostly through freshening it up with……….
paint!
This is a small simple space but with some simple DIY board and batten and some paint
it made for a pretty dramatic makeover.
This was our childhood home. This is the entry that we raced out to chase down the bus.
This is the entry where our Dad would wait for us if we were past curfew.
this is the entry where Liz dropped to her knees as an overly dramatic, panic stricken sixteen year old and
PLEADED with our Dad to PLEASE not go have a "talk" with her equally panic stricken date who had kept her out past curfew.
Dramatic? No?
Trust me, it was DRAMATIC!
(Excuse the horrid Before pictures. It's all I could find to work with)
This entryway is small .
This house has no mudroom so I wanted something that looked pretty and functional.
A place to hang coats, bags, keys.
I found several board and batten tutorials online. I measured out where I wanted each piece
and had all the wood precut at Lowes.
No power tools? No problem!
Once the measuring was done, it really was a cinch to put up.
Some glue and finishing nails, and we were ready to paint!
The total for the board and batten treatment came to $125.
That includes all the lumber, paint, nails, adhesive, and hooks
And then it sat
and sat
for two years in this state.
Good starter?
Yep!
Good finisher?
Not so much.
I had since gotten away from all the gold and red tones that dominated my home for the last decade
(long live the 90's!)
and repainted most of the house in some cooler lighter tones.
But the entry continued to stay stuck.
Giving all who entered, the first impression that….
I rocked the 90's!
I don't know why I didn't do it sooner!
I'm loving the new colors.
Wall color: Benjamin Moore Gray Owl
This area of the house is so dark, I was hesitant to paint the door black.
I'm loving the contrast though.
I've decided you can never go wrong with a black door.
Before After
Now if y'all excuse me while I finish painting the rest of this hallway
and question some longtime friendships on what excuse they have for not giving me a heads up on the
bad state of my entryway.
(You know who you are!) 🙂
What simple paint fix are you still living with?
For some more fun Before and Afters
head over to www.fancyfarmgirls.blogspot.com
Check out Liz's farmhouse kitchen makeover here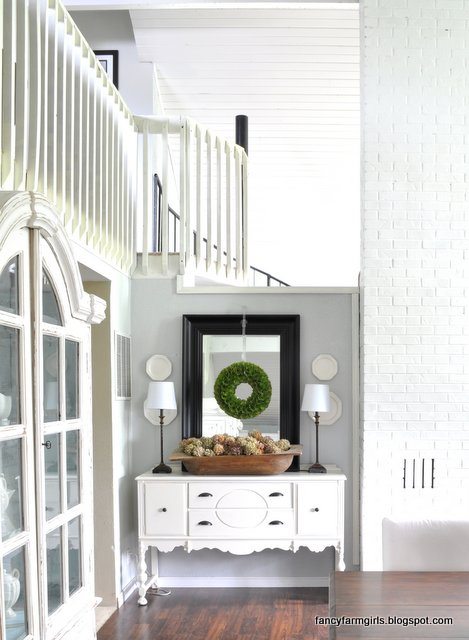 Or this Darling girls bedroom makeover all done with paint and second hand furniture here!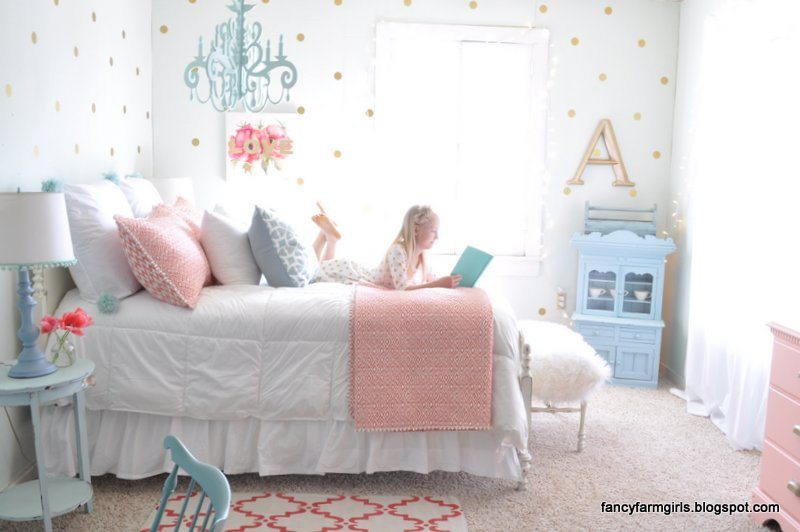 Follow us on Facebook
or
Instagram: FancyFarmgirls
And…..
If you want to shop some Before and Afters,
We're having our Summer Barn Sale!
We host it in Boise Idaho each year!
Go to our blog for all the details!