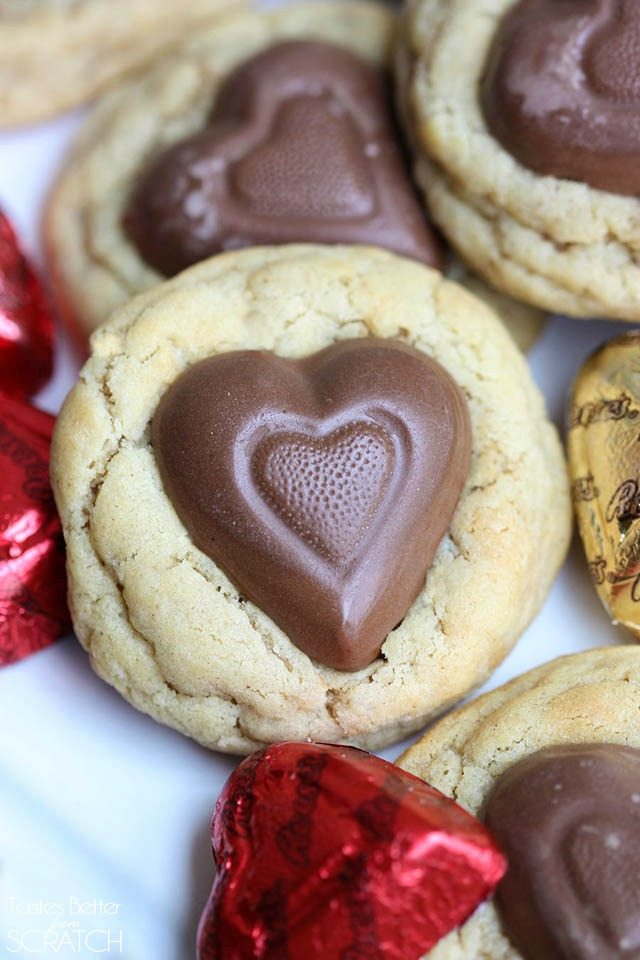 Hey guys, it's Lauren visiting again from Tastes Better From Scratch. If you haven't already noticed from my past posts (like these Chocolate Frosted Brownies or Oreo Cupcakes) I kinda like my sweets. And cookies are at the top of the list because you get so much from the deal. I mean, you make the dough and get to sneak some of that as you roll the cookies. Then you get to eat them after they're baked too! Double bonus. Add some Reese's peanut butter hearts on top and you've made it to cookie heaven!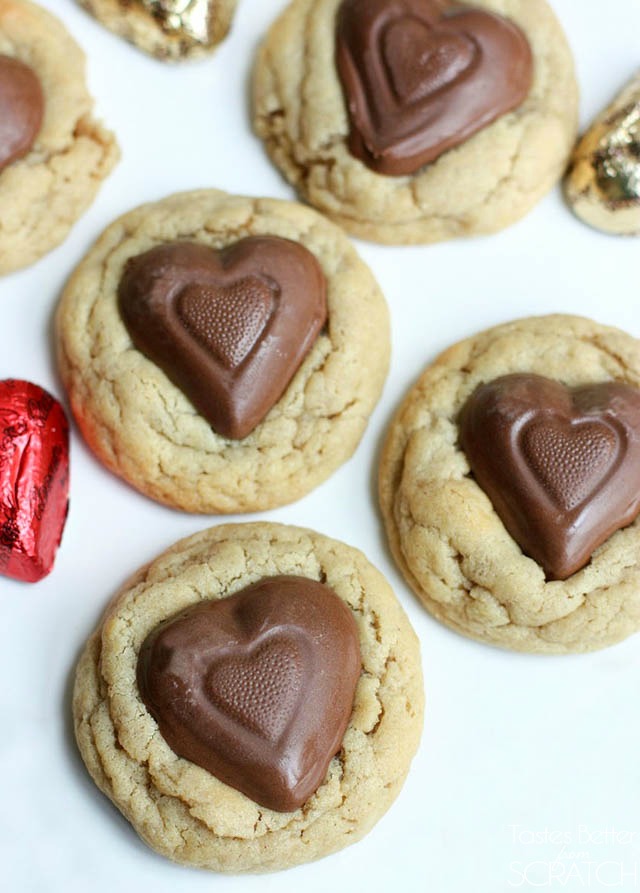 These peanut butter cookies are the BEST. They're soft-baked, chewy and completely delicious. Plus they're cute and festive for Valentine's day.
Reese's Peanut Butter Heart Cookies
Ingredients
1/4 cup butter
1/4 cup shortening (Crisco)
1/2 cup creamy peanut butter
1/2 cup granulated sugar
1/2 cup packed light brown sugar
1/2 tsp vanilla
2 medium eggs
1 1/2 cup all-purpose flour
1 tsp baking soda
1/4 tsp salt
Additional white sugar for rolling
1 (12 oz) package Reese's Peanut Butter Hearts
Instructions
Preheat oven to 375 degrees F.
In a mixing bowl cream together butter, shortening, peanut butter, white sugar and brown sugar until light and fluffy, 1-2 minutes. Add and eggs, mixing after each addition. Mix in the vanilla.
In a separate bowl whisk together flour, baking soda, and salt. Stir dry ingredients into the wet ingredients and mix gently to combine. (Don't overmix!--The dough will be very soft).
Pour a little bit of granulated sugar into a bowl. Roll dough into 1/2 inch size balls and then roll in sugar. Place on an ungreased cookie sheet and bake for 6-8 minutes, until set, but not browned. You really don't want to over-bake them or they will be hard. Remove from oven and allow to on baking sheet for 2-3 minutes, and then transfer to cooling rack. Add an unwrapped Reese's heart to the center of each cookie.
http://www.allthingsthrifty.com/2016/02/reeses-peanut-butter-heart-cookies.html
Follow Tastes Better From Scratch on Facebook, Pinterest or Instagram for my yummy recipes like: