Sharing our pumpkins with our community and friends has always been a fun event. We especially love the kids' smiling faces when they see their favorite character carved into a pumpkin.
THANK YOU SO MUCH FOR YOUR SUPPORT, LOVE, AND ENTHUSIASM for the Ulrich Family Pumpkins!
We have learned so much over our journey. We know how to prolong the life of a carved pumpkin, and it's crazy to see the shriveled-up pumpkins come back to life after our trick! We know which carving tools are essential and make carving pumpkins a MILLION times easier. Plus, we know which pumpkin carving pattern websites are the best too. We even moved into pumpkin shading, which is a lot of fun!
We have enjoyed our pumpkin carving tradition, and if you have missed our pumpkins from years past, check them out from 2014, 2013, 2012, 2011, and 2010.
After 11 years of excitement, we have noticed that our time is getting spread pretty thin, and our kids activities are getting more time consuming. Because of this, we have officially decided that 2016 will be our last year.
You may have noticed that we never even posted our pumpkins from 2015! Last year we couldn't deny that we were burnt out by the time we were done carving. The week before Halloween is full of dancing at Thriller, football play-offs, soccer games…etc. Our lives were so busy last year that I didn't have the motivation or drive to post our pumpkin pictures. SAD, right!?!
We are going out with a bang, So if you are local, we would love any help you can give to spread the word that this is our last year. If you have friends and family that want to come, please tell them to come enjoy the pumpkins! We want as many people to see them as possible.
All good things have an end. We aren't sure what next year will bring, and I'm sure we will still carve pumpkins, but we aren't planning to carve 100 like the past 11 years. Who knows, maybe we will carve 15 amazing ones.
I promise I will post pictures of the pumpkins this year, but before I can do that, how about I show you the pumpkins from LAST year first!!!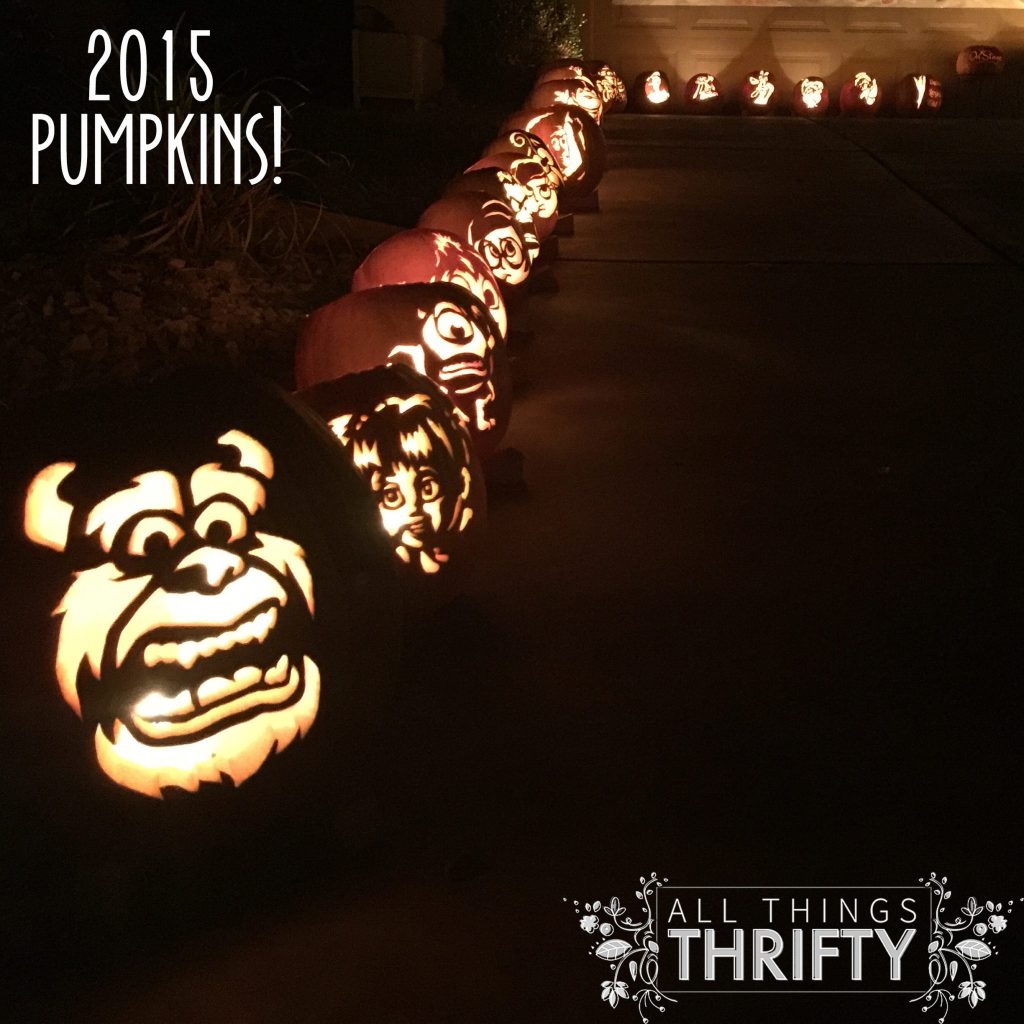 I love that our kids play such a huge roll in choosing what we carve. They loved "Inside Out" last year, so we carved a lot of the characters from that movie. Our older kids had a Star Wars marathon, so we carved a lot of Star Wars dudes too. Creed's favorite TV show was Paw Patrol, so naturally we added a few pups to the line up.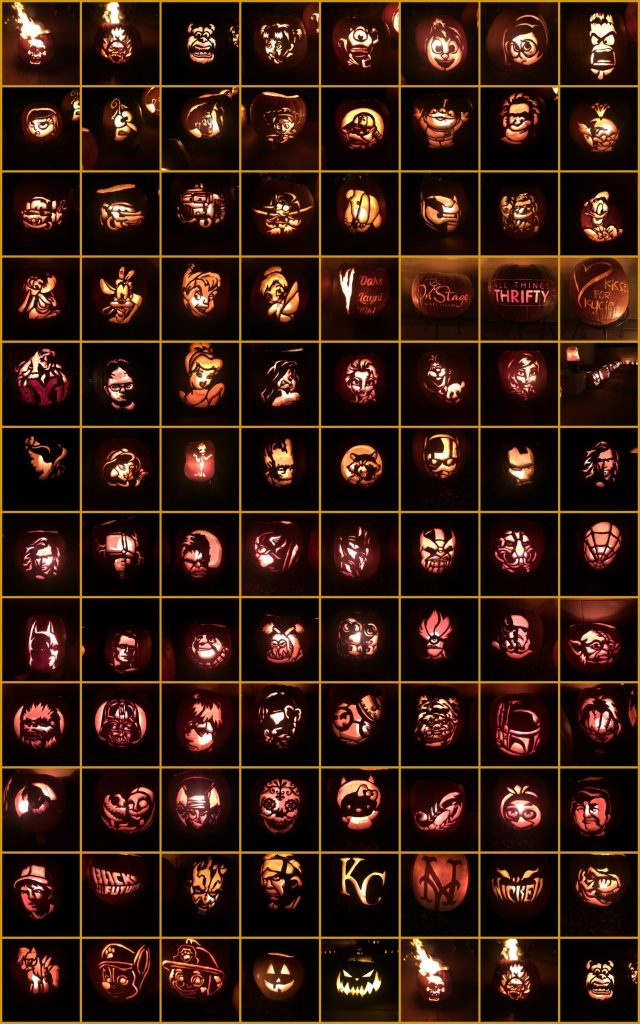 Do you see your kids' favorite movie character??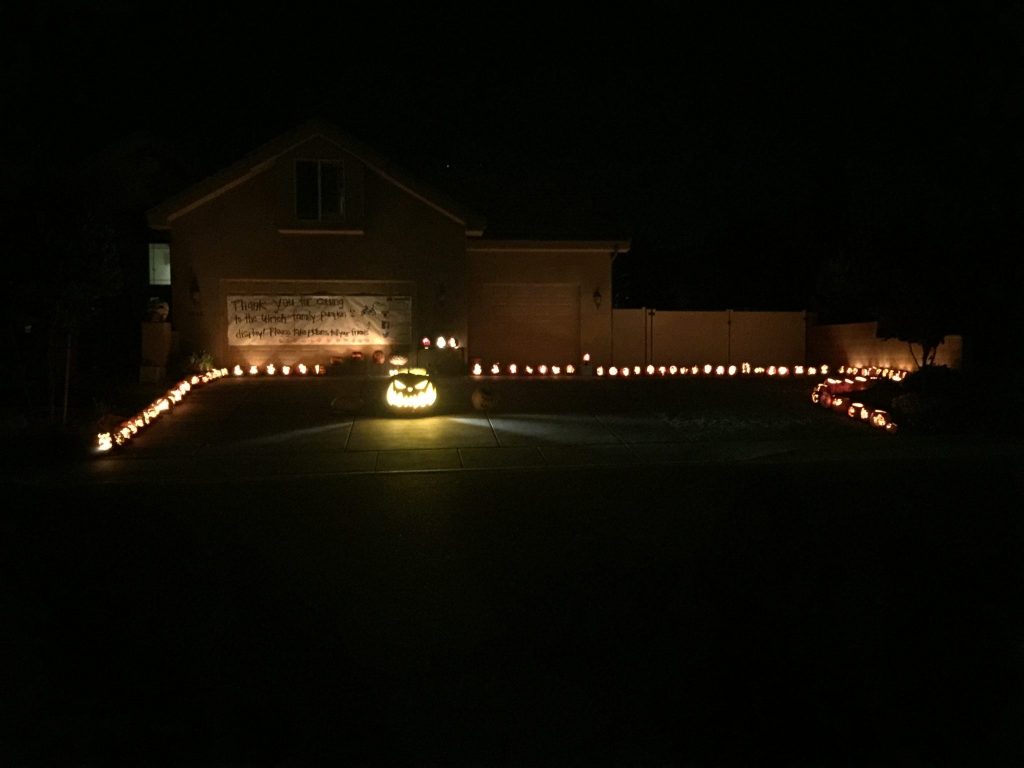 and don't forget to spread the word. Send me an email if you need our address to allthingsthriftyassistant@gmail dot com, and we will try to quickly respond.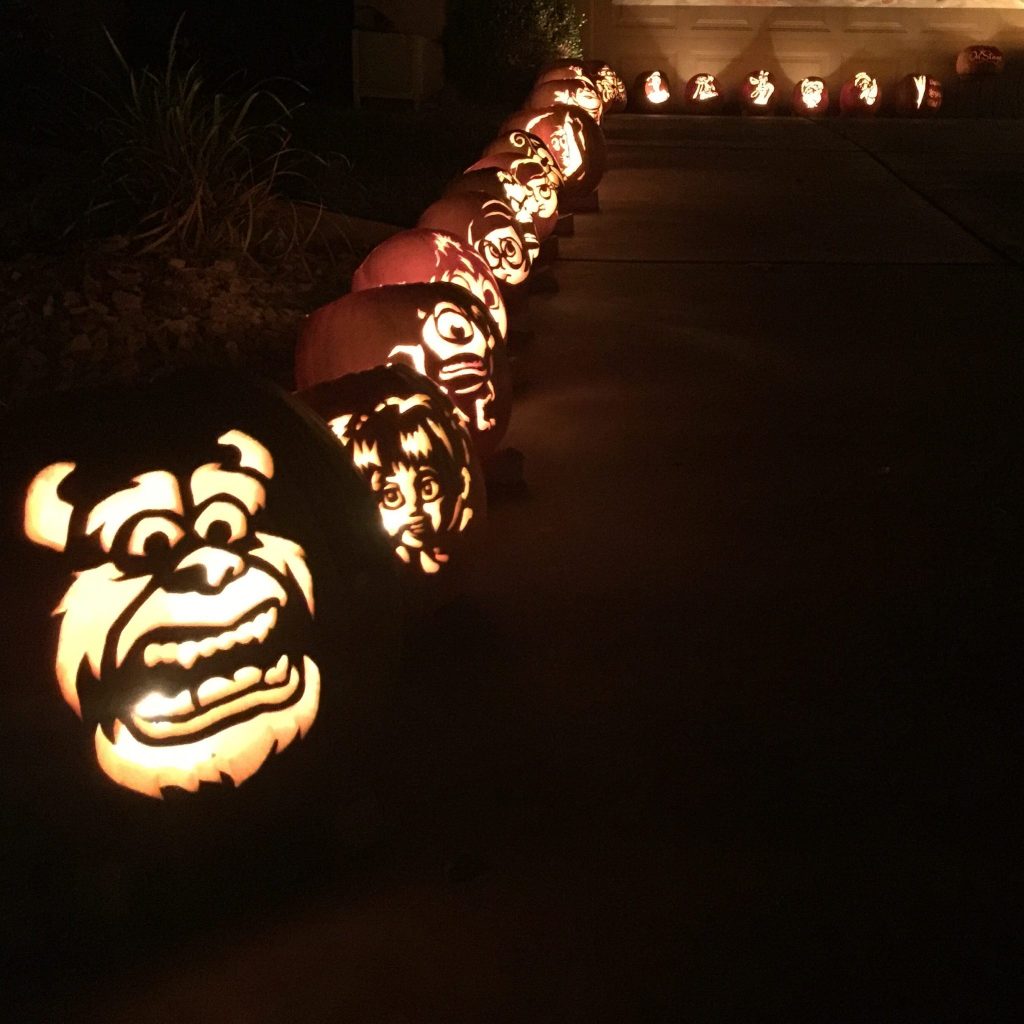 What do you think should be on the line up for 2016?!