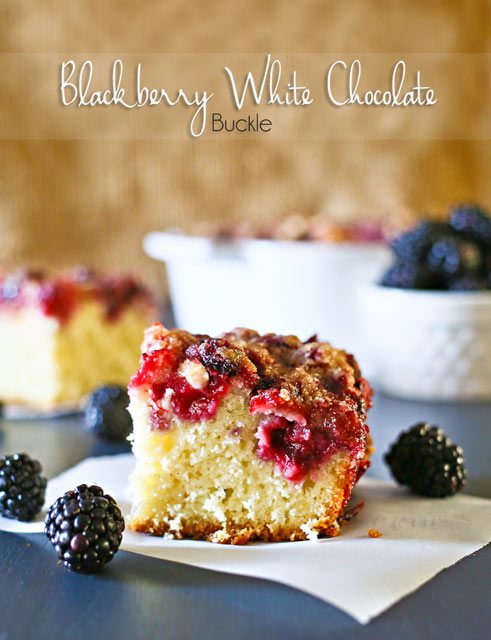 Hi All! It's Gina from Kleinworth & Co. Are you ready for spring? I sure am because that means we are into what I call "fresh fruit season". I love it when the weather warms up & the stores are bursting with produce choices. One of my favorite things to do is stock up on as much as I can because we like to include fresh fruit & berries in so many of our recipes. Even if I'm having something that could be considered a treat, it somehow feels a little less sinful if it includes fruit. Please tell me I'm not the only one who feels that way? My family has a deep love for blackberries especially. When I was expecting my son I ate them like crazy, so it didn't come as a surprise when he claimed them as his favorite. He would eat them double fisted when he was a baby & still to this day it's not uncommon for him to take an entire carton of them with him to work for his lunch. Because of this I really try to make as many recipes as I can with blackberries just to see him smile. My favorite pairing is blackberries & white chocolate like I did here with this buckle.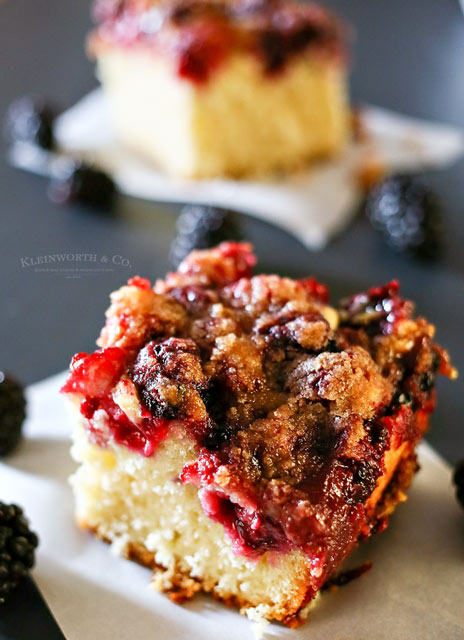 Have you ever had a buckle? Buckles are softer and more fruit-filled than a say a coffeecake, but they have a higher percentage of the delicious, buttery batter than a cobbler does. This makes buckles a little harder to classify even though they are so easy to make. This one is light, moist and filled with sweet blackberries. Buckles are best when eaten on the same day they are baked. Which is usually never an issue because my family never leaves any leftover. They attack it the moment I pull it out of the oven & you better get in there before they go back for seconds. But since buckles come together so quickly, you don't have to plan ahead. It's easy to toss one together for a spring dessert that makes everyone happy. I really love making these to have on weekend mornings, but throughout the summer the kids usually beg to have some for dessert with a scoop of vanilla ice cream on the side.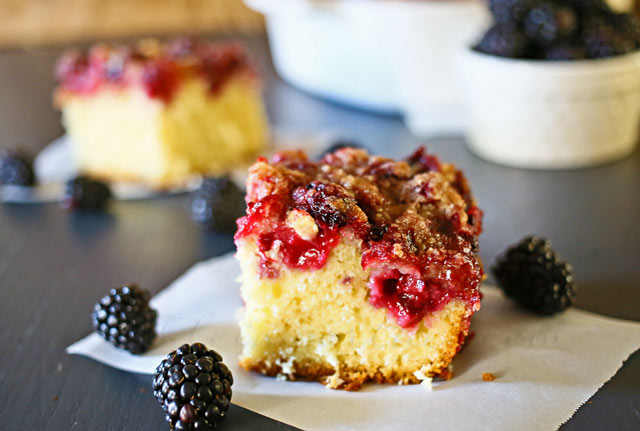 Blackberry White Chocolate Buckle
Ingredients
2-2/3 cups all-purpose flour (divided)
2 tsp baking powder
1/2 tsp salt
1-1/2 stick butter – room temperature
3/4 cup sugar (divided)
1 large egg
3/4 cup milk
2-1/2 cups fresh blackberries
1 tbsp lime juice
1/2 tsp cinnamon
1/3 cup white chocolate chips
Instructions
Preheat oven to 375 degrees
Spray 9″ glass baking dish with cooking spray & set aside
In mixer – beat 1/2 cup butter until smooth.
Add in 1/2 cup sugar & beat until light & fluffy
Add egg – beat until well combined
Beat in 2-1/3 cups flour & your baking powder & salt
Add in milk as it's beating in the dry ingredients
Transfer to prepared pan- spread out
In small bowl– toss berries with lime juice & then pour over batter
Add white chocolate chips
In another small bowl combine remaining butter, cinnamon, remaining sugar & remaining flour– mix with pastry blender until large crumbles remain.
Sprinkle over the top of your berries & spread out to cover
Bake 50-60 minutes or until toothpick test comes out almost clean.
Cool in pan on wire rack
Serve warm with a scoop of vanilla ice cream on top *opt
If you love blackberries, this buckle will be your new favorite treat!
Thank you so much for spending some time with me today. See you next time!
Looking for more spring recipes?