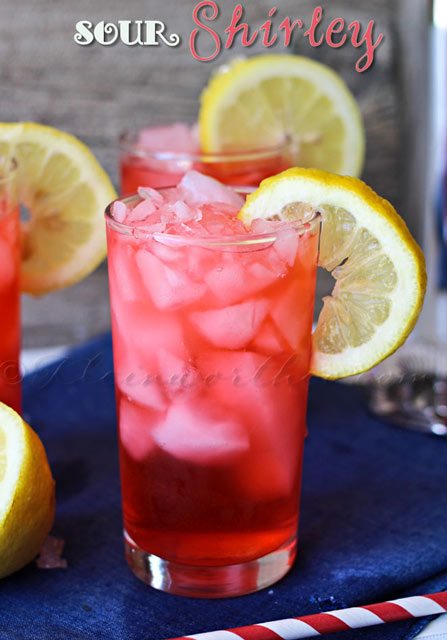 Hi All! It's Gina from Kleinworth & Co. Who could use a nice refreshing drink? Yeah, I thought so. Me too! When I was a kid we didn't eat out all that often. I'm not sure if dining out wasn't as popular then as it is now or if there were other factors that played a part. But we just didn't do it very often. So whenever we would dine out my favorite thing to order was a Shirley Temple. Mmmm that fizzy drink loaded with grenadine was perfect for me. Plus, I grew up watching all the Shirley Temple movies. She was my idol when I was little, so a drink named after her just delighted me. It was such a treat that I still enjoy from time to time. It takes me back to childhood & always brightens my mood.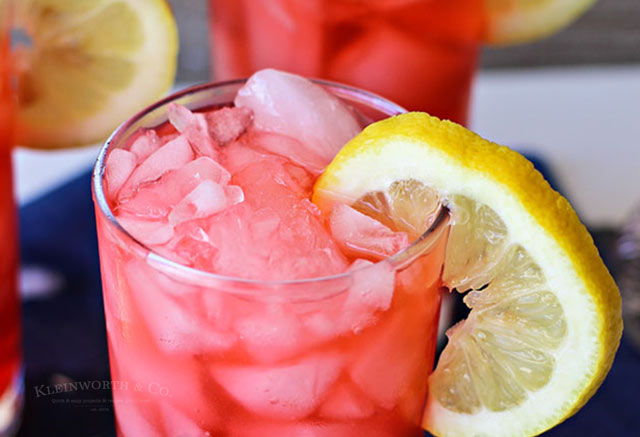 But sometimes I like to shake things up & add a splash of this or that to twist the flavors a bit. With this one I added refreshing lemonade to this favorite drink. I have to say, that shot of sour with the sweet cherry is oh so delicious. I find myself mixing one up as we grill out back & enjoy the yard.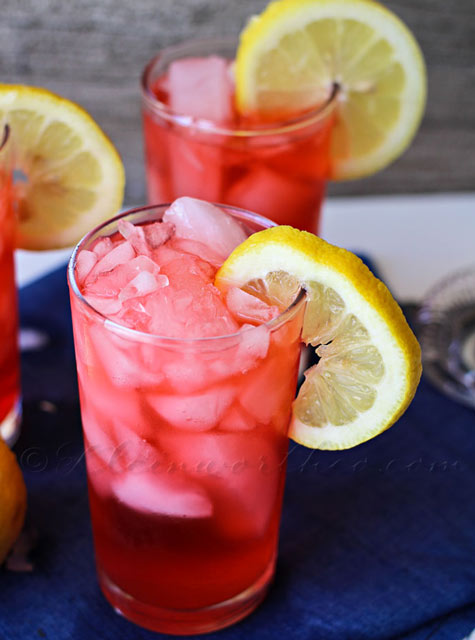 The kids really love this too. It's perfect for my kids, who are all older now. They can still enjoy a super tasty beverage without feeling like it's a kid drink. Although, I'm not sure what's wrong with that. I have no shame in enjoying something as yummy as a Shirley Temple. I don't care if it's "for kids". Doesn't bother me one bit. But this twist on the classic might be my new favorite. Cherry & lemonade sure go great together.
Sour Shirley Drink Recipe
2017-07-07 14:26:27
Serves 1
Cherry & lemon collide in this twist on the classic.
Ingredients
1 oz grenadine
1- 1.5 oz seltzer
Ice
5 oz lemonade
lemons to garnish
Instructions
Add grenadine & seltzer to your glass.
Fill with ice
Pour in your lemonade until glass is full- no need to stir.
Enjoy!
All Things Thrifty http://www.allthingsthrifty.com/
Thank you so much for spending some time with me today. See you next time!
Looking for more great summer recipes?