The inspiration:
Our backyard is definitely in the "work in progress" category. We have planted trees, and my husband has built me an amazing swing set, but our projects are only beginning. We just finished one that I have to share! A few months ago I was watching the DIY network. You are probably not surprised that I LOVE the DIY network. 🙂
Well, I was watching a Turf Wars episode because my backyard design was up in the air, and I was hoping for some inspiration. I was in AWE at this amazing idea that I had never heard of. The backyard designer painted something on the fence. I LOVED it.
When our block wall was complete, I was overwhelmed at how tall it was. In fact, we have nicknamed it "the tower" around here. The reason why it is so enormous, is because our backyard neighbor's (who are great, by the way) lot sits much higher than ours. So, the bottom portion of the block wall is a retaining wall. The wall is around 10 feet tall.
When you walk out my back door, the first thing you see is this GINORMICA wall, and this bothers me. So, with the trusty help of the hubsters…we went to work painting the Turf Wars design onto our wall.
Items you need for this project:
An (old school) overhead projector 🙂
A printable transparancy
A few small high-quality paintbrushes
Outdoor latex KILZ paint in the color of your choice
A ladder
Step 1: Choose a design, and decide where you want your design to go. We used the exact same design that was on the DIY network. We simply printed it off onto a clear transparency. If you look closely in the picture below, the artist put guides for the projector that came in handy. Since this project took us several nights in a row to complete, it was a great way to keep our projector in the same spot. We marked these guides with chalk.
We found the design with a Google search. 🙂
Picture source (Munkey Mind)
Step 2. Set up your projector and make sure it is in focus. You need to set it up in a place that is level. It is easy to bump the projector, and every bump causes the design to be nudged off target. Hint: tape your transparency onto your projector. If your projector gets bumped, use the guides to get it in the exact same spot again.
Step 3: Begin painting. We learned from the get-go that painting a porous surface like a block wall is pretty challenging. It was difficult to get the lines to be smooth. After some practice we got pretty good at it, and from several steps back you cannot even see the difference.
We could not see the design during the day, so we painted at night. We didn't have any idea how long this would take us…but like most of our favorite projects…this one took a lot of time and patience!
Here is a better picture at how far back the projector was. At some point during the project we painted sitting down.
We painted standing up! Here is my friend Jen helping out!
We painted, and painted, and painted!
On the third night, we finally needed ladders to reach the top.
Here is Dan getting ready to paint the last line. It was definitely camera worthy!
And here is the completed project during the day! We are quite proud at how great it looks. The design ended up being 14 feet wide and nearly 9 feet tall.
As you can see, the lines are not perfect, and painting in the crevices was a challenge. We did our best to keep the lines straight.
Now, I just need a nap to catch up on some lost sleep. 🙂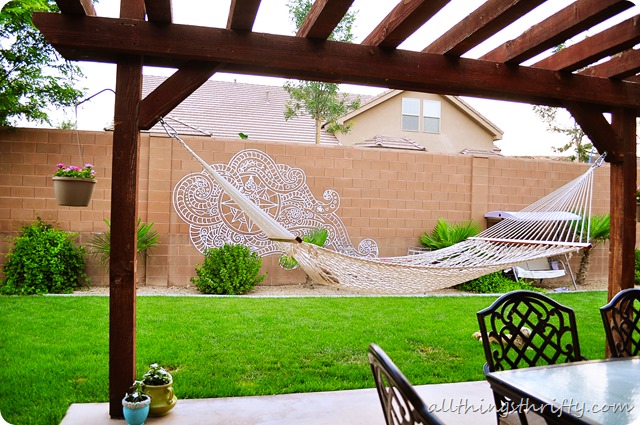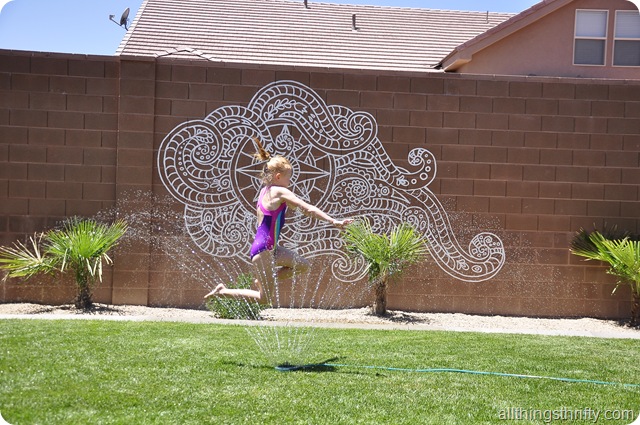 Some of our neighbors think it looks like a tribal tattoo. I agree, and I love it. It makes the focal point I was going for. So, instead of noticing how HUGE the wall is, people notice how great the painting looks! Mission completed!
The greatest part of all of this!?!? It was basically FREE because we had the paint from a previous project!! Now that's what I call THRIFTY!