Hey All Things Thrifty Readers! I'd also like to welcome those that are here visiting from The Copy Cat Challenge! I am honored to show one of my favorite copy cat projects today!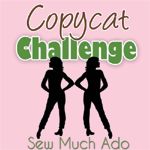 One of the most common questions I get from readers is about where I get inspiration for my projects. I am constantly on the lookout for ideas, and I love to make my own renditions of projects. Inspiration for my yellow night stands came from others, and when I see something that I love I save the photo in an "inspiration" folder on my computer! That is what I love about this Copy Cat Challenge over at
Sew Much Ado
. It is so fun to get ideas from others! Don't be ashamed…it's the way our creative brains work. We see something that inspires us, and we make it our own. It's natural. In my opinion, imitation is the best form of flattery. (Of course while giving credit where credit is due).
Yellow furniture is something that I am seeing all over the place in the decorating world. This one particularly caught my eye. This piece came from
Main Cottage
.
Or the amazing yellow couch from Anthropologie.
Or this wedding ceremony decor found at Joyful Weddings and Events.
I found my side tables at the local DI (which is Utah's version of Goodwill). I instantly saw a vision. I needed them! Granted, my hubby was not as enthusiastic, but that happens. Don't worry, by the time these bad boys were done, he loved them too. 🙂
The design was great, and the original hardware was very unique. I love ultra unique pieces! They were in great shape. The drawers were fully functioning, but they needed a good scrub. 🙂 You can see the dust in the pictures if you look close.
I started the transformation with KILZ spray primer. This is the only primer I recommend. Believe me, I have tried LOTS of primers. After the KILZ dries, you will need to sand it with a high grit sand paper (about 220 grit) to remove the sand papery feel that the KILZ leaves behind at times.
After the primer is dry, I sprayed these bad boys with Krylon Bauhaus Gold. I chose this color purposely. I wanted a mustardy (is that a word) type of yellow. I love Krylon brand because of the nozzle. I love that the nozzle rotates, and this has become my favorite brand of spray paint.
This is what the project looked like after the paint. Lookin' pretty good so far in my opinion. 🙂
I painted the furniture with the drawers taken out. Just in case you were wondering.
Then, I glazed the bad boys. Glazing is great if your furniture has detail that you would like to emphasize. If you have never seen how to complete this step, check out my glazing 101 tutorial.
Next, I sprayed the hardware an oil-rubbed bronze color to give the furniture contrast.
I love the end result.
At this point, my husband wanted to keep them. 🙂 Which I was secretly hoping for all along.
They go perfectly in our master bedroom!
Thank you for visiting! Now, head over and enter your copy cat projects into the contest!