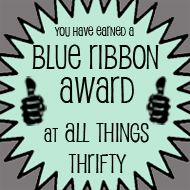 I ABSOLUTELY love this idea to create shelving from furniture from over at Recyclart.
I was thrilled to get a nomination for Mandi over at Vintage Revivals because I had the chance to meet her in person a few months ago! Yay for a fellow St. Georgian! (We both live in St. George, Utah). She made this bedding, and I think those stripes are divine!
Head on over to my button page and grab a "blue ribbon" button and wear it proud!!!
Have you seen a project that qualifies for an All Things Thrifty Blue Ribbon?
It must fit this criteria:
1: Ultra Unique
2. Demonstrates Originality
3. Crazily Creative
4. Thrifty
5. and you LOVE it!
Send me a link or picture to allthingsthrifty at gmail dot com. Please include the words "BLUE RIBBON" in your e-mail title.
By the way, just in case you are wondering. Baby number four is still in my tummy. I guess he's comfy, cozy, and content. I wish I could say the same about myself….ummmm nope. Can't wait to snuggle him.
Also, you only have 1 day left to enter the Silhouette Giveaway!
Click below to enter!