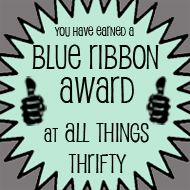 I ran across this tutorial awhile back from Emily over at Jones Design Company, and I was happy to be reminded of how AMAZING this project turned out! Thank you for your nominations for the All Things Thrifty Blue Ribbon Award! Keep 'em coming!
Emily liked some curtains over at Ballard design, and mimicked the pattern onto her wall. I saved her project into my "inspiration" folder back when I originally saw it because I was so impressed.
I can't get over how amazing it looks. I have a few walls that are dying for this treatment! 🙂 Wall paper is soooo expensive and this is a GREAT alternative.
Download her template HERE and to see more pictures of her office, check out her post here.
If you have never visited her site, you must. She has impeccable style and is MADLY creative.
If you have seen a project that deserves a blue ribbon (and fits the criteria found HERE) send it to allthingsthrifty at gmail dot com. Don't forget to put "blue ribbon award" in the title.
If you have won a blue ribbon, don't forget to grab a button. 🙂