I HAVE THE. BEST. READERS!!! I have wanted/needed to create new buttons for awhile, but sometimes I feel like I'm drowning in tasks! I'm sure you know how I feel. Busy busy days fill my weeks, and I just can't get to everything on my to do list! So, I FINALLY got to it this week. I'm quite proud that I completed the task to be honest. 🙂
One of the best ways to show your support for All Things Thrifty is to link back to the site. Below are several buttons to choose from. I would be honored if you would consider putting a button on your sidebar. I am honored if you already wear a button on your blog, so if you fit into this category, thank you!
If you use information from one of my tutorials, feel free to choose whichever button below that you would like.
I have made new buttons to show my updated site design. If you'd like to keep the old one, no problem. Thank you for being a continued reader of All Things Thrifty. I am absolutely floored by the support I have been shown since All Things Thrifty's beginning in July 2009.
I hope you enjoy the projects here at All Things Thrifty. I enjoy being able to show you my passion for thrifty decorating, and I'll continue doing so for many, many years to come. Don't forget: Decorating can be INEXPENSIVE! Don't worry, I'll keep reminding you. 🙂
I figured the fastest way to inform you of the new buttons was to post about it. So, here they are!
Thank you again for your continued support and awesomeness. 🙂
Have I featured one of your projects? Then feel free to grab a featured button!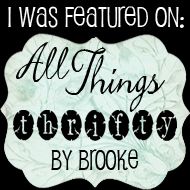 Have you gotten an All Things Thrifty Blue Ribbon Award? Grab a button and wear it proud!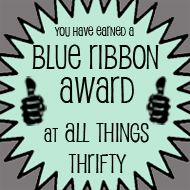 Have you linked to an All Things Delicious Linky Party? This is the button for you! Or if you would like a quick reference to some delicious recipes…this is it!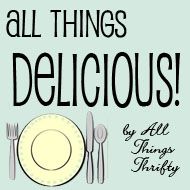 If you use tips of reupholstering from All Things Thrifty, please put a link back to All Things Thrifty using this button.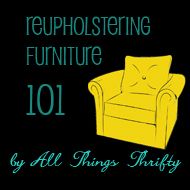 If you post about a furniture project inspired by All Things Thrifty, please use this button in your post to link back.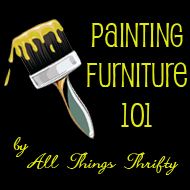 Have you tried glazing? This is the button to use in your post showing your glazing skills.