Good morning readers! I have started to re-arrange my home for the ba-dillionth time, and I thought I would show you my latest update! I bought these chairs over a year ago, and they are some of my FAVORITE pieces of furniture in my home. (I bought them at a thrift store for $4.00 by the way). If you missed my "How to shop at Thrift Stores" post a while back, you should check it out. The chairs made their debut here on All Things Thrifty in that post!

As you know, I am a sucker for before and after photos, so I will remind you of what these bad boys looked like before:
The sofa table also needed some love:
Random sidenote: My sofa table project is also in the photos below, I just knew you may ask where that post is also. 🙂
The chairs were at the head and foot of my dining room table, but since I have replaced them with my newest furniture refinishing project, these turquoise beauties needed a new home.
I love them sitting right next to the sofa table in the living room.
They add just the right amount of pizzazz to the room, don't ya think!?!? Random sidenote: Don't you think dark wood floors would be AMAZING in this room. A girl can dream right?
Both of these projects were painted and glazed with Kilz primer, Krylon Ocean Breeze, and a black glaze. For details on this process, check out the links below.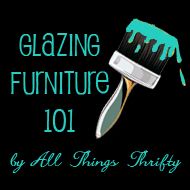 Or check out my video tutorials on glazing furniture.