Hi ya'all!!! Are you ready for WEEK 2 of the BLOGGER BEHIND THE BLOG series? If you missed week 1, you should check out that post about How to grow your blog. Last week was a HUGE success and it reiterated how much I appreciate these ladies who have agreed to give me their time (out of their BUSY schedules) to answer these questions for me. They rock. They are BLOGGING ROCK STARS in my book. Remember to click over to each of their blogs and give them some ? (love) for participating in this series. After all we are all benefiting from their talents and knowledge. I am enjoying reading every word from these ladies. I hope you are enjoying it too!
Week 2 question: How do you keep up with your AMAZING blog AND keep up with your everyday life?



Mandi from Vintage Revivals
This is probably the hardest part about blogging. Especially blogging about something that you love doing…I could do projects all day every day. Blogging is like having a job, and I don't think you will find a working mother alive that doesn't have guilt. I have had to learn that my family comes first. Does this mean I never tell them no? Heck no. It means that when I have that pang of guilt kick me that I can say "ok Mandi thats enough computer, project, pinterest time for one day."
I have blogger guilt too. I have every single one of my comments sent to my email and I appreciate every single one of them. Each comment makes me feel happy and appreciated. The catch 22 of that is that I get so many emails and comments from awesome readers that I want to respond to, but I just can't. I try and answer most emails, especially ones with questions but I am not perfect at it. I try to always answer ones with stories about addiction. These are usually my top priority. I also have a night every 2 weeks or so that I try and respond to comments on my site, I usually get through about 150. One of the best ways to build your blog is to build relationships with your readers. I try to really build relationships on FB and Twitter. If you have a question and FB or tweet me you are way more likely to get an answer, because its just faster.
And do be afraid to say no! You can not do every guest post, themed party, and opportunity that comes your way. Yes, you would love to but just remember, you are not superwoman, you can not do it all. Try your hardest and know that it is good enough!
Beckie from Infarrantly Creative
Beckie's Top 5 Tips for STAYING BALANCED
1. I keep my work schedule. I have come to point in blogging where it has become a full-time job for me. So I have business hours and work diligent during that time. I try my hardest not to blog outside of those hours. I also have a rule that the computer is off between 5:30-9:00 every evening. That is our family time and my family gets me during that time.
2. I also am part of a freezer meal group which helps with meal planning for me. I also pre-make lunches ahead of time so I don't have to worry about that daily. Having a meal plan every day helps me to not stress about what my family will eat and allows me to focus on blogging during my business hours and not meal planning.
3. I date my kids and my spouse. Every Wednesday Kayla gets to spend all day with me. We run errands, color, draw, visit my mom, go out to lunch, etc. Every Thursday evening Tim and I go on a date. Since school has started back up it has been harder with Isaac but we generally spend one night a week together where we have mommy/son time as well.
4. I try and invite my family into blogging whenever I can. I will ask my kids to help me with my projects or get my husband to come talk to me while I am working in my studio. My kids especially love when they feel like they are a part of it. Even if I am painting a wall I will give my kids a portion of the wall to paint and then I can touch it up later. Just being with me in my world is something my kids appreciate.
5. Confession: I hired a house cleaner to come once a month to deep clean for me. At first this was embarrassing to me. To be honest I still can't believe I am telling you! I kind of felt like a failure…like I couldn't do it all. Here is the truth…I can't do it all. Keeping my house clean is a priority for me but I didn't have time to do it. $65 a month is way worth it to me. This allows me to do what I love to do and not stress about what I can't.
Jamielyn from I heart Nap Time
Trying to keep balanced is definitely a daily struggle I have. Sometimes tt's hard to fit in working out, cleaning, play dates, e-mails, writing posts, meals, appointments…and so on. This is the one question I get asked most often, "How do you have time to blog?!" I first started blogging during my husbands first year of medical school. He was always gone studying, so it honestly just gave me something to do at night. Now that my blog has grown into more of a business, I do have to fit e-mails and such into the daily routine as well. The best thing I have found is to keep to a schedule. In a perfect world I would write all my posts in one day(while my husband is home) for the following week. Granted this doesn't always happen… it is a HUGE stress reliever when I'm able to do this. If you sit down for 2-3 hours and JUST work on writing your posts, you'll be amazed how much you can get done.

E-mails are a daily battle, because they are always coming in. First thing in the morning (before the kids are up) I try and go through and organize my e-mails. I go through and delete all the ones that look spammy and then start going through the rest. I really do enjoy getting e-mails, but some days it is hard opening that inbox. I found it is a lot easier to answer the e-mails as you read them. If you can keep on top of your e-mail that is another huge stress reliever.
Then there's social media. If you have a blog, you probably want to be immersing your self in social media. However that's one thing you want to be very cautious with.Social media (facebook, twitter, pinterest) can suck away your time. Use your time wisely and set a limit for yourself. I try and check it 3 times a day. If you check your accounts in the morning, afternoon and at night (in 15-20 min increments) you'll feel like your keeping up with social media, but not letting it consume your life.
Then there's actually creating projects for your blog. As my blog has grown I have actually found this harder and harder to do. I don't work on projects every day like I used to. However when I work on things I like to do my projects during nap time. I still have energy (vs. late at night) and I'm not taking time away from my kids. Sometimes I will work on *low key* crafts with my son during my daughters nap time, but we usually just spend that time coloring airplanes, cars and trucks.
It's so important to remember that family comes first. I heard Becky Higgins say once "Don't be the mom with her head to the back of the computer." It's important to make sure to put your family first. Just remember E-mails can wait… your children are only young once.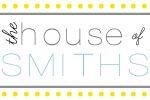 Shelley from House of Smiths
This one is tricky. Mostly because you never hear successful people say… "I became wildly successful, all while spending just as much time with my family, friends and spouse, as I had before I started on this crazy journey."
I consider my blog not only my passion and hobby, but now my business as well, and new businesses take lots of work, time and some risk to become successful. Once I realized that my blog was becoming lucrative and taking more and more time away from my family, I sat down with my husband and we discussed how we were going to approach this new blogging adventure and make it work for US. This was the first time that I realized how understanding and supportive my sweet husband really was, in his willingness to help me pursue my dreams.
So I guess if I had to give one answer to this question, of how I keep up with my blog and still have a life, it is: … My Incredibly Supportive Husband.
I cannot imagine doing all that I do without the supportive love of my husband behind me 100%. It makes all the difference in the world. He is always willing to help with laundry, cook dinner, or watch our kids for 3 or 4 days when I need to go out of town for work.
Yes. I said WORK! Next to being a Mom, my blog has become my dream job. Whether it's going to an event for a few days, or just simply taking some quite time to work on a post, my "partner in crime" makes it all possible 🙂
So I guess my "advice", if I had to give some, is: If you think you have the potential to grow your blog to a point where it will take away from family time, then make sure that your spouse and family are on board, first! Know that it WILL require sacrifice from ALL parties, whether directly involved with the actual blogging process or not.
I've heard and seen WAY too many bloggers whose husbands or even extended family start to resent their blog and hard work. I think it's so sad, and I can't imagine feeling like the most important people in my life aren't the ones cheering me on to succeed. Having this understanding between me and my family makes everything possible for me. We've worked our blog into our everyday lives so it doesn't become a burden, or take away from our time as a family together.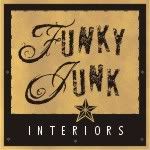 Donna from Funky Junk
I only live with my son, so I attempt to blog when he is sleeping or otherwise engaged. But know, it's a constant struggle to find the balance because no schedule is perfect. As for taking care of the homestead, I attempt to work first and play later but sometimes play flat out wins the race. 🙂
Tauni, a communications professional from Snap.
How do you keep up with your amazing websites AND take care of your families.
Wow. The short and honest answer is…I don't. In between balancing the SNAP! website and spending time with my boys, I work full-time as a public relations and social media consultant. I'm working on it though and I have figured out a few things…
Here are five tips to creating balance amidst the chaos:
1. Set priorities. You need to determine what really matters most to you. Take a moment to write it down in order of what matters most and post it where you work. When the day gets long and hectic, eliminate whatever isn't at the TOP of that list. It will be okay if you don't get a post up. Promise.
2. Set a schedule for work, family and even downtime. I try to maintain a pretty regular schedule in order to fit it all in, including one day where I am "offline," even if I am behind. I am interested to know if you all do this too.
3. Control distractions. Squirrel! Ugh. I am sooo easily distracted it is one of my biggest downfalls. I cannot hit Facebook, Pinterest or Twitter without completely loosing my day. Gah! Please tell me that some of you have this problem too?!?
4. Don't compare yourself to others. I know that the beds aren't made. My house is not as spotless as it once was, but I also know that I am doing the best I can and that is pretty darn good. Right? Right?
5. Outsource. There will come a time where you will not be able to do it all. Build a support network. Ask for help. It will not only be of benefit to you, but odds are it will open up new possibilities for someone else.
Stay tuned for next Wednesday when the "Blogger behind the Blog" series will continue! Next week's question: How do you handle all the e-mails that come to you each day (specifically, do you respond to every single one)?


Stay tuned every Wednesday for more Blogging 101 discussions!