I am very excited to present WEEK 1 of my new "Blogger behind the Blog" series. For the next ten weeks, the series will run on each Wednesday here at All Things Thrifty. I have asked some super-star bloggers and even a communication professional to answer some questions about blogging, and they have been great to participate.
The first question was, "What have you done to grow your blog?"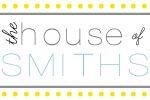 Shelley from House of Smiths
In one word: NETWORKING.

Linking up on a blog party, joining in a twitter chat, or simply exchanging emails are great, easy ways to network. This is how I started out. Make yourself known, but don't go overboard and become an annoyance. Nobody likes someone who is an OVER self promoter. One of the things that I tell my readers when they ask this same question is… "Be patient. If you have great material, passion and pride in what you're doing, then people will come! If you've got it, you've got it! If you don't… you don't." Nobody wants to say or hear it, but we all know it's true.
Do something that nobody has thought of, take a different approach, be original, and you will stand out from the crowd! I promise.
I feel that once you've established yourself, then I recommend "face time" with other bloggers. Meeting like-minded people face to face and connecting on another level is a great way to build a community and support team. This way you can band together with a few other bloggers and hopefully help promote and spread word about each other!
Beckie from Infarrantly Creative
Beckie's Top 5 Tips for helping your blog grow…
1. Give content away. I know we all want to keep our content…especially DIY craft and home bloggers. After all, A LOT has gone into our projects. But when you guest post on other people's blogs you are exposed to a whole new audience that might be interested in you and come check out your site which increases your pageviews and followers.
2. Great content. Never veer from giving your audience the very best content you can. Content is why people come to see you and follow you. Never sacrifice great content!
3. Consistency. Set an editorial calendar for yourself and stick to it. Your audience needs to know what to expect from you. If you blog once every three weeks and then 7 times in one day it confuses your readers and they don't know what to expect.
4. Link arms with like bloggers. Nothing has grown my blog more than finding women who want to link arms with me to help grow together. We tweet, facebook, stumble, pin and encourage each other to continue to grow and expand our brands. We all bring something to the table and learn from each other. Plus it is awesome to have that support system when you grow weary or get discouraged. The bloggy blues happen to the best of us.
5. Expose yourself. NOT IN THAT WAY SILLY. Link up to linky parties, submit your content to be featured on sites like Knock Off Décor, Roadkill Rescue, Remodelaholic, I Share Crafts, Décor Hacks, One Pretty Thing, Ucreate, Better After, Make and Takes, Craft Gawker, etc. Try and get your content featured on as many places as possible.
Jen from Tatertots and Jello
Five factors that have helped my blog to grow:
I think the first is that I blog about something that I am passionate about. I love creating projects and trying out new things. I started it as a place to store my creative ideas, not knowing it would grow into something bigger.

The second factor is remembering why I started blogging; it helps me maintain my passion for creating and keeps me from burning out.
The third thing is being featured. I was featured a few times by a few different bloggers and those features really pushed my blog along. Consequently, having had those great experiences, it has made me really love to give back. I love to feature people and in some small way I hope to do the same thing for other bloggers.
The fourth factor is networking. I loved linking up to linky parties and going around and commenting on every project. It was fun to get to know people through those parties and I made some wonderful friends that way.
And the last thing that has helped my blog to grow has been surrounding myself with a tribe of other bloggers who all promote and support each other. It's nice to have a group of people to bounce ideas off and who will give you advice when you are having a bad day.
Mandi from Vintage Revivals
First I need to say that this is SUCH a fun project Miss Brooke. And I totally dont belong alongside these amazing ladies…but I am sure glad that I am!!
The very most important thing to grow your blog is to remember that content is why people come to your site. If you have great stuff people will come back. If you don't then they won't.
Do you know what your point of view is? What you are sharing that can your readers can learn from? Is your blog a place where they leave feeling better about themselves, more inspired to tackle the ever growing pile of crap in their garage, and empowered?
Each of the blogs that I read leave me feeling like this. They make me FEEL something.
You can link up to parties all day long and get some traffic to your site but you dont want random traffic, you want loyal readers. The way to get that is to
1. Be yourself. Above all be yourself. Talk to your readers the way you talk in real life. Shelley is a perfect example of this. I have met her IRL and she is exactly the same. Awesomeness.
2. Make sure that what you are sharing is worth their time reading. I know that when I go to Donna's blog each post I read I am going to learn something new or look at things a different way.
3. Find ways to connect with other bloggers. Leave comments, send tweets and emails. Not just by building a tribe but by building relationships with your other bloggers and your readers. Jen is one of the best relationship builders I have ever met. She finds the best in people and shares it with the world! Most of us are indebted to her forever for the traffic she shares.
Sometimes people get caught up in comparing their junk with other peoples. Which is LAME. Who in the world reads just ONE blog? Not a soul. If you build people up they will build you up. Golden rule people, golden rule.
Sorry about the tangent…what was the question again?
It's all about content. You can pull every trick in the book to get your blog to grow, however if you don't consistently deliver your personal best, followers either won't stay or won't follow to begin with. Offering unique content, excellent photos, good writing and frequent posts are all part of that magical recipe.
Other helps: hosting a weekly link party, linking up to other parties for exposure, guest hosting, and using social media to bring them back to your blog.

Jamielyn from I heart Nap Time
The best thing that has helped my blog grow is getting featured on other web sites. Whether that be from guest posting, link parties or featured posts… that has driven the most traffic to my blog. The best thing you can do is to put yourself out there. Start asking bloggers (similar size to your blog) to do blog swaps and e-mail some of the bigger bloggers as well. I'm sure most of them would love to feature you!
A
nother thing that has helped my blog grow has been through search engines. By making sure your pictures and posts are tagged with key words you'll be able to drive more traffic from people searching for your ideas.

Tauni, a communications professional from Snap.
Blogging is such a unique medium, but the key to really growing your site is similar to almost any type of business – it's all about relationships.
By building a relationship with your readers, your blog will flourish. Here are five ways you can work on building relationships of your own:
• Incorporate a story into each post – even your tutorials – that will provide the reader with a little insight into who you are.
• Comment on other blogs and respond to comments on your site (we've just posted some great tips for this on the SNAP! site).
• Utilize social networking tools like Facebook, Twitter and Instagram to provide additional insight and further the conversation.
• Guest post! It may or may not drive a lit of traffic to your site, but it will broaden name recognition and reputation.
• It can be a little odd at first, but meet with as many of your readers as you can in person! There will never be a substitute for personal contact.




Hi readers, it's me, Brooke again. The answers have reiterated to me that this series is going to be AWE-SOME. I cannot wait to learn more each week. Thank you to all of our amazing contributors who answered this question!
Next week's question:
How do you keep up with your amazing websites AND take care of your families.
Stay tuned every Wednesday for more Blogging 101 discussions!