Here I sit with my mouth hanging wide open.
Dresser before:
Reverse stencil painted dresser.
If you are against painted furniture, this might change your mind. I am kind of freaking out right now. I am in love with this concept. I love the end result. It changes the way I think. It inspires me. I can't stop thinking about it. Thank you Susan Custer for sending me the link.
The dresser was posted by Mirium over at Flor.com. Head over there and see the full process of this furniture transformation. Refinishing furniture is what I do, and this was done BEAUTIFULLY. I cannot say enough about this. I. HAD. TO. SHARE. IT. Holy moly.
Head over there and give her some ? (love) and comments. 🙂
This project is the perfect example of what qualifies for a blue ribbon from All Things Thrifty. I don't give these awards out very often, but this project definitely deserves it!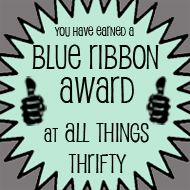 Do you have a project, yours or someone else's that you would like to nominate for an All Things Thrifty Blue Ribbon? Send me the link to allthingsthrifty at gmail dot com.
Check out the other Blue Ribbon Awards.