If you are tuning in for the first time in the series, you should check out the first five weeks of Blogging 101 information.
How to grow your blog.
How to keep up with Blogging.
How to handle incoming emails.
How to make money blogging.
How often should a blogger post?
I am grateful to all of the amazing bloggers who have participated in this event.
This week's question:
How do you cope with comparing yourself to all the other AMAZING blogs out there in blogland?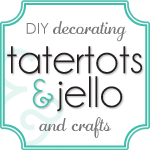 Jen from Tatertots and Jello
Sometimes it can be overwhelming when I see all of the amazing talent in the blogworld. But I know that I am not the most creative person out there. I love sharing my ideas but even more I love featuring even more talented bloggers. I just love the creative process and I love featuring people and sharing THEIR talent with my readers. So I kind of feel like I am not competing with anyone, but sharing Great Ideas and promoting people and that is why I love blogging.
Jamielyn from I Heart Nap Time
"The only way to succeed is to not worry what anyone else is doing." I found this quote a few months ago on pinterest and absolutely love it! As bloggers, or even women in general we really need to stop worrying about what everyone else is doing (or not doing for that matter) and worry about ourselves. We have to remember that everyone has a story to tell. Everyone is in different places in their lives. For me I have two little ones at home, where your kids may be all in school. Some bloggers may be doing this full time and others just as a side hobby.
It's also important to remember to not look at numbers. As hard as it is… they really don't matter. Most people who have been blogging for 3 years are probably going to have a lot more followers than someone that has only been blogging for one year. Growth takes time and that's okay. Celebrate when you hit another mark! Another thing I wanted to mention is featuring other bloggers. The more you feature and give shout outs to other bloggers, the more people will feature your. Just remember that…blogging karma is real! 😉 There are so many amazing woman in blog land and remember YOU are one of them!
Beckie from Infarrantly Creative
A spreadsheet!
Yep, that is how I do it
. A very wise blogger, Heather Mann of
Dollar Store Crafts
, said the only way to compare yourself is against yourself. So I have a spreadsheet that contains all of my information (followers, subscribers, facebook fans, twitter followers, pinterest peeps, unique visitors, and pageviews) and every Sunday I update it. It is so encouraging to see my growth on a consistent basis. That way I know if I am heading in the right direction and the things I need to improve on.
Do I ever struggle with the green monster?? HECK YES! I think any female on the planet struggles with comparing ourselves but I always go back to that spreadsheet and ask myself "Am I doing better than the week before, month before, day before?" I know I will never be the biggest or the best blogger out there…but I have come to grips with that. However, I do want to be faithful with the little corner of blogland that my readers have entrusted to me. So I am committed to those things that makes IC unique. Not to overspiritualize stuff here, but I do think that spreadsheet helps to keep my heart in check and make sure I don't allow the green monster to have a home in my heart. I also find if I allow envy to have a foot in the door that I genuinely can't rejoice in the successes of others. I want to be a woman who cheers people on and encourages bloggers. I want people to know I love it when I see talented woman succeed so I constantly work on being content with the place I am right now. There's always room for one more creative woman in blogland if you ask me!
Donna from Funky Junk
Stop looking. 🙂 Sometimes I get myself into a bind feeling all inferior like, but when I get down to business and be the best I can be, that flips to only good things. Keep yourself in a 'good' place and you'll deliver the same.
Tauni (a communications professional) from Snap.
You just can't. But I do and you probably do too.
When we compare ourselves to others we are often checking their strengths against our own weaknesses – a surefire way to a drop in self-confidence and unhappiness. It's not useful and it's not fair.
Here are five ways to get out of the comparison game:
What you have IS enough

. Think about all of life's blessings. When it really comes down to it you may WANT more, but do you really NEED more?

Count your blessings daily

. Enough said.

Focus on your strengths

. When you focus on what you're really good at rather than what someone else is good at you will see greater success and reward.

Be okay with imperfection

. No one is perfect, right? Know what your imperfections are and enjoy them.

Be aware and stop yourself

. Often we start to compare without really thinking about it. When you realize what you're doing stop and refocus.
These ladies are just AMAZING, aren't they? Now, make sure to head over to their blogs and check out their amazing stuff! Make sure to leave them some ? (love) and comments!
Next week's question is: Do you ever wonder if you'll be able to keep coming up with new, creative ideas for your blog?