Hello All Things Thrifty friends!! I'm Heather from down WhipperBerry way.
I'm thrilled to be here today… Brooke is one of my dearest blogging friends and I admire her for so many reasons. She is seriously one of the most beautiful people, inside and out. I adore spending time with her in person and on All Things Thrifty everyday. Isn't blogging amazing?!
Today, I'm sharing a fun summer recipe that I loved as a child. My Mom used to make this all the time and loved the light, fluffy dessert made with one of my favorite summer fruits… Strawberries!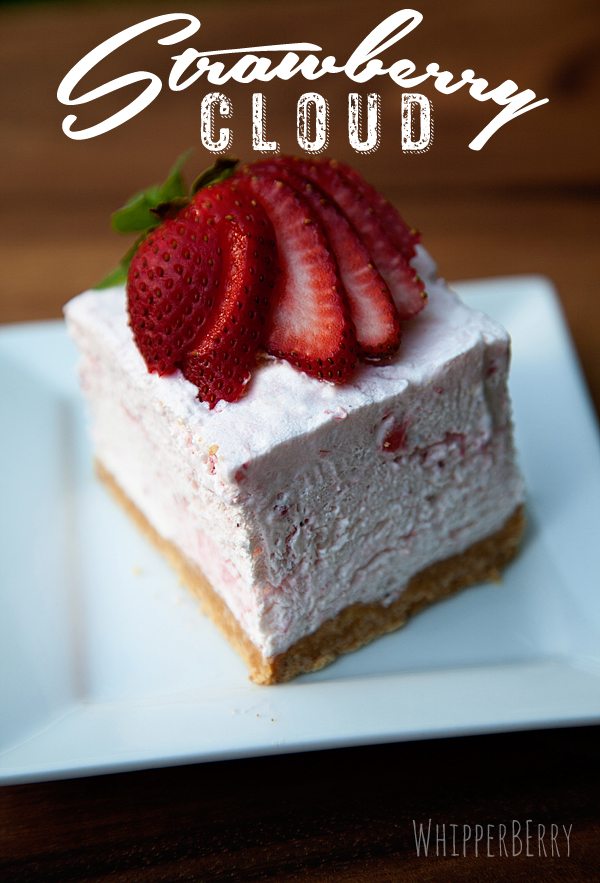 This easy to make dessert is melt in your mouth delicious and perfect for those hot summer nights. It's so easy to make, you'll want to bring this to all your summer get togethers. I still have fun memories of sitting out in our backyard with a little piece of this strawberry heaven, thinking I was the luckies little girl in the world.
Strawberry Cloud Recipe
10 oz. frozen strawberries (do not thaw)
3 egg whites
1/2 cup sugar
10 oz. Cool Whip
3 cups graham cracker
Pour graham cracker crumbs into a 9×13 pan and press into a lose crust. Set the pan aside. Place egg whites, sugar and frozen strawberries into a large mixing bowl. Mix on high until the mixture triples in volume. Carefully fold in Cool Whip and then pour over graham cracker crust. Smooth out the top and garnish with strawberries. Place in the freezer for at least two hours. Serve cold with extra berries and if you feel daring, a drizzle of chocolate.
Brooke thanks for letting me come and hand out with your friends today. I would love for you to come on over to WhipperBerry and see what else I have going on in my neck of the woods. Here are a few of my favorite posts from WhipperBerry and my talented creative team…