Good weekend to you! Beth here from Sawdust and Embryos… woohoo!
I've got a super simple tutorial for you today, and if you have youngsters in the house… it's going to CHANGE YOUR LIFE!
We bought this gorgeous counter-height dining table a few years back. We love it so hard.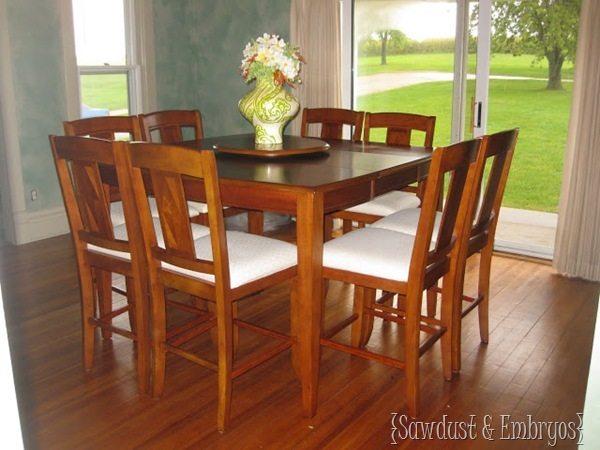 And then I birthed a couple tiny human beings on a hot July day, and our lives got very messy. I knew these crisp white cushions wouldn't have a chance in the world.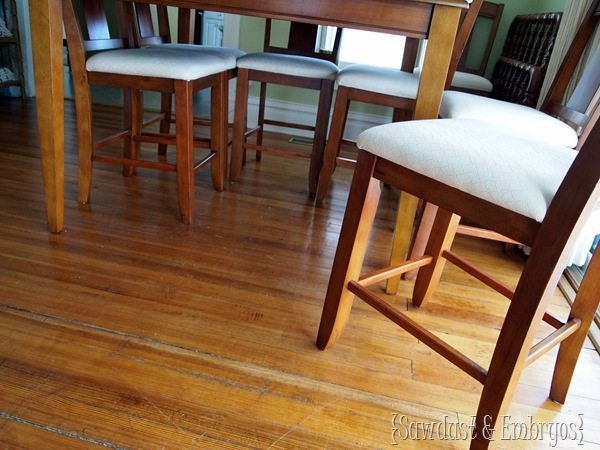 I found some amazing fabric on craigslist for a few bucks. It's actually a tapestry from Urban Outfitters, but has since been discontinued (SORRY!). I've got pops of orange around my house, and loved the bold poppy print… and it just HAPPENED to have the perfect amount to reupholster all 8 chairs. BAM!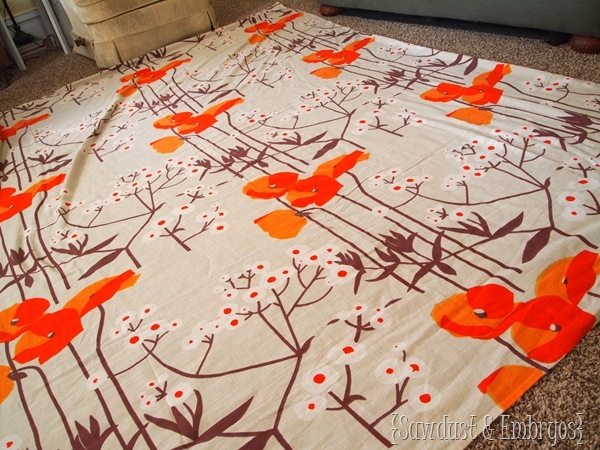 You can choose any fabric… and be brave and bold with your colors/pattern! This is a temporary upholstery job until your kiddos move out of the food-fight years.
Next we flipped the chairs over and simply unscrewed the seats from underneath!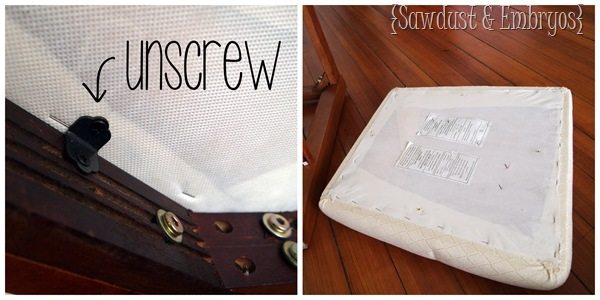 Then measured out sections on the fabric for each seat, making sure there's plenty of excess fabric to wrap around all 4 sides of each chair cushion.

Next up? Wrap and staple! RIGHT OVER THE EXSISTING FABRIC! Pretty standard upholstery right here! Make sure your corners aren't too globby.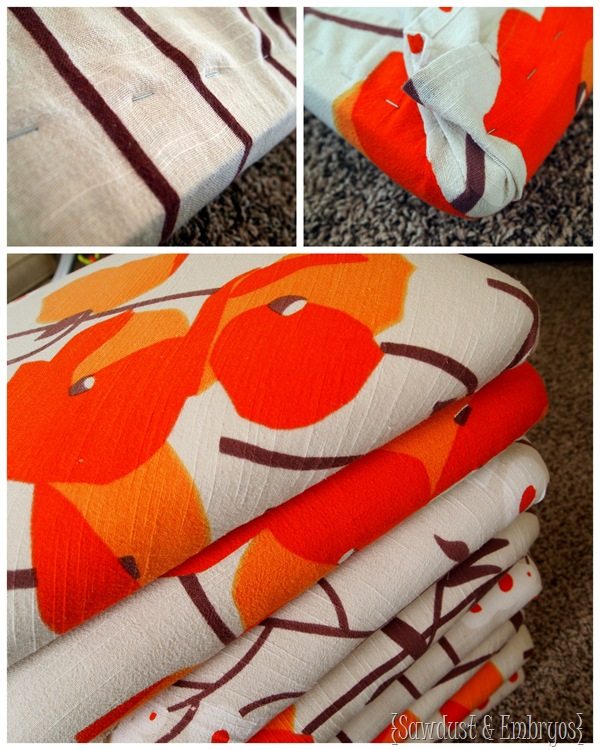 We purchased some 16 gauge clear plastic and used two boards and a razor blade to cut straight lines and cut squares the same size as we cut the poppy fabric.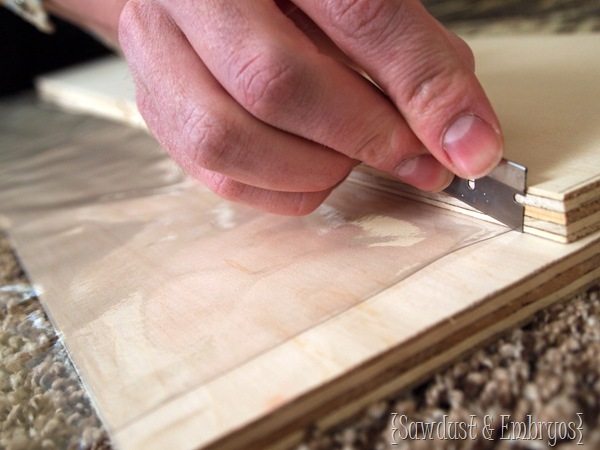 Then we wrapped and stapled, being sure to pull the plastic super tight! It's best to have two people for this part. The hardest thing is making sure the corners aren't too bulky, but you'll get the hang of it.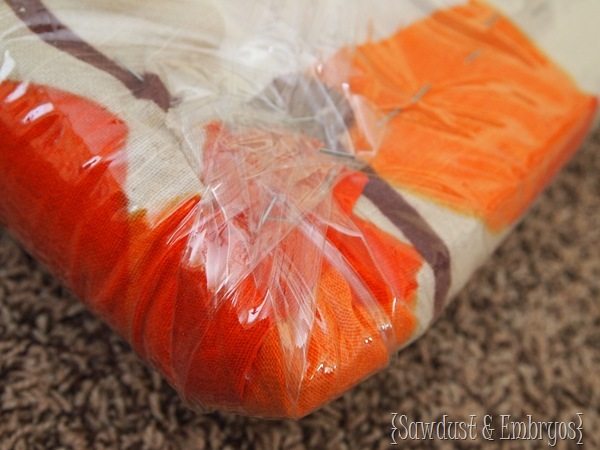 Secure the cushions back onto the chairs with the same screws, and you're GOLDEN. These bad boys are so durable. I can't tell you how many times a day I'm wiping off spaghetti, yogurt, fingerpaint… you get the picture. And they're not sticky and uncomfortable to sit on like I thought they would be!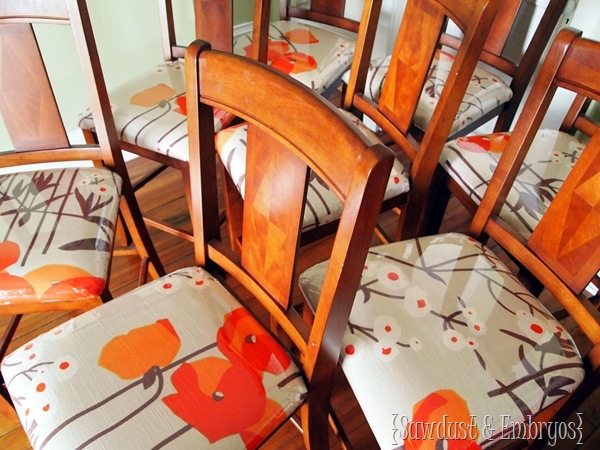 The twins are almost two and a half, and these cushions still look like the day we upholstered them! BEST DECISION EVER.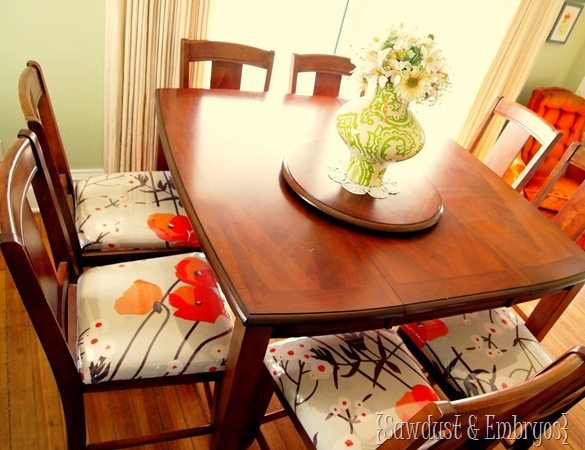 And down the road, when your little monsters turn into delightful and proper children with perfect manners, you can whip it all off and still have your fabric underneath still intact and in the awesomely perfect condition that you left it in! It's such a simple solution to an epic problem!
Please come stop over to my blog Sawdust and Embryos and poke around for a bit! And since we're on the topic of upholstery, come check out the mini fainting couch / toddler beds we just built from scratch and upholstered for the girls' soon-to-be big girl room!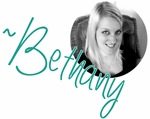 HAPPY WEEKEND!