First of all, let me inform you from the get go, this post is going to be LOOOOOONG. Don't say I didn't warn you!
Back when All Things Thrifty was an infant in early 2010, I painted this office and was the proudest person on the planet. I loved it. The leaf wall made me happy. In fact, the IKEA desk made me even happier. Three months later, I decided that I hated the desk on that wall because I couldn't keep it clean and it was driving me crazy to look at the clutter every. single. day. So, I moved the desk to the opposite side of the room to spare my eyes from the clutter. I moved the painted piano to that wall and it lived there for the next four years.
Let me point out the elephant in the room…. I have come a long way! HA. I'll leave it at that. Believe it or not, I thought the shelves were decorated so wonderfully back then.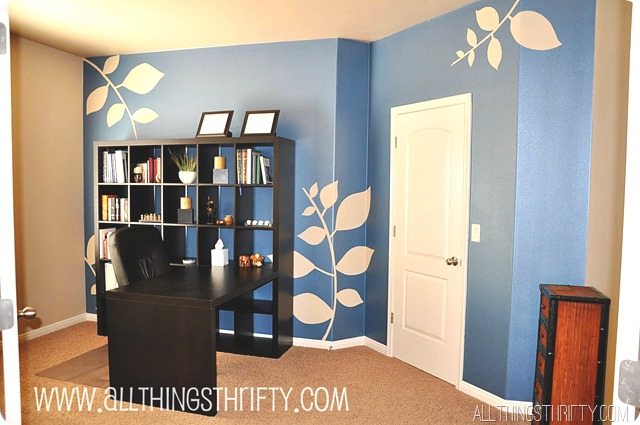 I have wanted to redo this room for awhile now, but to be honest, I never even went into this room. It was always full of clutter, and I rarely set foot in there. It was the catch-all room in the house. So, it went on the back burner of my mind while I worked on rooms that we actually spent time in.
I now know that clutter is a creativity killer for me. For me to actually want to be in a room, it cannot be full of crap. It seems so simple, and yet it took me four years to figure it out. SO….my office facelift began!
The goal of the room was simple: I wanted it to be bright, happy, and a place I could relax. So, the dark walls needed to be painted. I could just tell you that I painted the wall and all was well, but that would be a lie, and since I warned you about a long post, I'm going to show you the entire process….
I painted the walls and I HATED the color. It. Was. PURPLE.
I picked a color called Gray Shimmer by Behr Marquee, and it was literally light purple on the wall. Good times.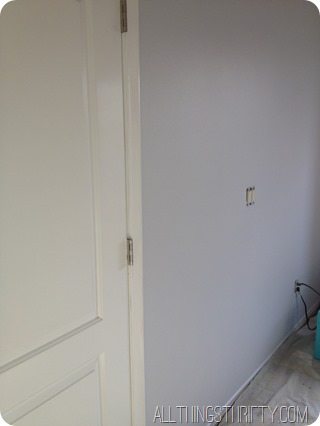 Take two….I painted the room again, this time with Behr Dolphin Fin.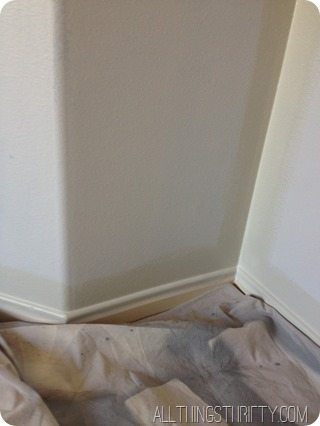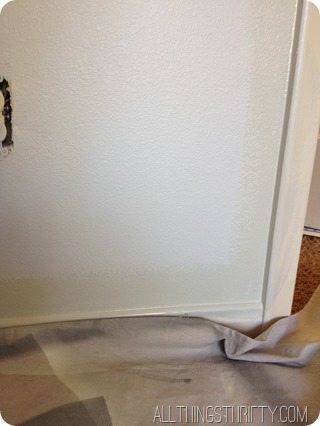 It was MUCH better and I knew it was the right decision. It is a beautiful color and I absolutely love it.
Next, my amazing hubby helped me install MDF molding in a Greek-key pattern on the wall. Stay tuned for a tutorial post on this soon!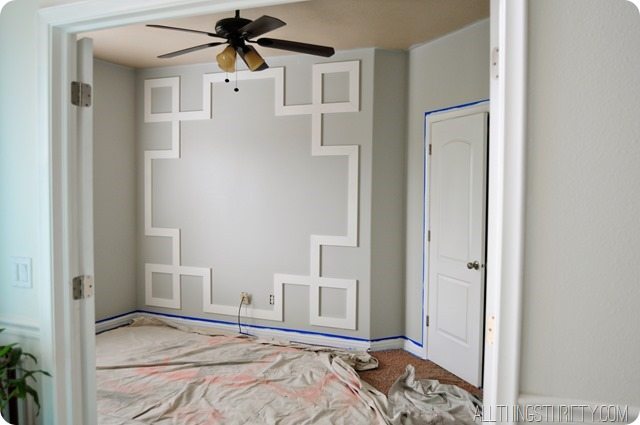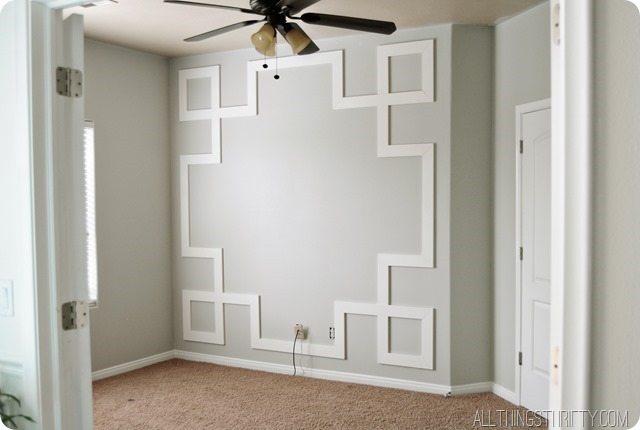 I got the digital images for these darling geometric birds on Etsy at the inknest.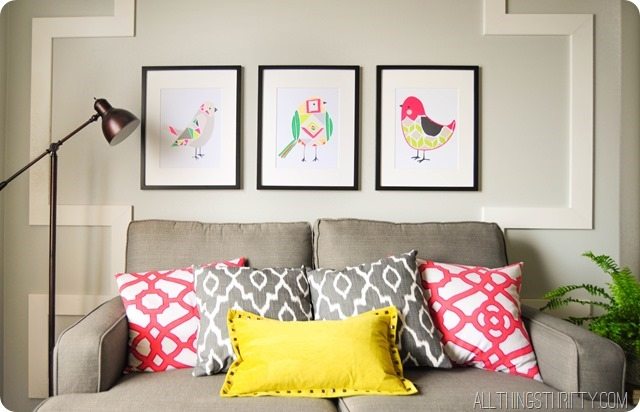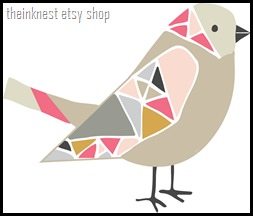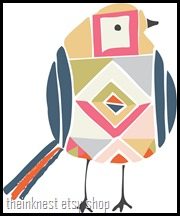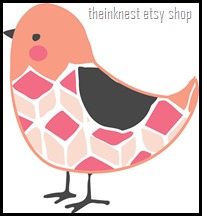 But, I adjusted them slightly in Photoshop to fit my wall and the colors I had in mind.
I am absolutely in love.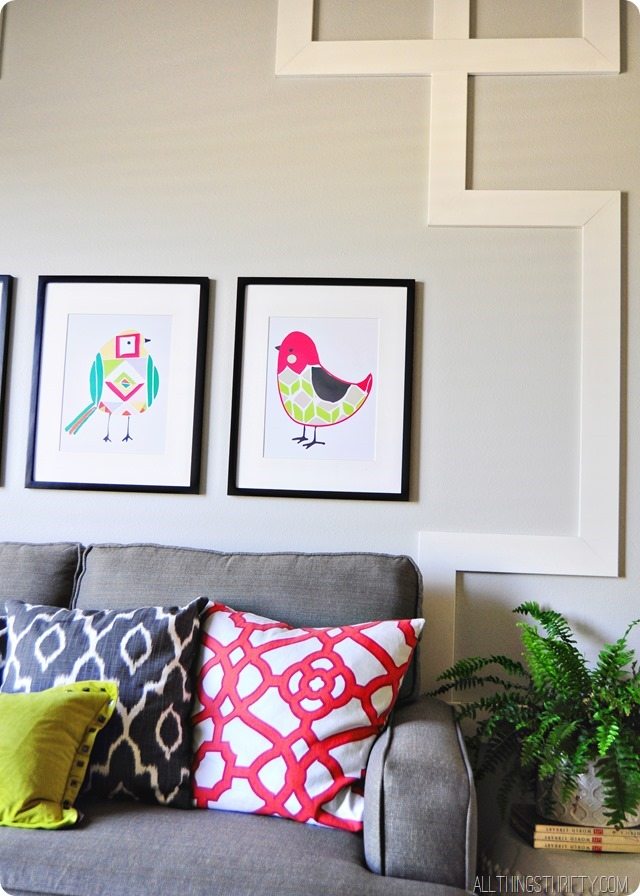 The coral and yellow pillow are from HomeGoods, and the grey and white pillows are from Target.
After the Couch Painting Disaster of 2014, I bought this love seat from Down East Home. To spice up the love seat I exchanged the square tapered legs with cute six inch spindly wooden legs from The Home Depot.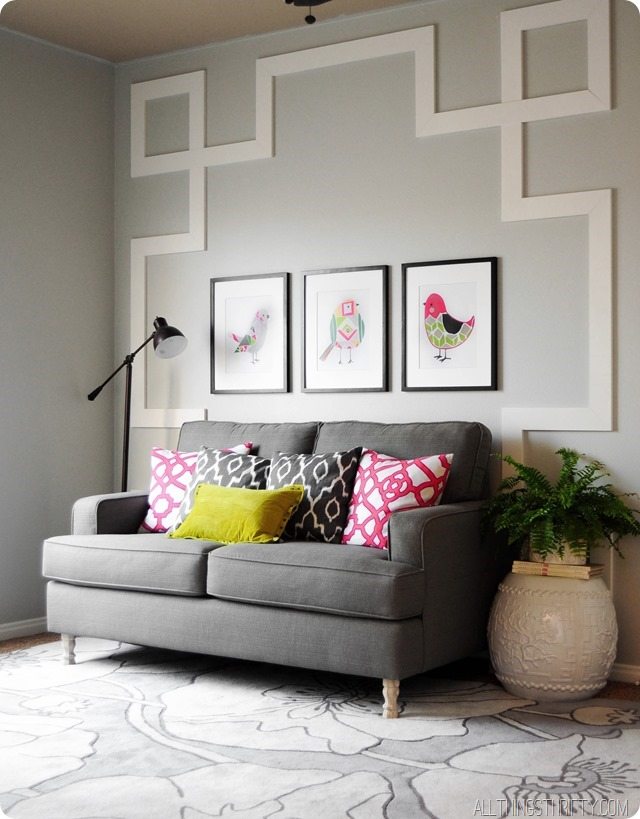 Now I actually hang out in this room. I deem that a success!

I still have a few items on my to do list for this room, so stay tuned! I'll be adding a few finishing touches over the next few weeks.
xoxo,
Brooke