HomeGoods contacted me a few weeks ago and asked if I was interested in giving away some gift cards….ummm… OF COURSE!! I'm obsessed with HomeGoods, and my husband can attest to that. So, this post is sponsored by HomeGoods. All opinions are 100% mine. I was challenged to organize a room with products found at HomeGoods as part of their Organize in Style program. 
My office was a disaster for the last four years. We gave it a complete overhaul in the last month! It was VERY dysfunctional before and the catch-all in our home for all the papers, bills…etc and believe me, it was ALWAYS a mess. One thing I have learned about myself over the past few years is that chaotic spaces are no good for my stress level. Are you like that? I need calm spaces that I can relax in and concentrate.
I love the new design, and I actually spend time in there these days! Hallelujah! Although the IKEA desk was a great idea in theory, I actually hated all the cubbies. It was always dusty, and I didn't need all the spaces. So, it was always unorganized which was also no good for my stress level.

After we moved our IKEA desk out of this room, and traded it for a comfy couch from Down East, I painted the walls with Behr Dolphin Fin. It's a great grey color, and it's a very bright, airy room now. It was pretty dark with the dark blue wall before.
I know some of you may be wondering where the "desk" area is going to be in this so-called "office." After a long look at my actual needs of functionality, I decided that I didn't need an over-sized desk. It wasn't holding anything important and the closet was plenty big to hold all of my important craft stuff. But, there were a few things that needed a home. The corner of the room became the newest spot for clutter, and I needed to change that quickly or if you are like me, that time will fly by and it would have been months before it was organized.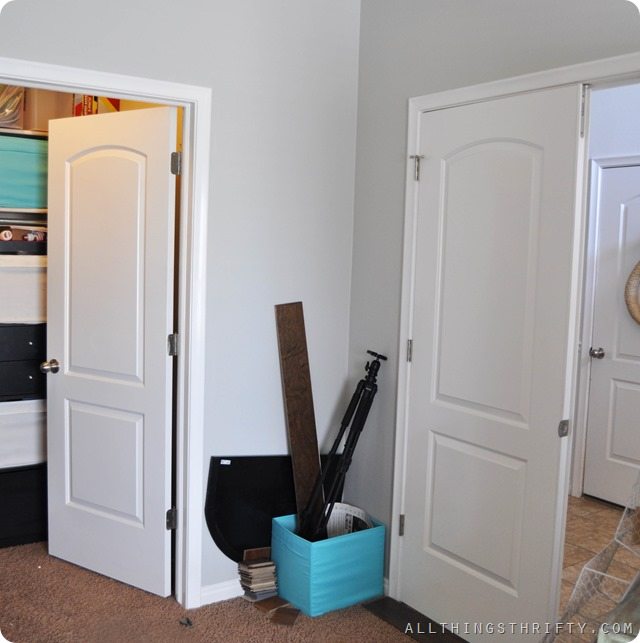 After I was contacted by HomeGoods, I went and bought a few things to organize the space.
The hanging file holder was perfect and very flexible to change out when I need different categories. I printed cute tags out on card stock and clipped them to the front! I'm on the Stake Girls Camp committee this year, so it's on my mind, and keeping all of my notes in one place is sooo convenient.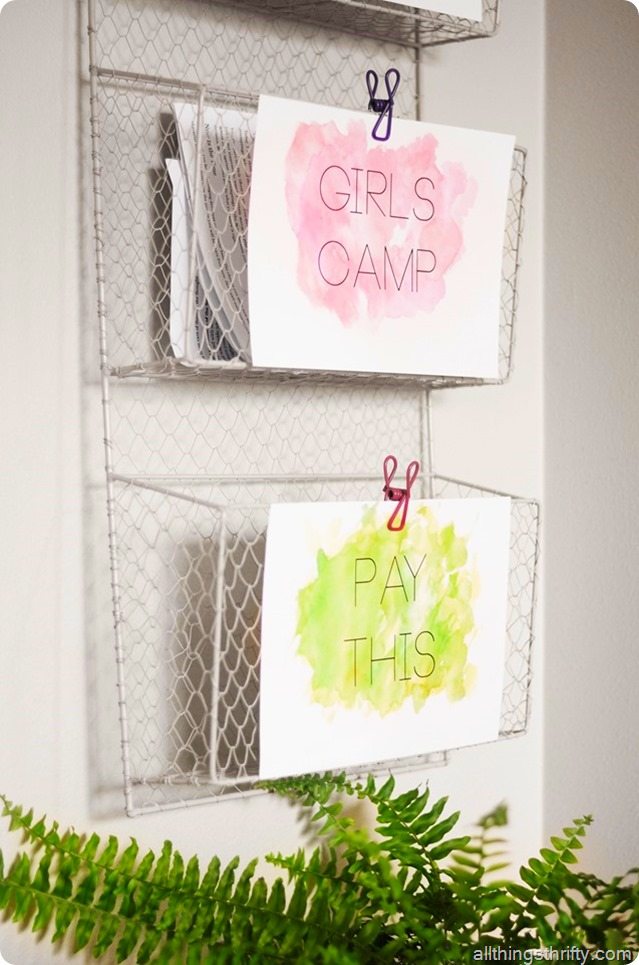 Although, I knew I needed a desk, I didn't want a large one like I explained above. I wanted it to be small and functional, but I didn't want it to be a catch-all for papers like my office used to be. So, I bought these cute grey corbels and attached them to the wall and placed a piece of glass across them. I got the glass at Jones Paint and Glass for $22 and attached it with large glue dots from the local craft store. It was an inexpensive way to get a great custom-sized desk!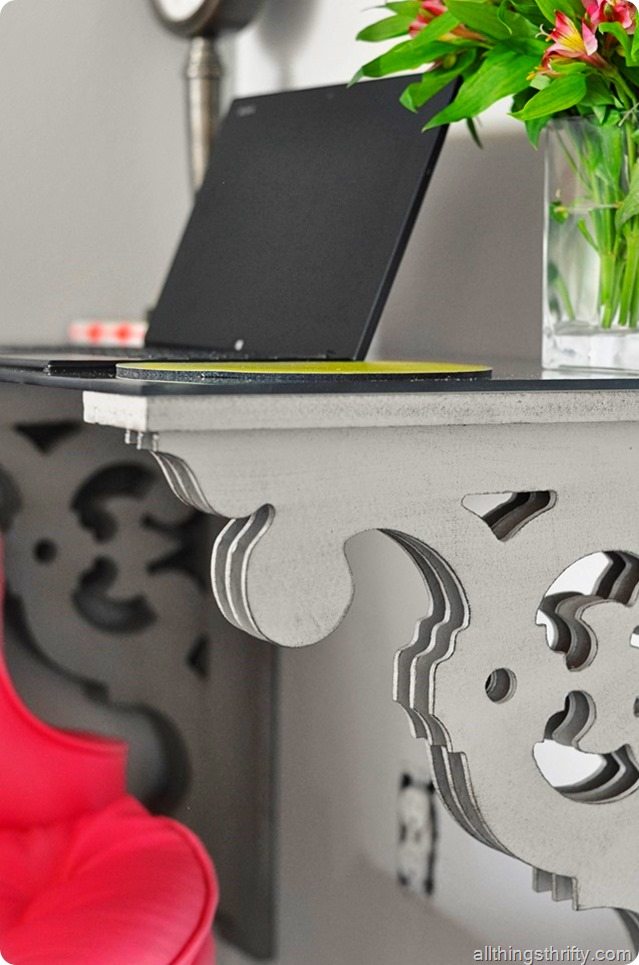 The small desk is exactly the right size to keep things organized around here!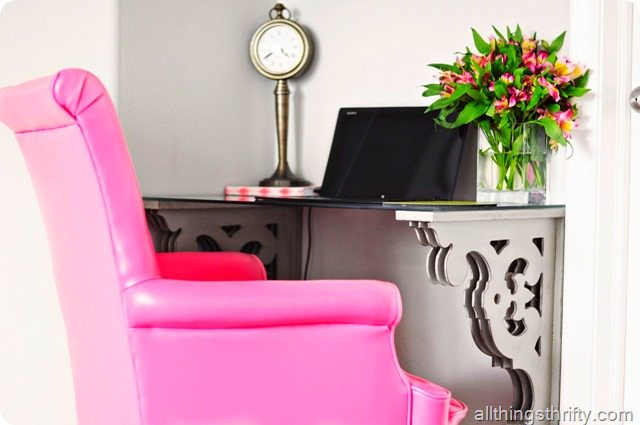 I still needed a little bit of space to put pencils, pens, and scrap paper when I needed to make notes, so I bought this cute shelf and a few smaller items to help with that.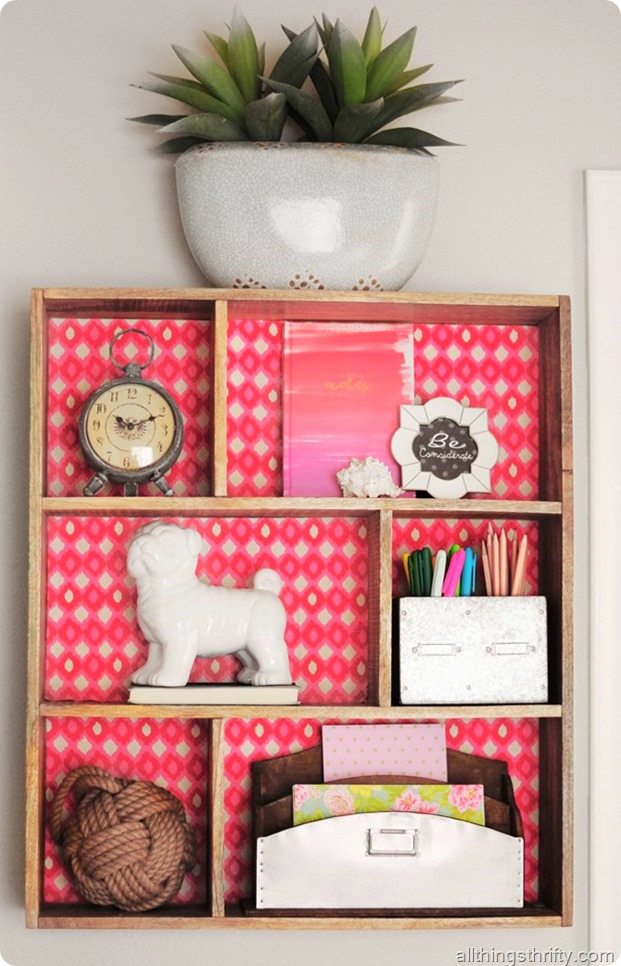 I put pieces of fabric along the back of the shelf to spice it up a bit. 🙂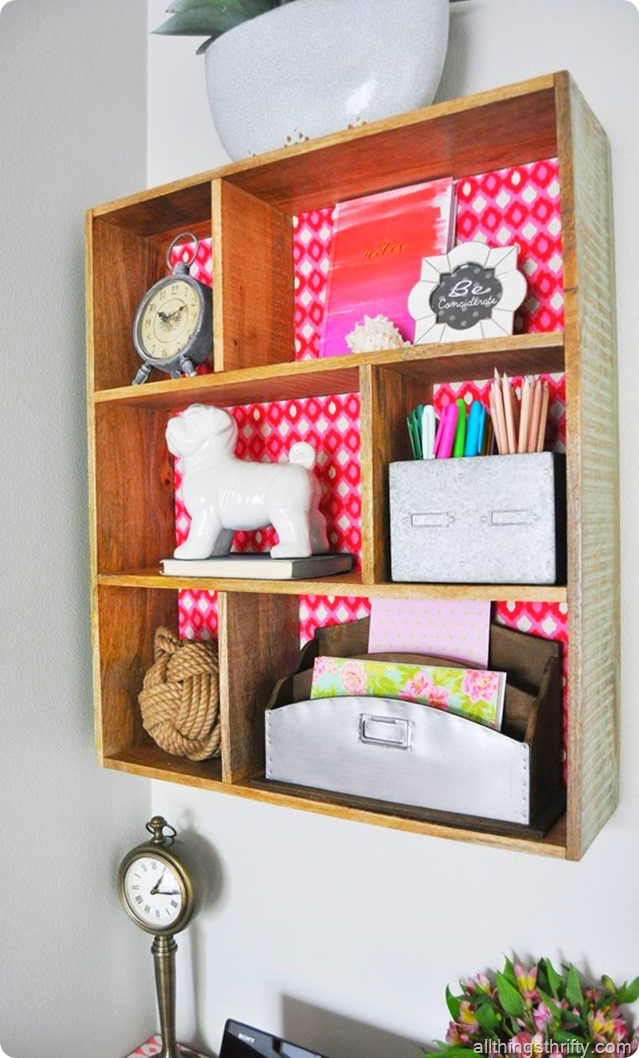 I'm quite proud of how organized it has become, and I have vowed to keep it that way!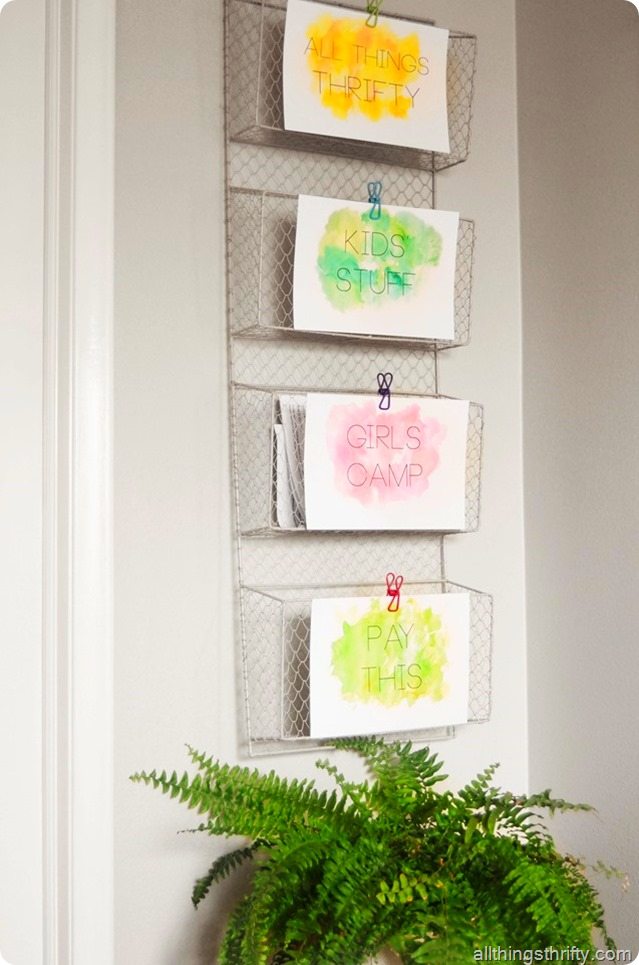 After all, if I want to actually spend time in the room, it needs to be a calm place.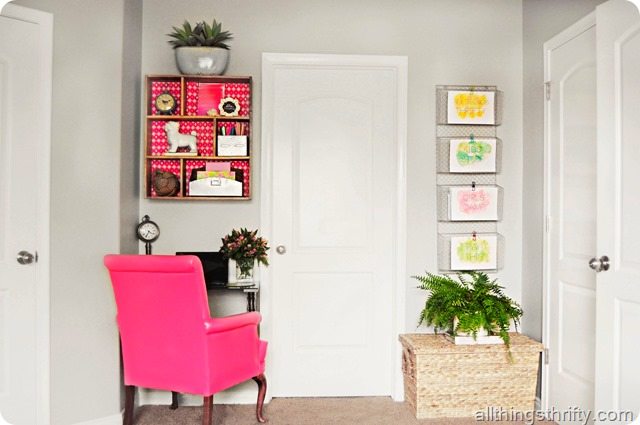 The pink chair was a thrift store chair that I had reupholstered with pink pleather. I love it! Here is another reminder of the room before: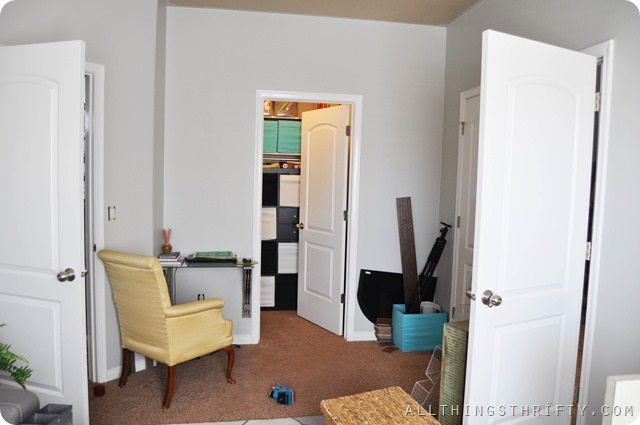 Thank you HomeGoods for helping me organize this space. And truth be told, I would have shopped at HomeGoods to complete this space even if they had not contacted me for this project. Bible. 
xoxo,
Brooke
Enter to win one of FIVE $50 HomeGoods Gift Cards below!