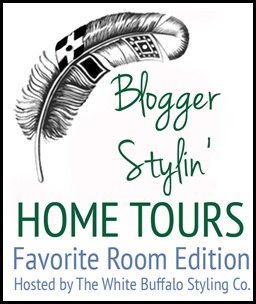 I am super stoked to be part of this year's "FAVORITE ROOM" Home Tour blog hop hosted by The White Buffalo Syling Co. Lindsay is a DOLL, and I'm so excited that she asked me to share my favorite room with you all today!
So if you are here from Charming in Charlotte, WELCOME! WELCOME! I'm so excited to have you! My name is Brooke, and I'm the crazy lady behind All Things Thrifty!
The funny thing about my house is that things are ALWAYS changing, and this is a personality trait I've had long before All Things Thrifty was born over five years ago. So, I guess what I'm saying, is that I can't blame the blog! HA.
My master bedroom has been through the ringer lately, but it is finally taking shape! We just built our MASSIVE DIY headboard, and it's feeling like the romantic retreat that I've always wanted.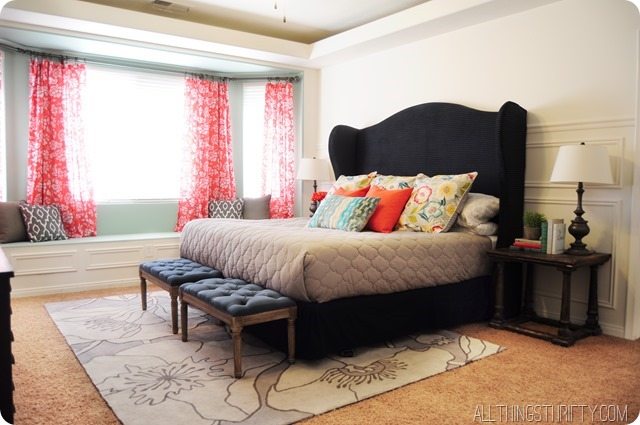 Coral and Navy are two of my favorite colors these days, but if you notice, I love color in general! I can't get enough of color!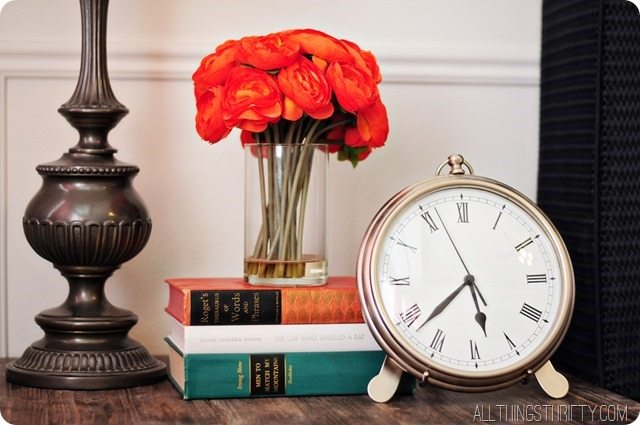 The bed is a king sized intelliBED and I cannot even begin to tell you how much I love my bed. I have traveled a lot this summer for work, and I missed my bed almost as much as I missed my husband…shhhh don't tell him.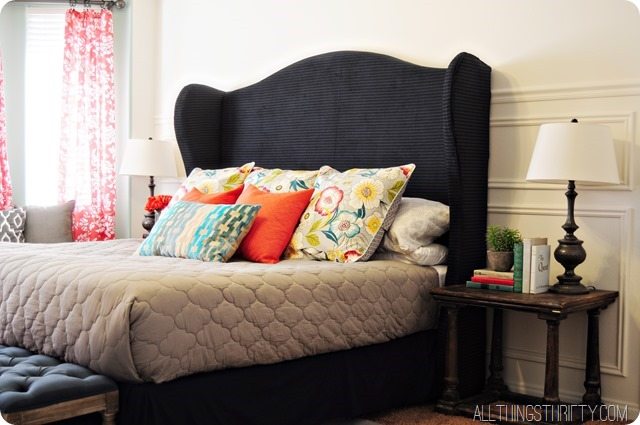 The nightstands are adorned with a few accessories, books, and a clock to look at at 3am when I can't sleep.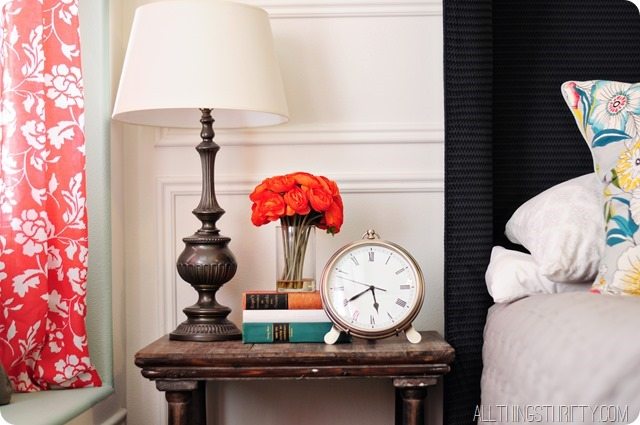 I made the Euro pillows with fabric from Home Fabrics because I wanted more color, and fabric is the best way to introduce lots of color into any room in my opinion.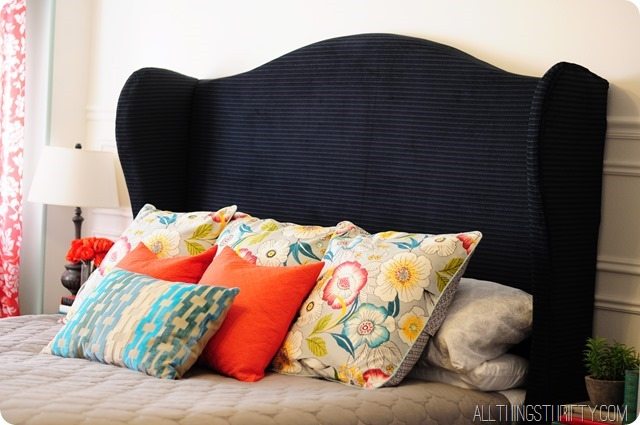 I bought the coral and ombre teal geometric pillows at Homegoods. I bought two shower curtains on clearance and cut them in half for the window treatments. Gotta love $12 shower curtains at Homegoods.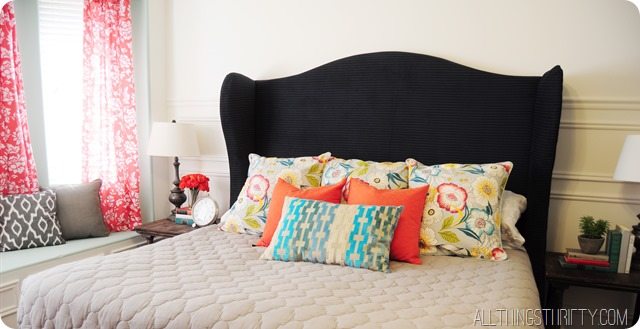 ALL of my books are from the local thrift store. I love decorating with books!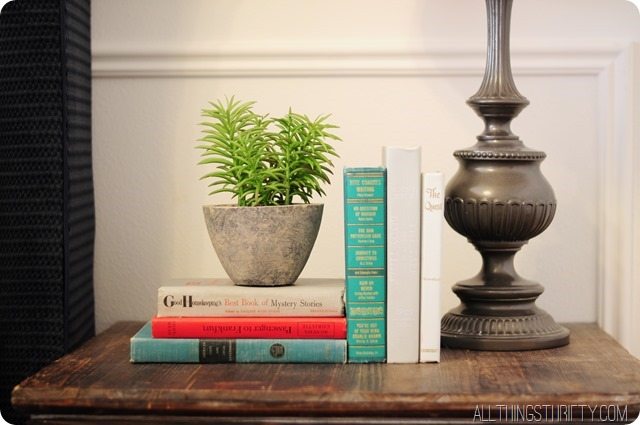 Every time I come home with more books, Dan rolls his eyes. He's a good sport with my obsession.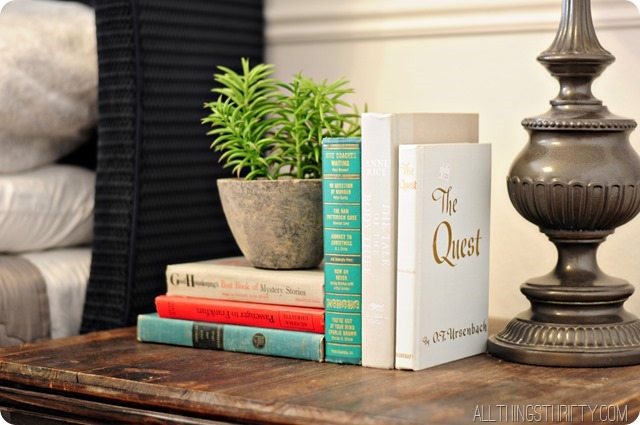 I know someone will want to know where the gray quilt is from, I got it on clearance at HomeGoods.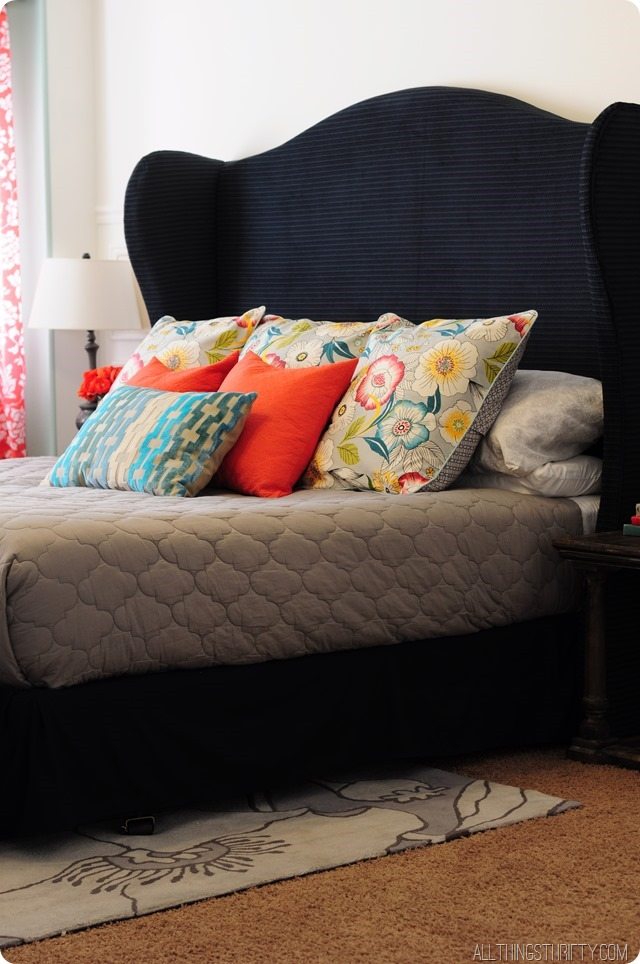 Soon I will have wood floors and won't have to stare at my ugly carpet anymore, but if you need ways to deal with ugly carpet, I've got the perfect post for you! I cannot wait for the day to rip it all out!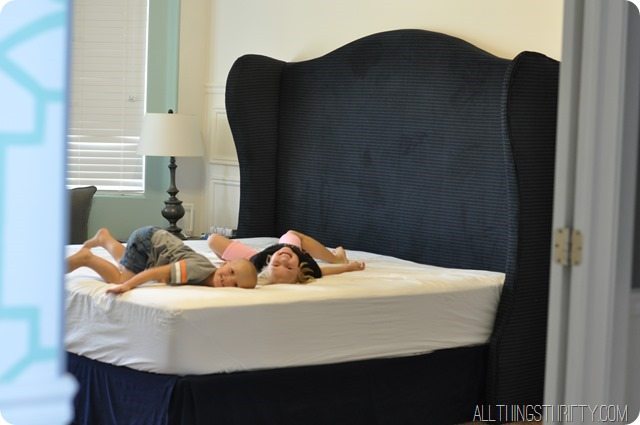 I love this picture of my two youngest playing on the bed because it really shows how massive it is! I'm in love with how it turned out and it only cost us around $150 to make. It was not hard and only took us one weekend to build. Check out the instructions for detailed steps.
I hope you have enjoyed my Master Bedroom reveal and now head on over to Dwellings by Devore for the next stop on this fun blog hop. Stay tuned for more homes to be added to the mix all week! I'm honored to be a part of such a fun event!
xoxo,
Brooke