Hi, y'all! It's Rachel from Like a Saturday. As always, I'm happy to be back with you!
I have been on a major candle kick lately. I think maybe it has been all of the gloomy weather we've been having lately in Texas. When it's grey and chilly outside, I just want to make the house as cozy as possible — fluffy blankets, a good book and the warm glow of candle light. I'm picky about my candle scents and ingredients, which unfortunately means the ones I'm drawn to are on the pricier side.  I thought I'd try my hand at making my own homemade versions! I was a bit intimidated by the task, but it turned out to be so much easier than I thought….and fun, too!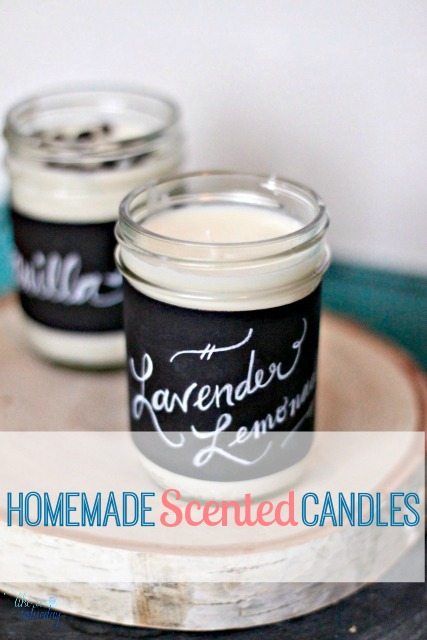 To make your own homemade candles you will need the following:
Soy based wax flakes
Candle wicks with metal base
Wooden skewers or chop sticks
Glass bowl
Sauce pan
Containers like mason jars, small glass dishes, or tea cups
Ingredients of choice for scent
To melt the wax, you will want to create a double boiler with a glass bowl and sauce pan. Fill the pan about halfway with water and bring to a boil. Pour the wax flakes into a glass bowl (about 2-4 cups depending on the size of your container) and set it on top of the pan.
Stir the wax every few minutes until it is completely melted. While you have the wax on the stove, go ahead and prep your candle container. You will want to dip the metal base of the wick and then stick to the bottom of your container, making sure that it is centered. Once that is dry, wrap the end of the wick around a skewer until it is sitting on the edge. This will keep the wick centered in place.
Once the wax is completely melted, carefully and slowly pour into your prepped container.
Next you will add your ingredients for the scent of your choice. I opt to use natural ingredients like essential oils or items you probably already have in your pantry.
To make a "Vanilla" candle, you will use 1 teaspoon of vanilla extract. Pour it into the melted wax and stir well with a skewer or chop stick to make sure it is blended well. I also added some coffee beans after the wax had set for a bit, but was still soft. This makes a subtle vanilla latte scent.
For a "Lavender Lemonade" candle, use 20 drops each of lavender and lemon essential oils. Stir with a stick to ensure it is blended well. You can use just one essential oil scent or try your own combination of favorites.
 You will need to let the candles set for 24 hours before using them. Once enough time has passed, you can trim the wicks down to about 1/8 of an inch and enjoy!
Aside from having lovely candles to have in your own home, these make lovely Mother's Day, birthday, house warming or hostess gifts! Embellish the jars with ribbon, fabric, or a cute label. I tried some hand lettering with a chalk pencil on black card stock and wrapped around each jar.
I'd love for you to stop by Like a Saturday to say hello! 🙂