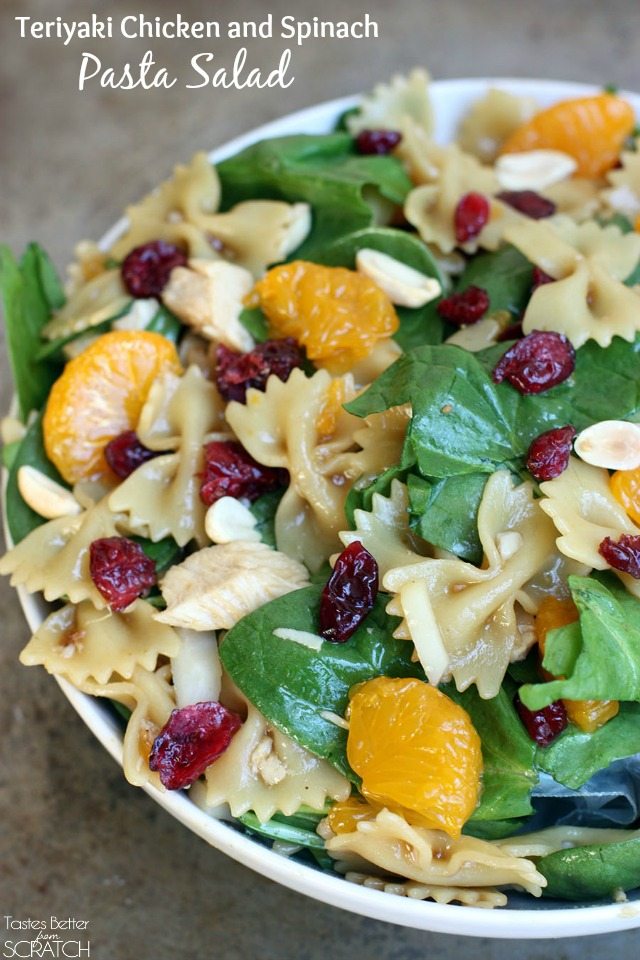 Hey readers, it's Lauren visiting again from TastesBetterFromScratch.com! The last few times I've posted here I've shared sweets–like these chocolate cupcakes, oreo cupcakes, and brownies. But I'm back to show you all that I'm not just about chocolate 😉 . I may have a bit of a sweet tooth problem, but I love regular food too. I especially love food that's healthier, filling, and full of flavor. That way my family is eating well and I can feel justified in indulging my sweet tooth every once in a while!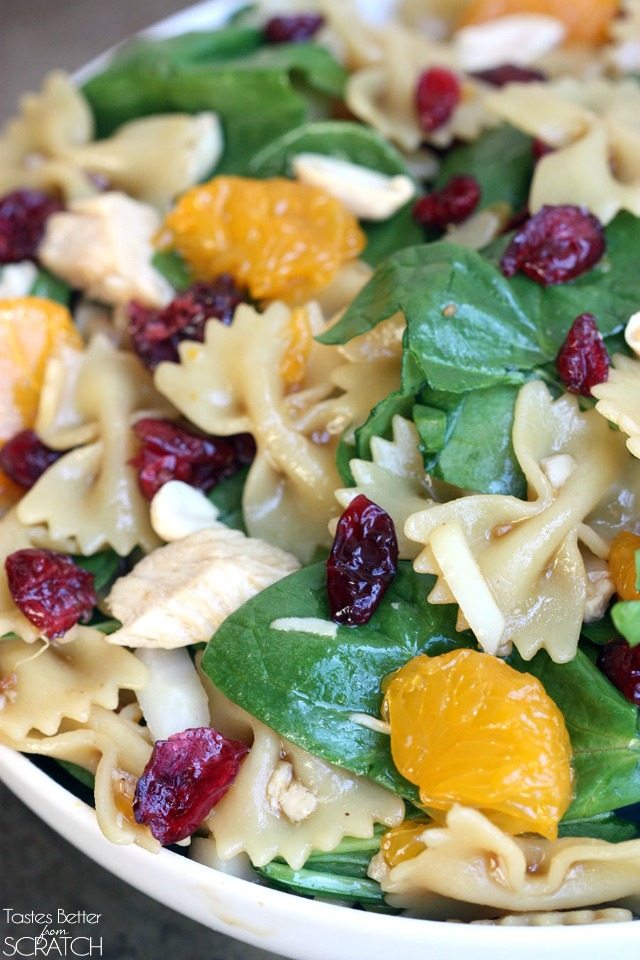 I pretty much live off of pasta salads during the summer. This Chicken Caesar Pasta Salad and this Spinach Avocado Pasta Salad are among my favorites. They work great as a main dish, or a side dish, and my kids will always devour them! You can add lots of veggies to them, but they've still got some filling carbs from the pasta, so everyone is happy.
This Teriyaki Chicken and Spinach Pasta Salad is one of our family favorites! My Aunt typically brings it as a side dish to every family party and it's always a huge hit. I like to serve it as a main dish.
Teriyaki Chicken and Spinach Pasta Salad
Ingredients
1 lb fresh baby spinach
1 lb. farfalle (bowtie) noodles
2-3 chicken breasts (or 2 cups rotisserie chicken)
1/2 cup dry roasted peanuts
1/2 cup dried cranberries
1 small can water chestnuts, sliced
1 can mandarin oranges
2 Tbsp chopped sweet onion
For the dressing:
1/2 cup teriyaki sauce*
1/4 cup oil
1/4 cup rice wine vinegar
Instructions
Prepare the dressing by combining all of the ingredients.
Cook pasta according to package directions. Drain water and add noodles to a large bowl. Toss the cooked noodles in about half of the teriyaki sauce and refrigerate until cooled.
Season chicken breasts with salt and pepper and grill until cooked through. Use two forks to shred the chicken.
Combine the spinach, cooked chicken, peanuts, dried cranberries, sliced water chestnuts, mandarin oranges, and chopped onion in a large salad bowl. Add the pasta to the bowl and toss to combine. Add additional dressing, to taste.
*Note: My favorite brand of teriyaki sauce is "Yoshida's", but any good quality, thicker style teriyaki sauce works best.
http://www.allthingsthrifty.com/2015/07/teriyaki-chicken-and-spinach-pasta-salad.html
I hope you'll stop by Tastes Better From Scratch, or follow me on Pinterest, Facebook or Instagram, for more yummy meal ideas like:
Grilled Hawaiian Chicken Teriyaki Bowls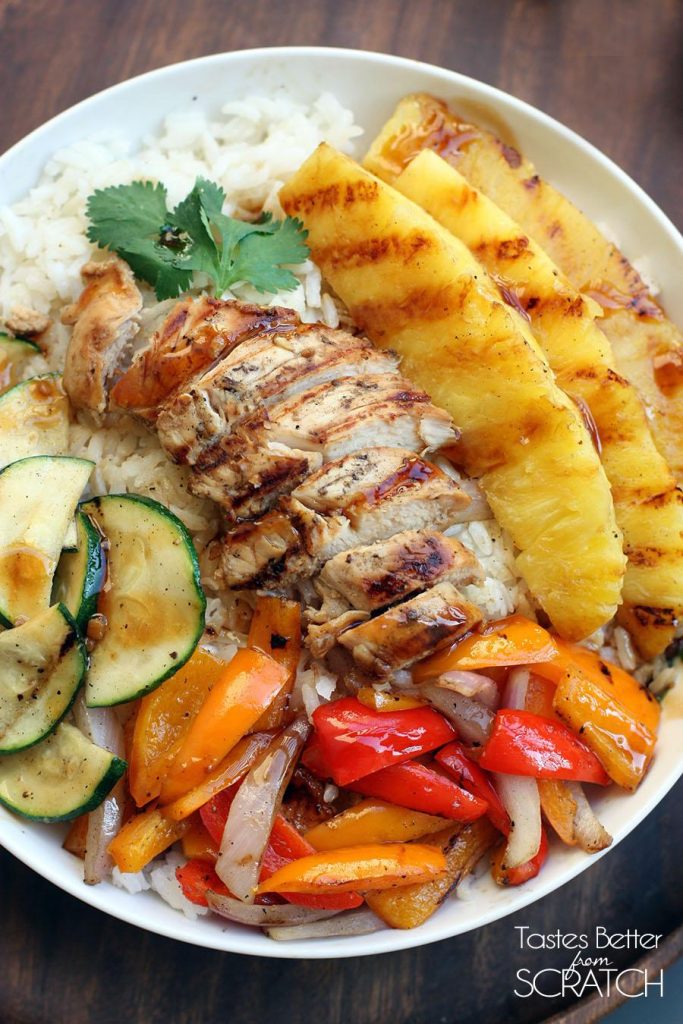 Cajun Chicken Alfredo Pasta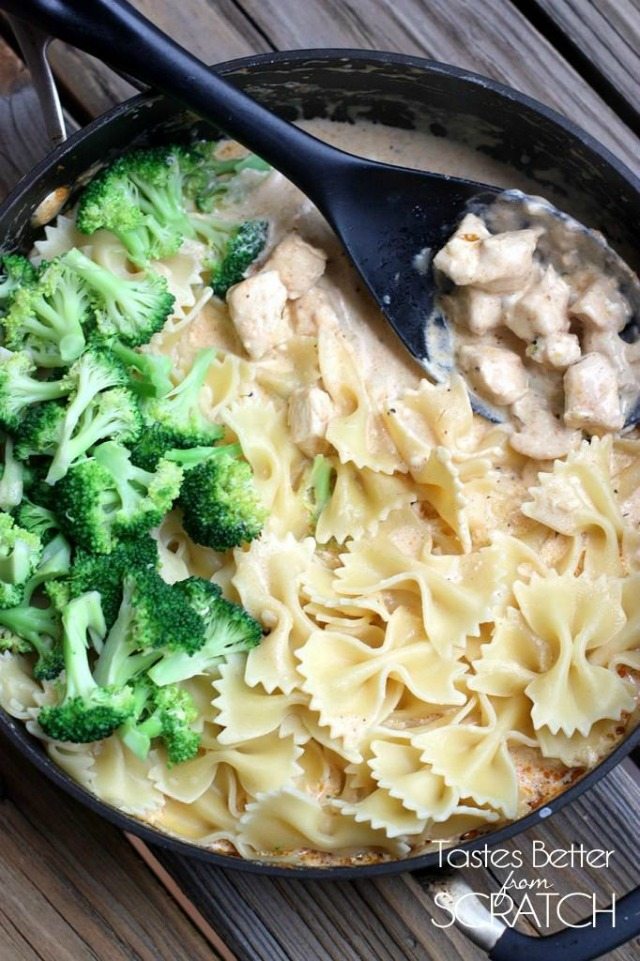 One pan Baked Ziti