Hey Guys!
Fancy Farmgirls Here!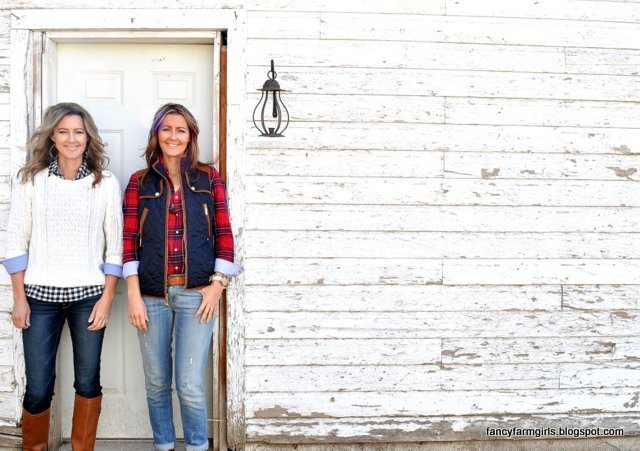 Last time we were here we shared with you our Farmhouse Living Room Makeover Here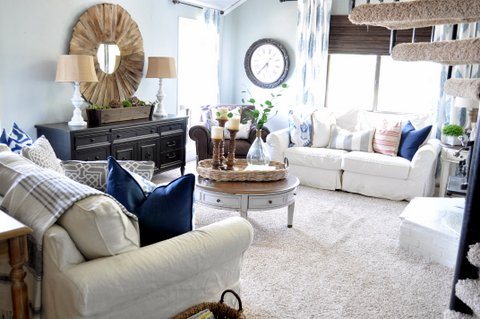 We want to share with you how we created this oversized mirror that we think for very little money
makes such a statement in the room.

There's a fun story that goes along with this and how we became inspired to make this
Huge Oversized shingle mirror!
Each year, we hold our "Fancy Farmgirls" Sales out of a not so fancy shed.
It is full of memories and character and……..
holes!
Which provides a magical dappled light effect which we LOVE
until…….
it rains!
We watch the weather in the weeks coming up to our sales
and we cross our fingers a lot
and send a few prayers heavenward
that the rain will be great AFTER the sale.
And each windstorm that comes up
adds a bit more "character" to the shed with a lot of new
nature made "skylights".
We grumble and gather the shingles scattered around the property and toss them in the trash
until……
We saw THIS!
GAH!
We need a wind storm!
Liz disassembled an existing mirror.
You can also purchase mirror rounds at the craft stores.
Use the old school "nail and string" method to trace out a circle that is about the circumference of your mirror and shingles.
This will serve as the backing for support to glue your mirror and shingles.
Cut out your circle knowing you don't have to be perfect on your
cuts, because it will all be covered up.
Let go of your inner perfectionist (if you have one).
I don't;)
Using mirror adhesive, center the mirror on your wood backing.
Using wood glue, glue on your shingles in an overlapping pattern
and
Voila!!
How cool is that?!
We have a sentimental piece of our childhood
turned into a piece of art.
And suddenly…..
I like wind storms.:)
Don't have a run down shed on your property!?
No problem.
Run to your local Home Improvement store where they sale bundles of cedar shake shingles and get to work!
Big statement piece for very little money!
Like upcycling old pieces!?