Hey Guys!
Fancy Farmgirls Here.
We're here to share with you this fun 30 minute project
we've added to the farmhouse bedroom.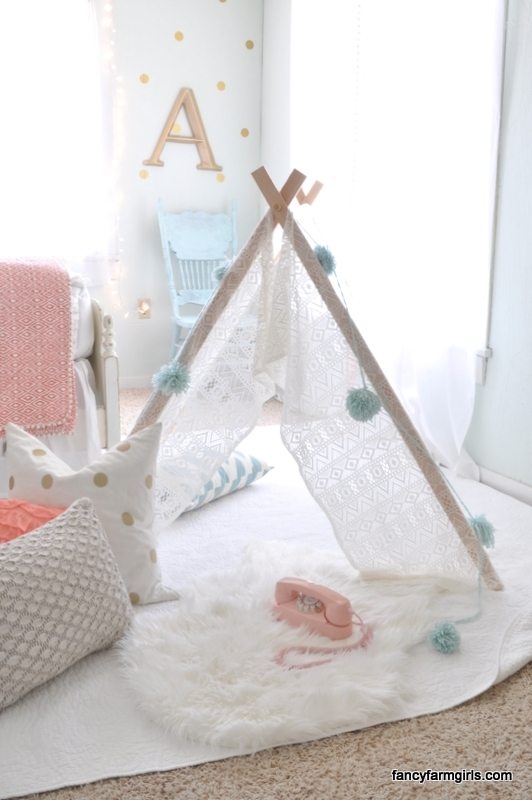 This cute DIY play tent!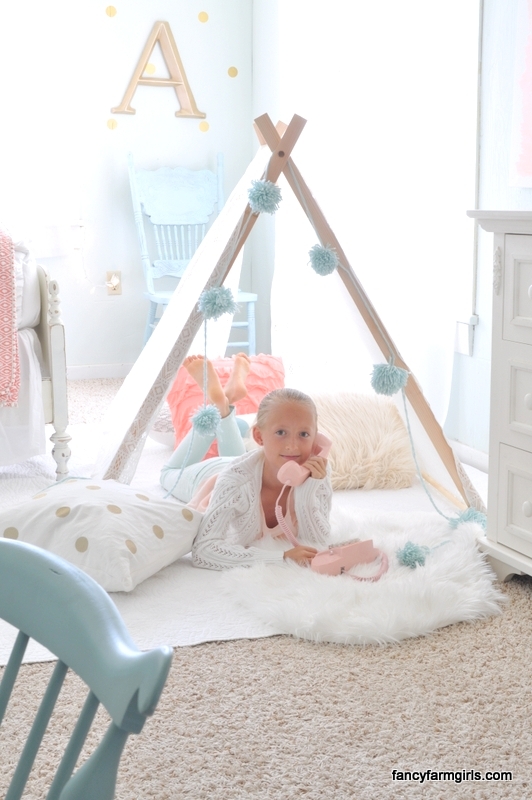 It's a quick, no high tech tools, kinda project.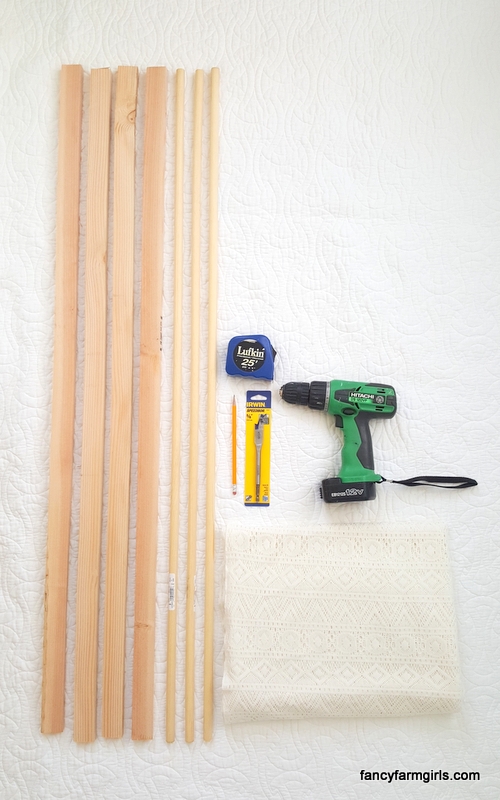 Our Supplies List:
3 – 48″ x 5/8″ wooden dowels
2 – 8 ft. Furring Strips (cut in half, down to 48″ long)
2 1/2 yds. Fabric of your choice
5/8″ drill bit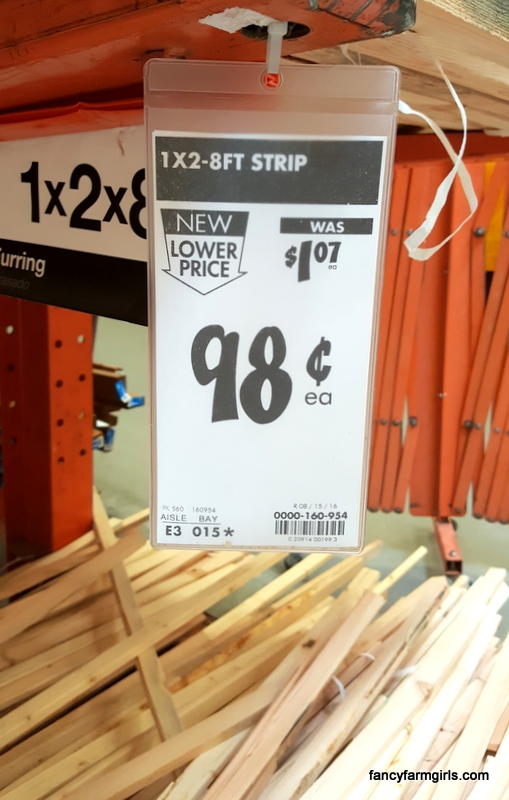 Love that price!
Be careful when picking out your Furring strips.
They are a lower grade lumber and you can find a lot of them bowed or badly splintered.
Pick through the pile thoroughly to find the straightest pieces possible.
You are welcome to use a nicer quality wood, but
we are all about saving our pennies to keep costs down, so pick through the pile we will!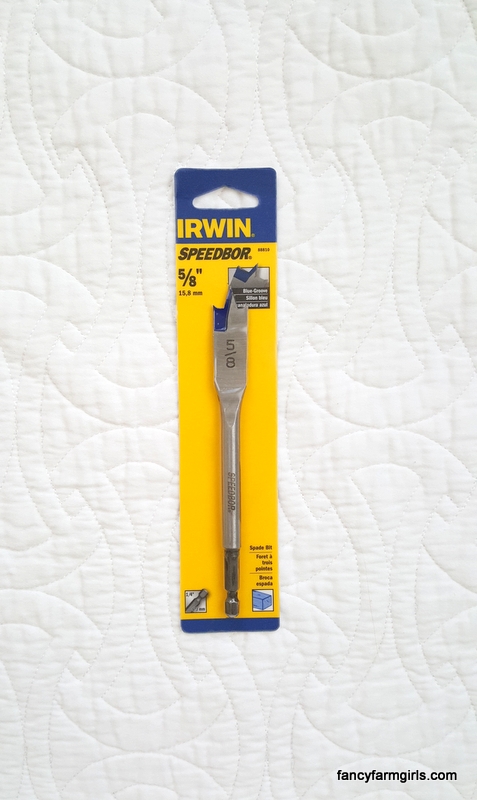 Get a drill bit the same diameter as your dowels.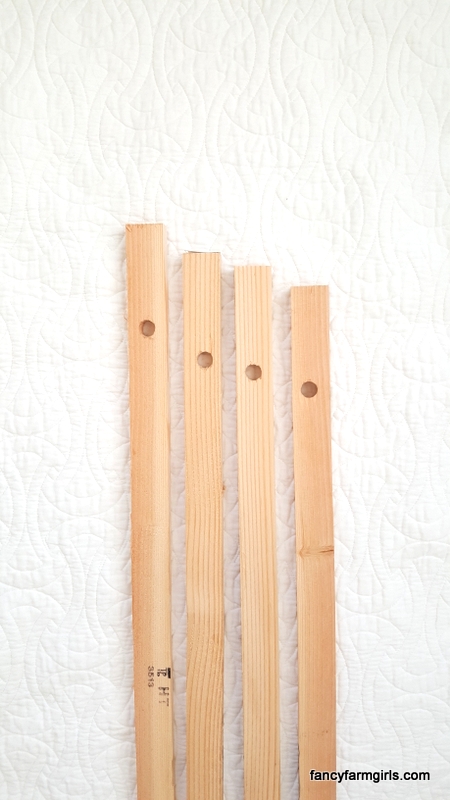 Drill a hole 4″ down from the top of each furring strip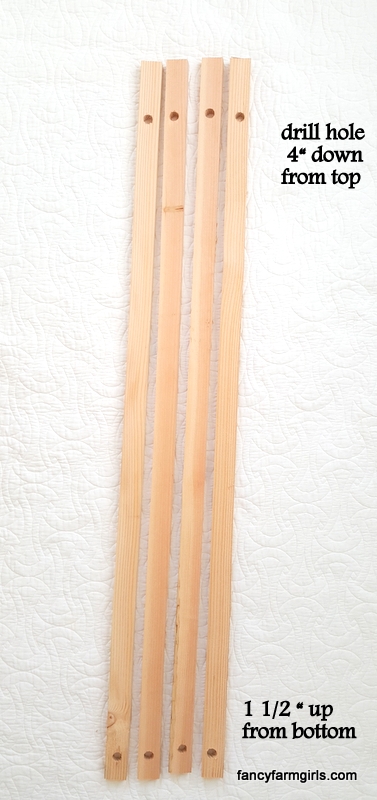 Drill a second hole at the bottom of each strip 1 1/2″ up from the bottom.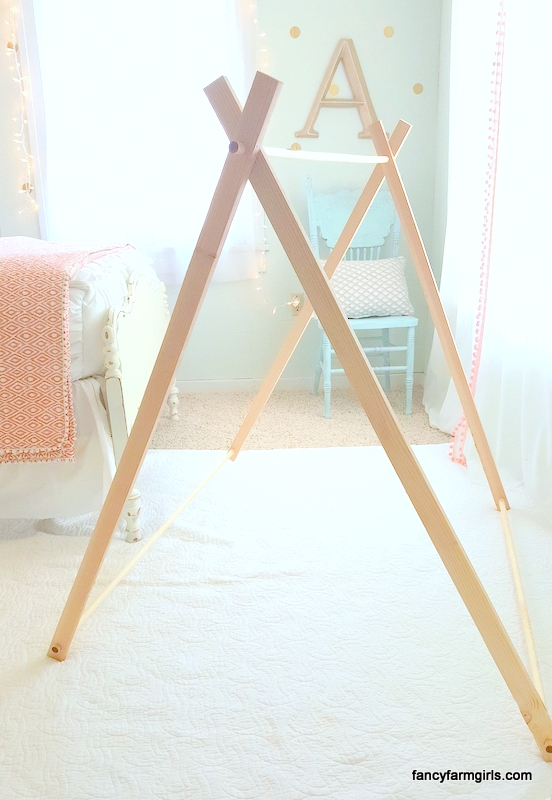 Then simply work the dowels through each hole creating your tent frame.
The dowels will be held in place from their tight fit.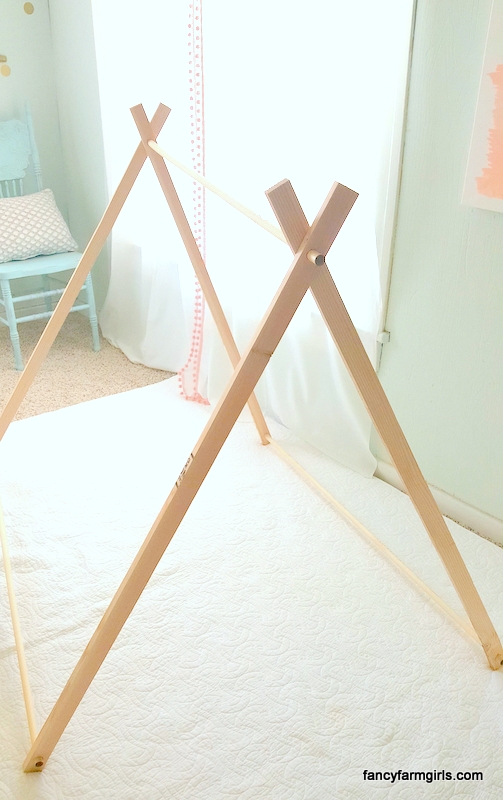 Then have fun with your fabric of choice.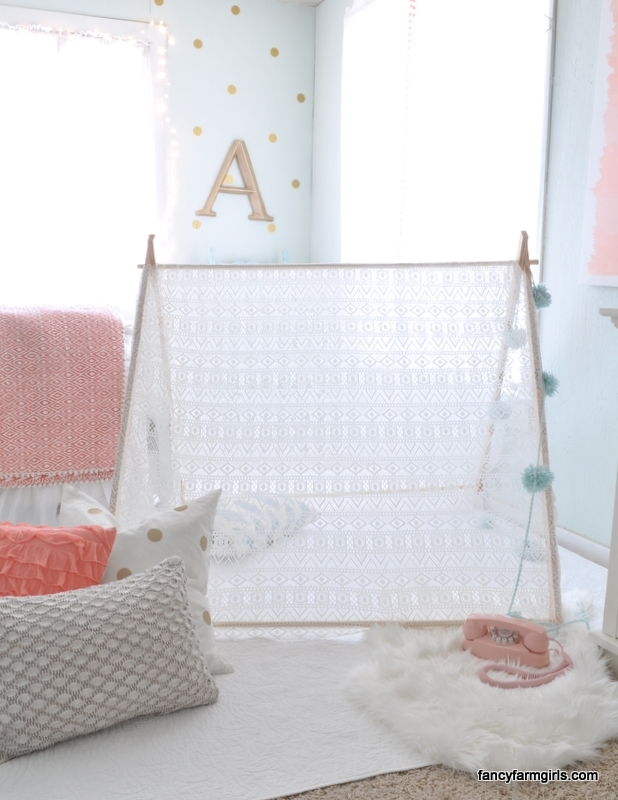 I wanted a light and airy feel so I used my JoAnns Fabric coupon and purchased 2 1/2 yds. of this
lace type material. It had some stretch to it and was super easy to work with.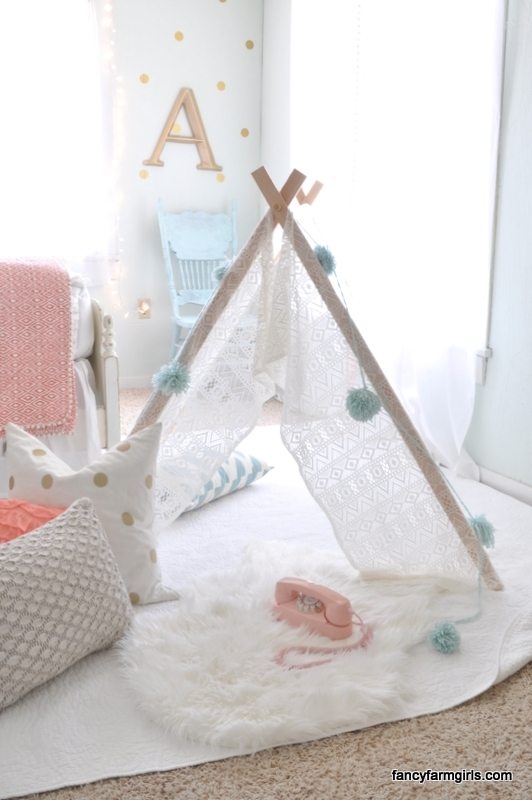 It left me with some excess yardage that I just draped over the opening of the tent.
(I cut a slit into the excess fabric, allowing it to go around the tents support poles)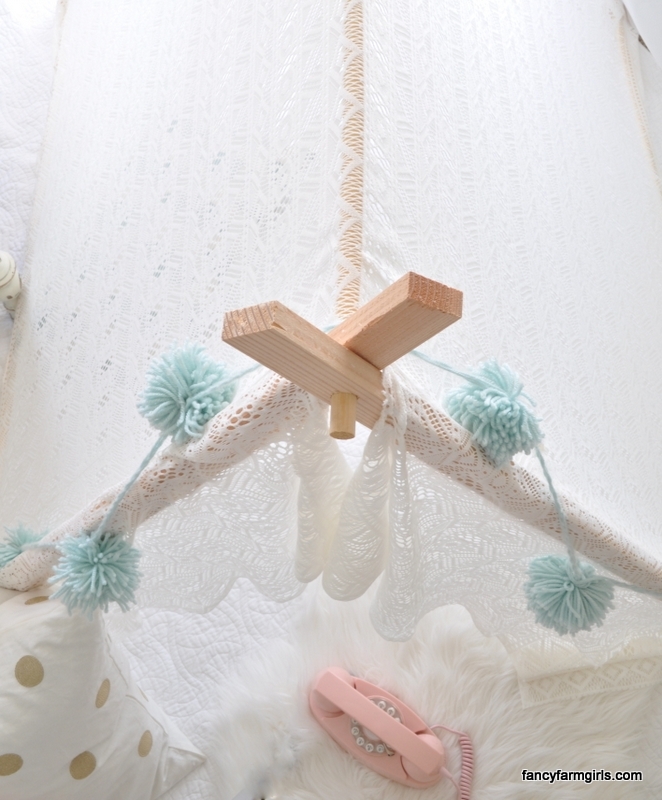 I simply draped the fabric over the top ridge pole and secured the bottom to the
bottom dowels with…. Wait for it…
Hot glue!
High tech I tell ya.
You could secure it with ribbons or staples but I went for the Fast and Easy.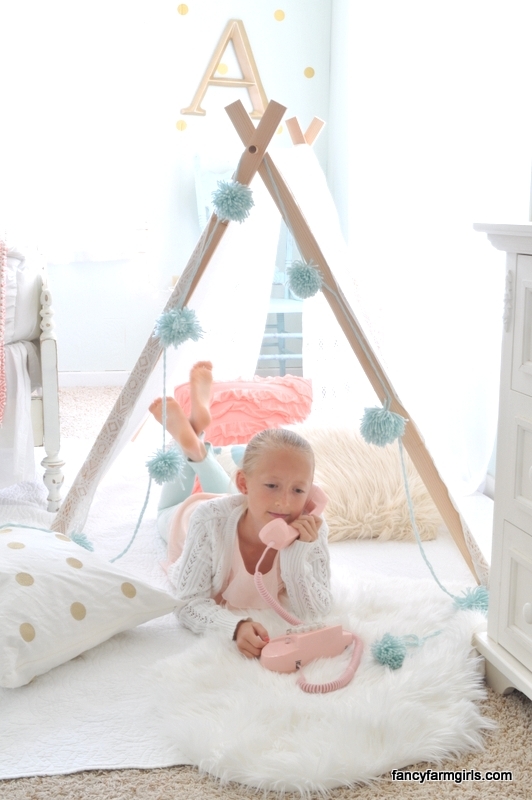 And she is busy catching up on "Suzy said, that Martha said, that Jennifer said….."
It could be a fun addition to any child's playroom or
as a shade tent outside. It's an easy fold and go for easy portability.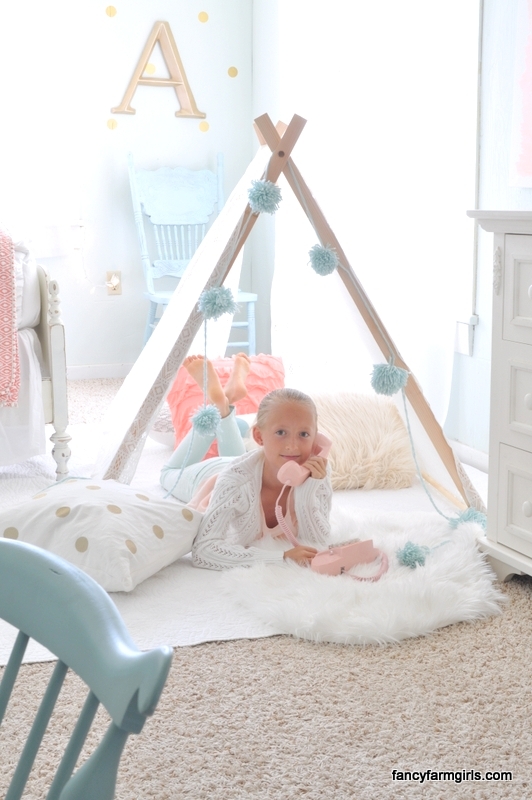 This project really was quick and easy and with each tent frame costing under $10
It would make for a fun project for each child to pick out and design their own
backyard tent!
For more summer fun. come see our child's lemonade stand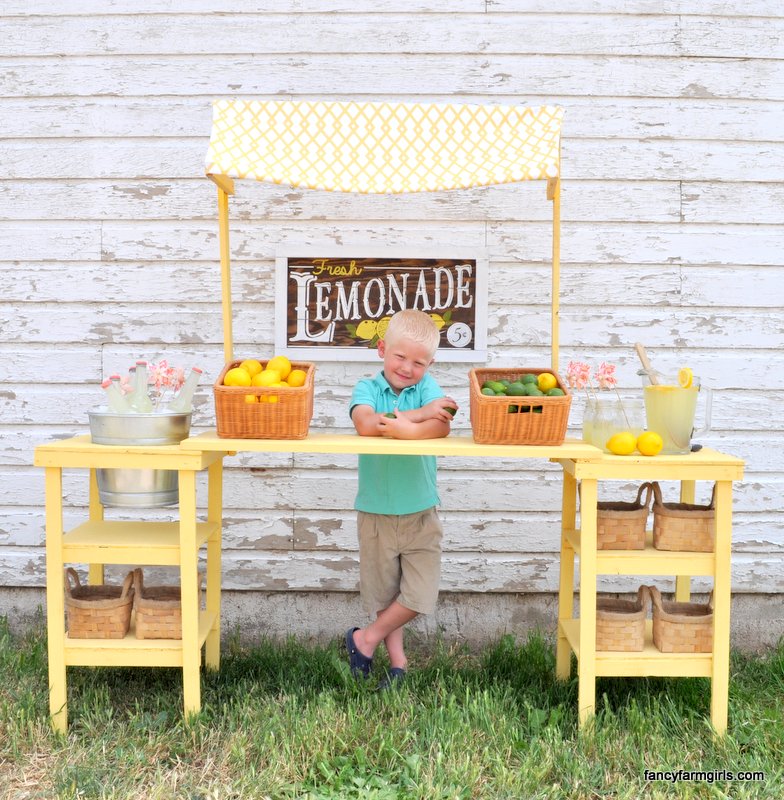 Follow more Fancy Farmgirl projects with,
Instagram HERE
or the Fancy Farmgirls Blog
Happy summering!