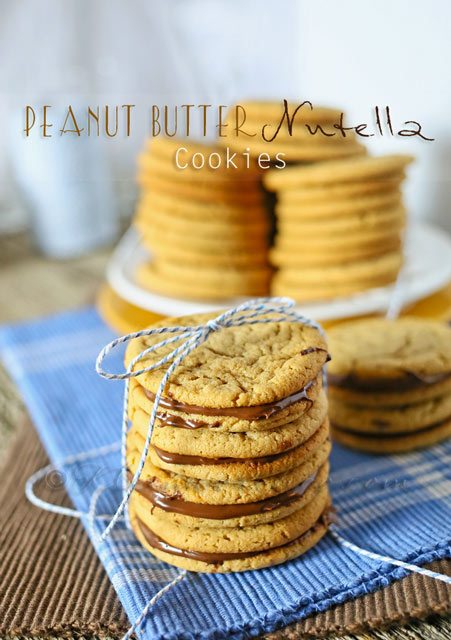 Hi All! It's Gina from Kleinworth & Co. Who loves a good peanut butter & chocolate combo? I'm raising both hands & jumping up & down because I REALLY LOVE IT! Do you know what I love even more? Peanut butter & Nutella! Oh yeah! That's what I'm talking about! Oh my goodness, Nutella is a gift sent straight from above & when paired with peanut butter, it's downright incredible. So of course I had a whole bunch of recipes planned out when I picked up my last jar a few weeks ago. One thing on the list, these peanut butter & Nutella sandwich cookies. Oh they are so good, so rich, so chewy & every bit as good as they look. I started with my favorite peanut butter cookie recipe, because it's so soft & turns out perfectly every single time. I'm telling you, I have tried a ton of peanut butter cookies & these really are my absolute favorite of all.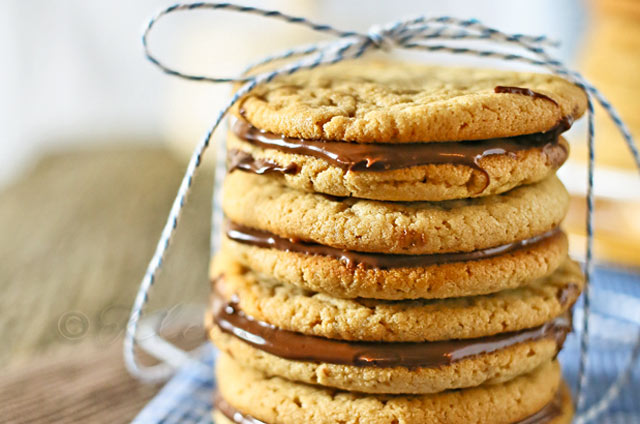 For these you want to make sure that you allow the cookies to cool completely. Don't get impatient because the Nutella will become a melted mess & the cookies will fall apart. I know it's hard to wait. Stick them in the fridge to cool quicker if you need to because I guarantee you won't be too happy when you have Nutella ooosing all over. Especially if you are sharing with little ones. But with as hard as it is to wait, I promise it's completely worth every minute. These cookies are the best!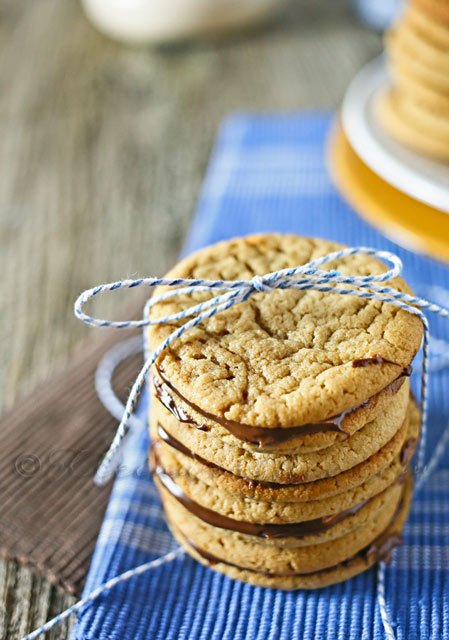 If you love chocolate & peanut butter together – these are going to be your new weakness for sure! You can't ask for a more delicious dessert!
Peanut Butter Nutella Cookies
Ingredients
1-1/2 cups creamy peanut butter (I used natural peanut butter)
1 cup shortening
2-1/2 cups firmly packed brown sugar
6 tbsp milk
2 tbsp vanilla extract
2 large eggs
3-1/2 cups all-purpose flour
1-1/2 tsp baking soda
1-1/2 tsp salt
1/2 cup Nutella
Instructions
Preheat oven to 375 degrees.
In mixer - combine peanut butter, shortening, brown sugar, milk & vanilla. Beat well.
Add eggs - beating until just combined
Add flour, baking soda & salt - beat on low to combine & then beat well for approx 1 minute to bring to a fluffier consistency
Take tablespoon size portion & roll between hands to form a ball - then flatten slightly & place on ungreased cookie sheet
Bake 8-9 minutes or until edges are beginning to brown
Remove & cool on tray approx 5 minutes before transferring to wire rack to cool completely.
Once cool - spread Nutella on cookie & pair with another like sized cookie to form "sandwich"
Enjoy.
http://www.allthingsthrifty.com/2017/02/peanut-butter-nutella-cookies.html
Thank you so much for spending some time with me today. See you next time!
Looking for more great game day deliciousness?