Hello there All Things Thrifty fans. It's Gina from Kleinworth & Co & I'm back today to share with you a tasty little dessert that my family just loves. These Peanut Butter Brownie Trifles are made of chewy, frosting covered brownies layered with whipped cream & peanut butter morsels. It's a simple but delicious dessert that is great for a quiet night in or for serving at your next gathering!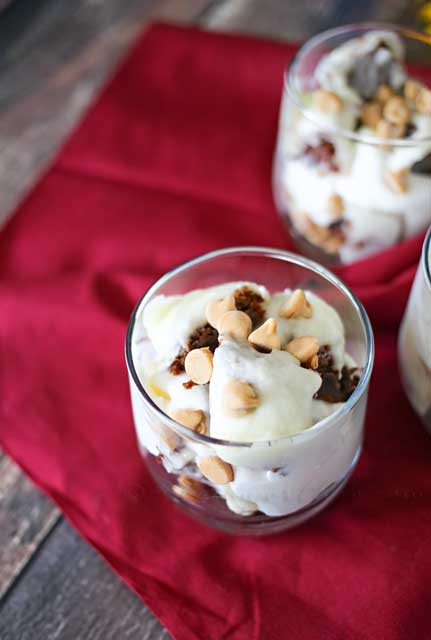 I love finding new ways to use brownies. Growing up my mom was a great baker & cake decorator. However- when it came to brownies it was a mix from a box & they were barely cooled before the whole pan was gone. We didn't frost them or do anything else to them. In fact, it wasn't until I started blogging & Pinterest came along that I found out that people actually went beyond bake & serve when it came to brownies. Can you believe that? I didn't know what I was missing all those years. But now that I have started going beyond what my mom would make – there is no turning back. I'm creating all sorts of goodies & my family is loving it.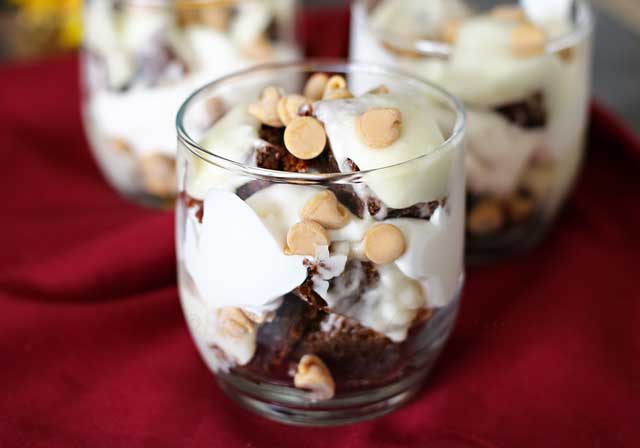 I was originally going to make these with unfrosted brownies – but I just couldn't help myself. I had a bunch of leftover frosting from my munchkin's birthday & these brownies were just calling for a little extra something before they went into the glasses. I'm so glad I did because the frosting just adds so much richness & flavor to the dessert. Add in there the peanut butter morsels & WOW! It's just enough peanut butter flavor to compliment but not compete or overpower the dish.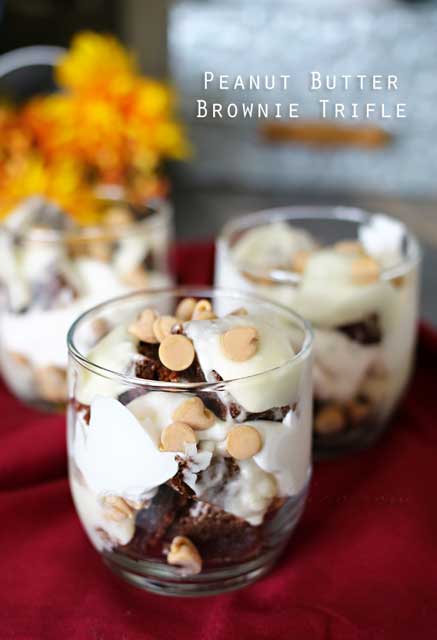 I can't wait to serve these at all our seasonal gatherings coming up. They are great because I can make them ahead of time & they keep well in the refrigerator. So if you have a pot luck or something you can prep, chill & they can come to the perfect temperature as you travel to your event. They won't last long- I can tell you that. Be sure to put these on your "must-make" list.
Peanut Butter Brownie Trifle
Ingredients
Brownies

1 cup all-purpose flour
1/2 cup dutch processed cocoa powder
1/4 tsp baking soda
1/4 tsp salt
1/3 cup semi-sweet chocolate chips
1/4 cup butter
1 cup granulated sugar
2 large eggs
1/3 cup milk
2 tsp vanilla extract

Frosting

8 tbsp (1 stick) butter - room temperature
4 cups confectioners sugar
1/3 cup milk

Additional

3-4 tbsp whipped topping per glass
2 tbsp peanut butter morsels per glass
Instructions
Brownies

Preheat oven to 350 degrees
Line square glass baking dish with parchment & give a light spritz with cooking spray
In large bowl combine flour, cocoa, baking soda & salt - whisk to combine
In a smaller bowl combine chocolate chips & butter - microwave in 30 second intervals until melted - allow to cool slightly
Add in sugar to melted butter & chocolate- stir
Add eggs, milk & vanilla. - Stir well until combined
Pour into dry mixture & fold until completely combined
Transfer to prepared dish
Bake for 20-30 minutes- might not appear done in the middle - that's okay, they will settle as they cool- that's what keeps it fudgy.
Remove from oven
Cool completely before adding frosting & cutting
Once cool - spread frosting on in an even layer - move on to assembling trifle

Frosting

In a mixer with a paddle attachment cream butter until light & fluffy
Add in confectioners sugar & beat slowly
Once mixture looks moist but crumbly add in milk & beat until fluffy again - if you want it a little softer add additional milk 1-2 tsp at a time

Assemble

Cut frosted brownies into bite size pieces & add several pieces into the bottom of your glasses
Sprinkle in your peanut butter morsels
Top with whipped topping & continue in the same process until your glass is full ending with the peanut butter morsels
Refrigerate until ready to serve
http://www.allthingsthrifty.com/2015/08/peanut-butter-brownie-trifle.html
If you are looking for more easy to make treats – check these out!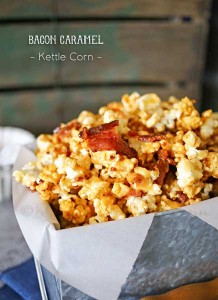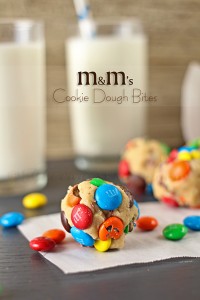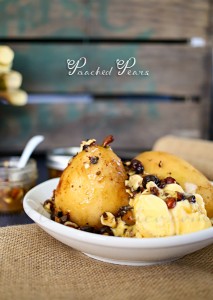 Thank you so much Brooke for having me today. I always love to be here!
I would love to get to know you better – stop on by Kleinworth & Co & say hello & maybe grab a few recipes too!
You can connect with Gina via Blog, Facebook, Twitter, Google+, Instagram & Pinterest