Hi! Fancy Farmgirls here.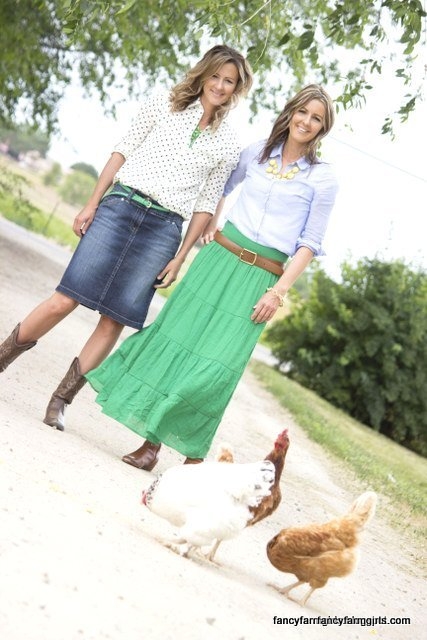 We grew up poor farm kids.
Our mom loved to decorate.
No money to decorate.
No problem.
She created a beautiful home for us on a shoestring, almost nonexistent budget.
Although I don't recall my mom ever wielding a paintbrush to any furniture,
she was a master at thrifting and bringing it all together to create beauty.
So thanks to our mom for passing on the art of frugal decorating.
We wanted to do a bit of a breakdown on some of the farmhouse rooms and show how frugal decorating really can bewith just a bit of elbow grease and paint.
Always paint! 🙂
Throw in good ol' Craigslist, thrift stores and a whole lot of yard sales and you've got the perfect combo for budget friendly decorating.
A good 90% of the hard furnishings in the farmhouse are second hand pieces that we've paid pennies on the dollar for. Wielding a paintbrush, paint and a little sweat equity,
gets them Fancy Farmgirl approved.
So come on in!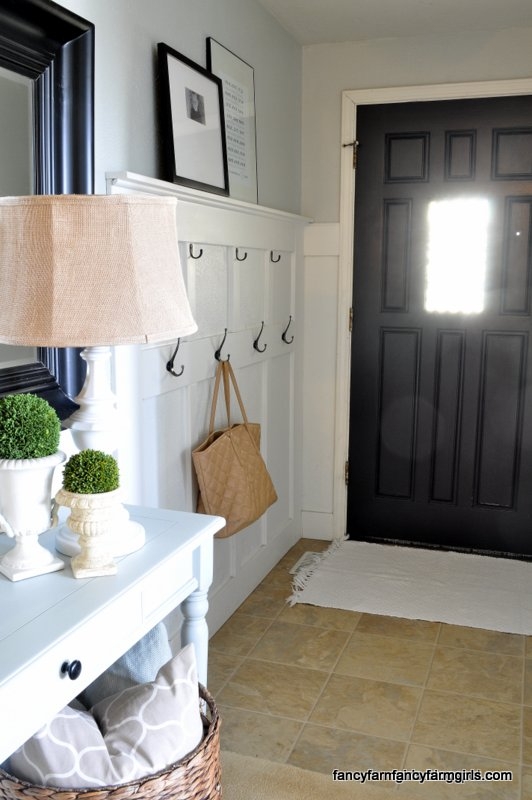 This entry had remained unchanged since built 30+ years ago.
(excuse the bad pic. It's all I could dig up from before)
Groovy metal scrolled window and all.
With just $125 worth of supplies,
Liz added board and batten and paint!
The floor is just the cheap peel and stick vinyl squares slapped over the top of the old yellow 70's vinyl and it's held up great!
Here's our room by room, 2nd hand/DIY cost breakdown: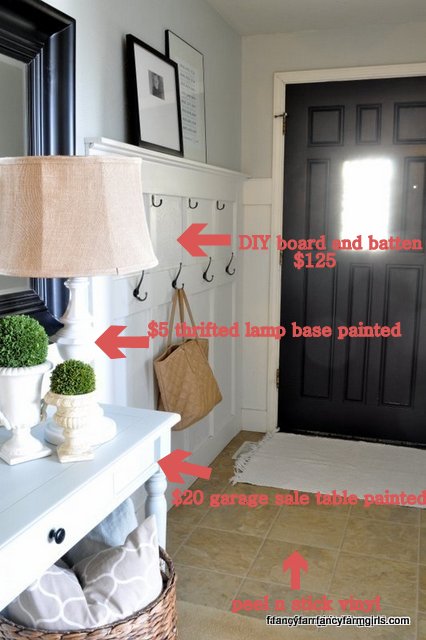 about $150 later and entryway update is complete!
See entry makeover details HERE
Entering the living room..….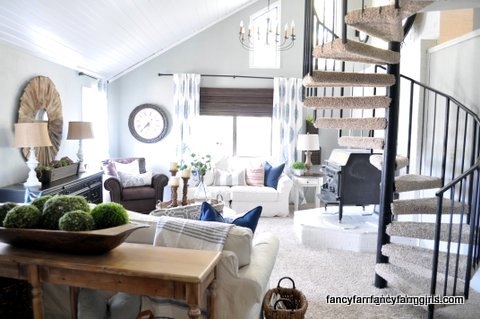 Couches from thrift stores usually give me the heebie jeebies. I know there's some amazing ones out there, but my imagination just gets too carried away and I JUST. CAN'T. DO. IT!
Too many unknowns.
So I usually buy new upholstered pieces, BUT, shop your local outlet stores and if you're patient,
you'll run away with a steal.
Like this Pottery Barn couch I snagged.
The love seat is two end pieces of a pottery barn sectional, but throw on all the throw pillows and you'd never know.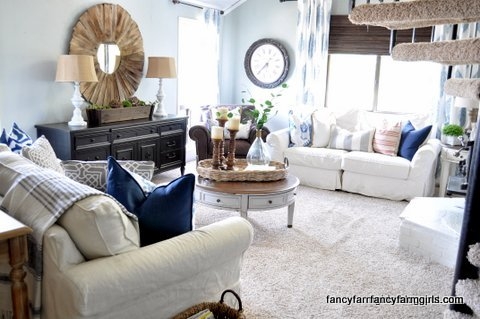 our second hand room cost breakdown: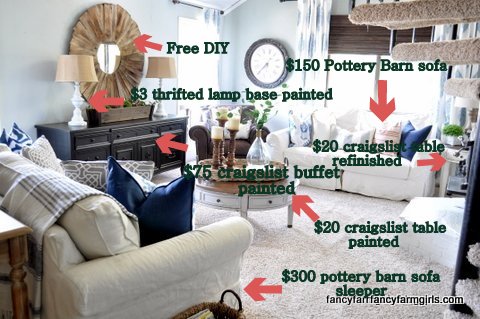 Room total:
$568.00!
The majority of the rooms changes were done through a few gallons of paint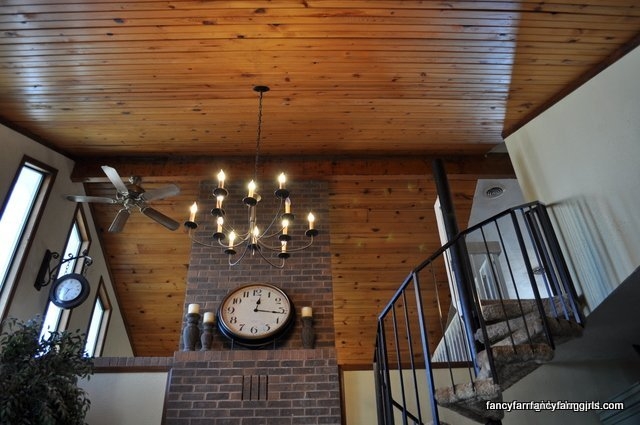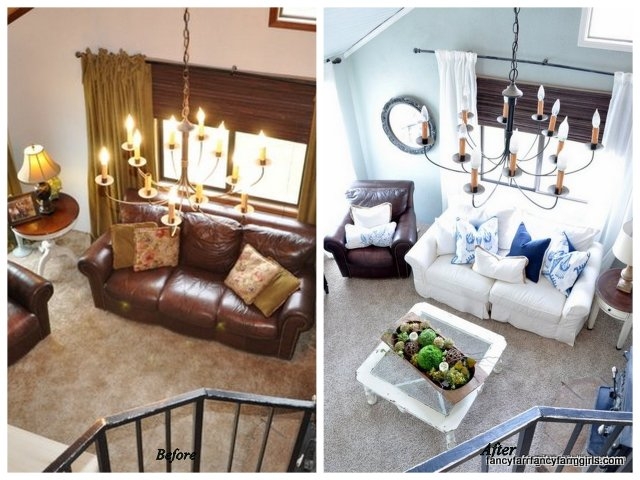 I wanted a large statement mirror, but those things can be speenndy!
So, I built one!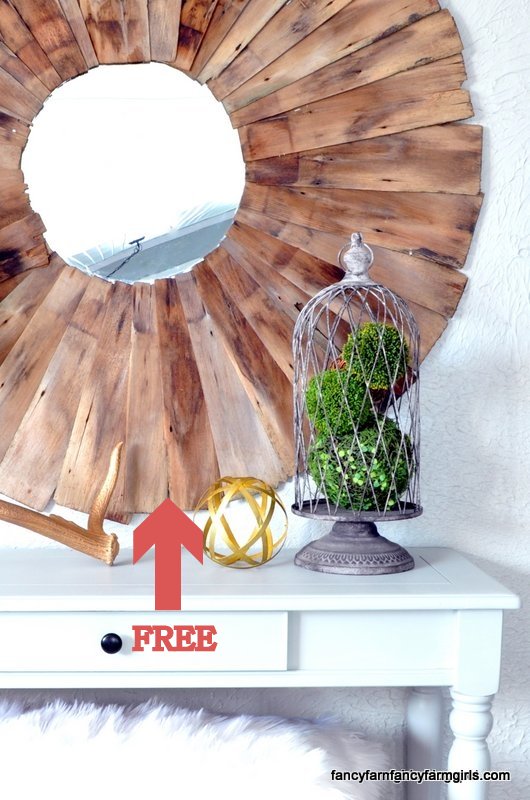 After the barn roof shingles blew off!
See full tutorial HERE
In 1990, our older sister grew tired of the dark farmhouse kitchen cabinets and took it upon herself to paint them. Enter 2016, and the white cabinets are still in style.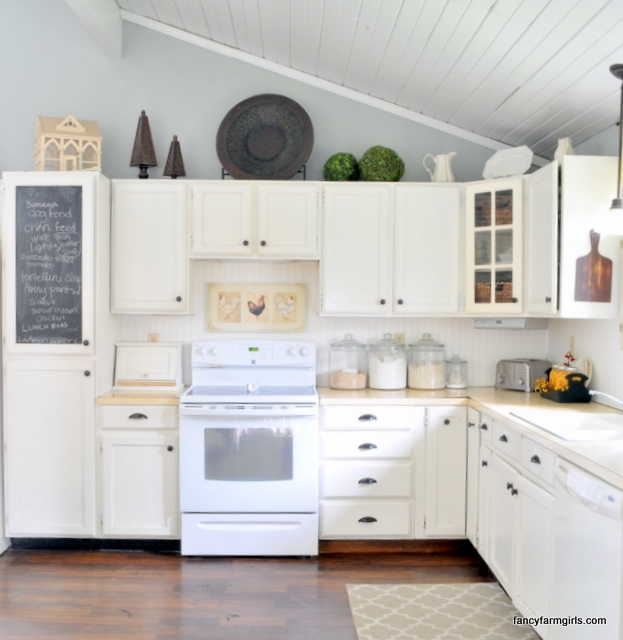 White is forever classic. When in doubt, go white!
The laminate countertops have never been changed out.
Thirty years and holding.
But trust me, some areas look their age, and a lot of the decor is strategically placed to cover some large burns and breakage. The laminate wrapped right up the wall and served as the backsplash.
To break up all that 70's gold we applied a couple of rolls of this wallpaper beadboard and it has held up amazingly well!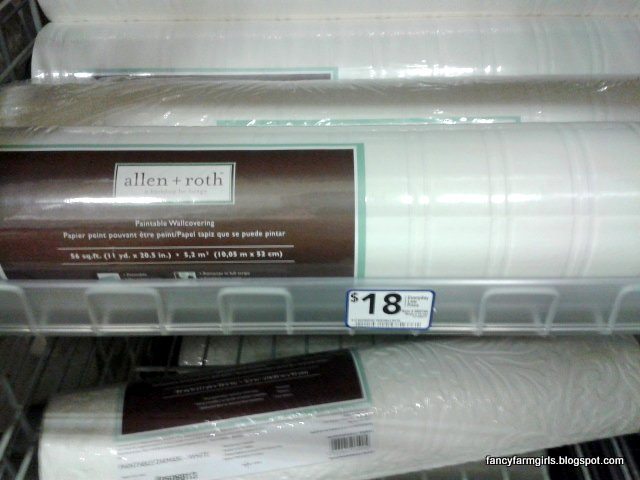 At $18/roll This is a great solution for renters or people squeezing the budget.
The rest of the kitchen is furnished in mostly second hand finds.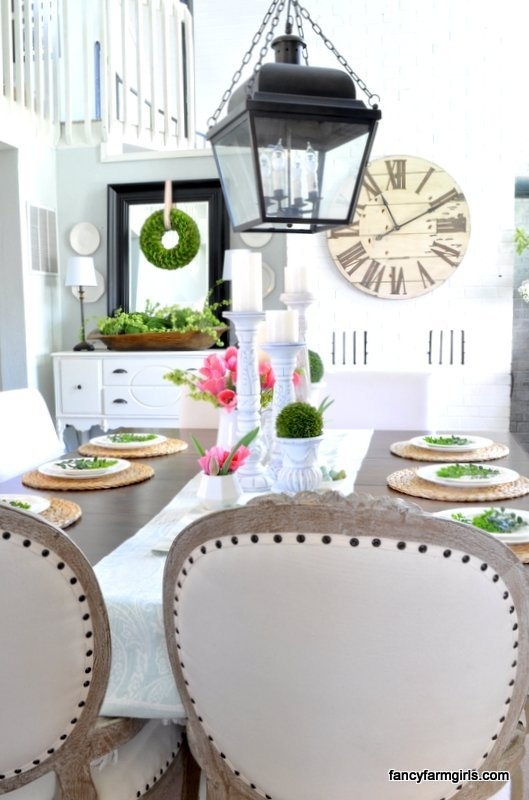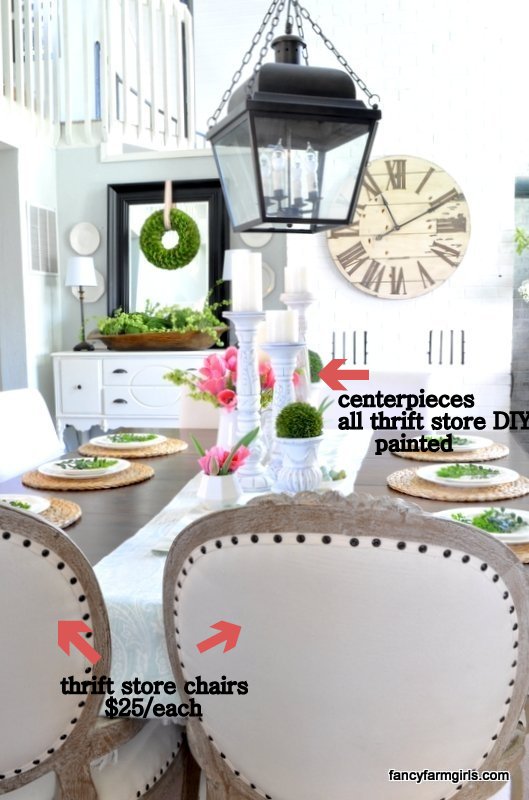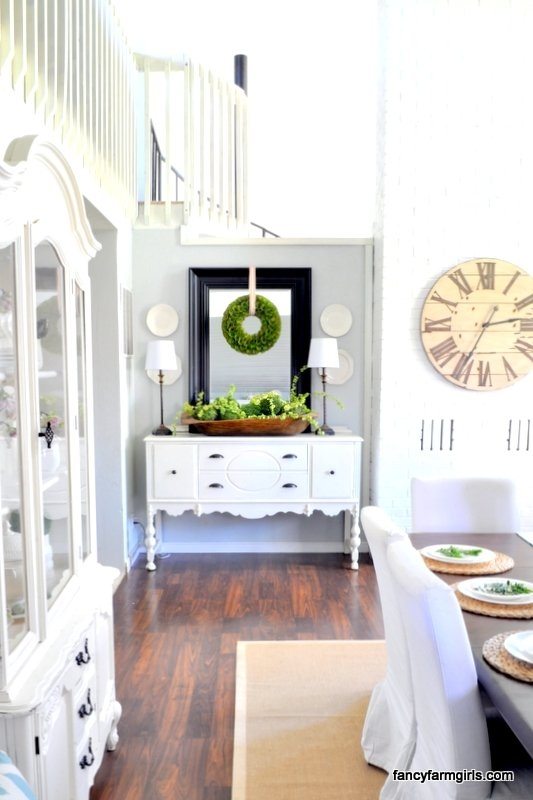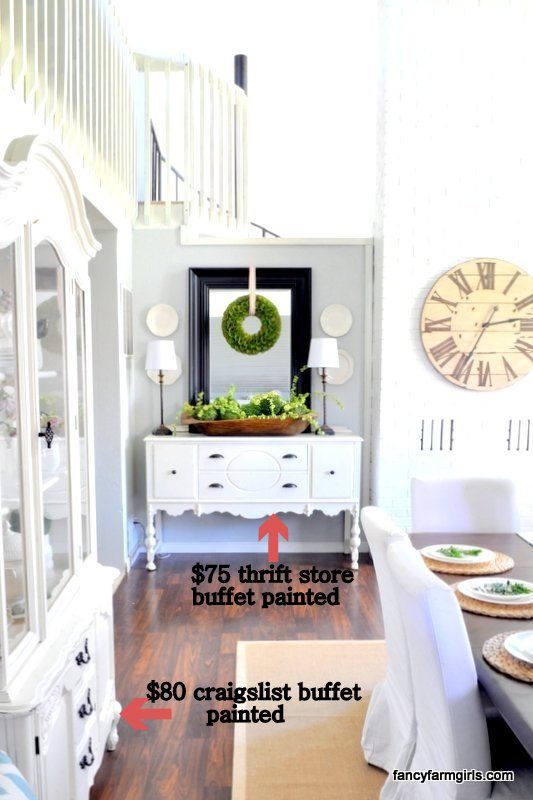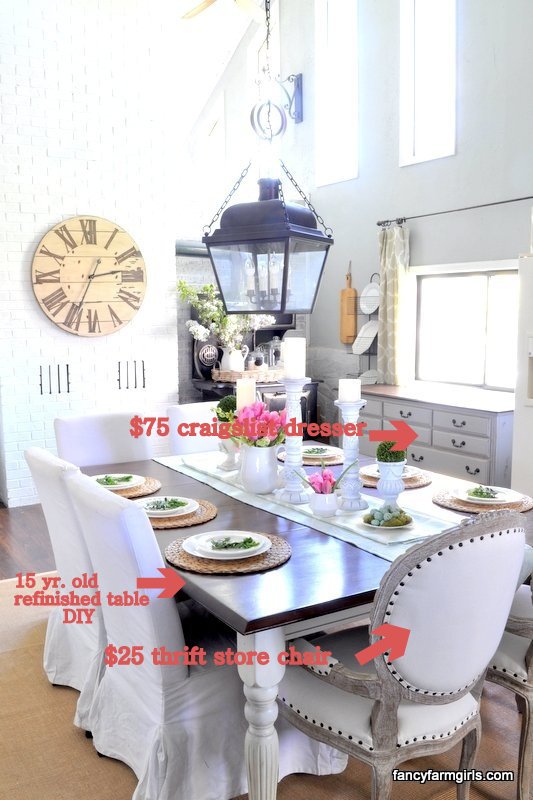 Kitchen costs:
$316
Moving upstairs,
When the hubby became certain he NEEDED a bigger tv,
We pulled together a craigslist dresser and two matching bookcases and created our own custom media center.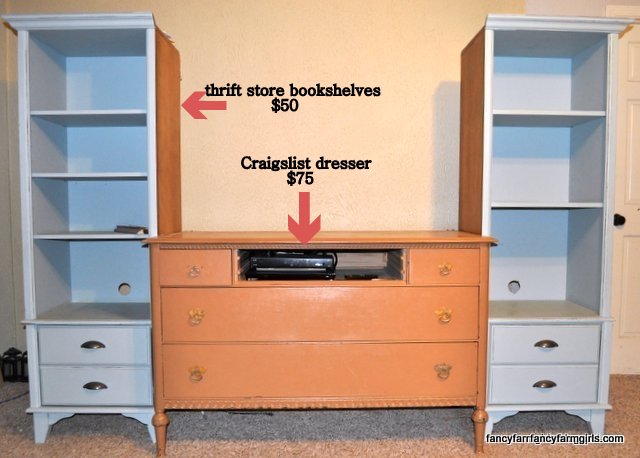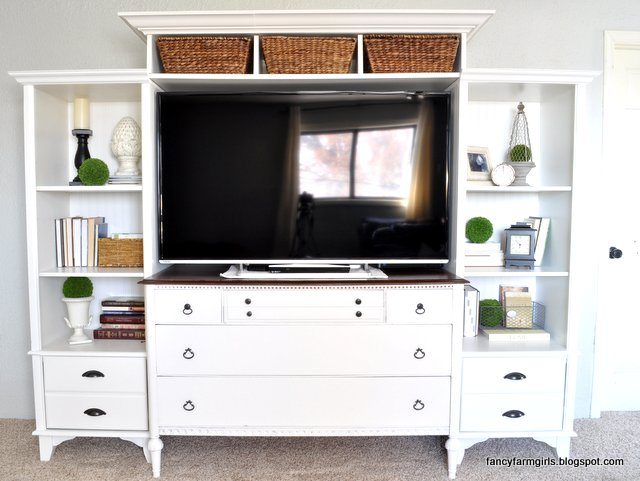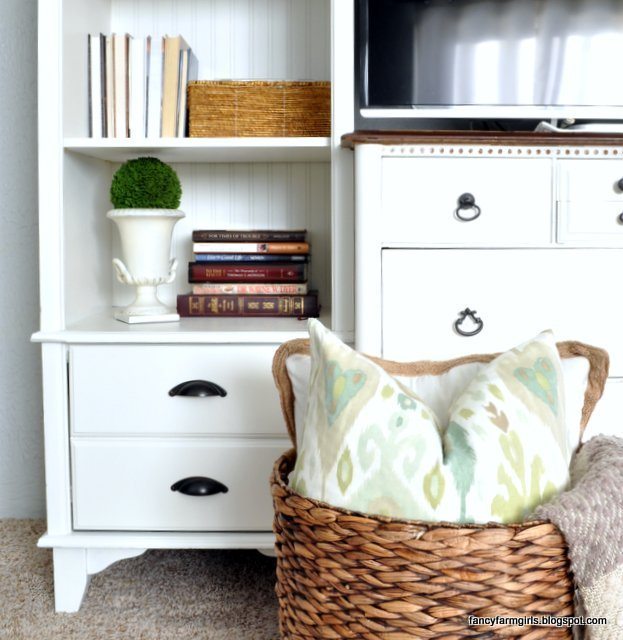 Cost of media center makeover:
$198.77
To see the how to go, Here
Our favorite room in the farmhouse,
Our childhood bedroom,
was furnished with 100% second hand finds for the hard furnishings.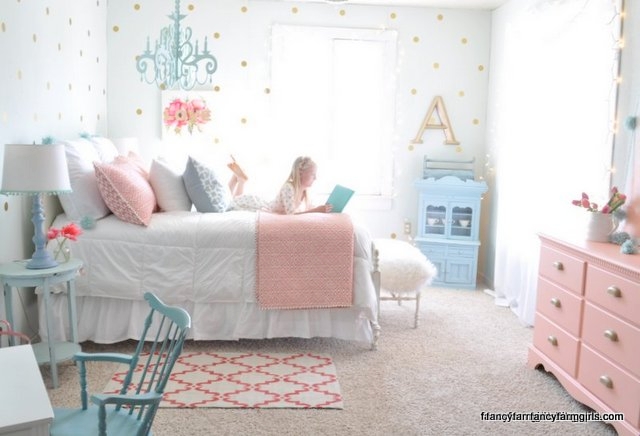 This used to be the living room of the original farmhouse before our Dad added a large addition thirty some years ago. Once the addition happened our sisters took it over and one by one they moved away to college as we worked our way out of the basement into this room.
It's a nice spacious room which left some good yardage for Liz to hurl shoes at me when she was angry!
For shame!
Peel and stick vinyl dots add some fun personality to the room.
Dots from HERE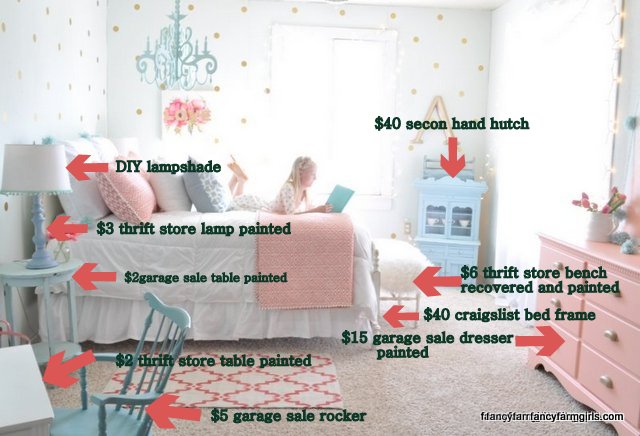 Total Bedroom furnishings cost:
(hard furnishings)
$113
Overall cost of the majority of our farmhouse furnishings:
$1,345.77
Moral of the story:
You can furnish a home that fits your style for less!
And
I'm the friend who will never judge you for your house being in shambles.
It makes me feel better about my own chaos 🙂
But I may twitch a little when I see your beaten up coffee table that just needs a thirty minute paint job to bring it back to life.
Just paint the poor old things!
See more frugal makeovers and Liz's new farmhouse build on our blog HERE
Follow us on Instagram at Fancy Farmgirls
and Facebook