Hi there, All Things Thrifty readers!
We are crazy excited to be added among the happy family of contributors here!  We are Zest it Up, a couple of gals who have ventured into the worlds of blogging, catering, and designing….well, pretty much we tackle whatever we can get our hands on.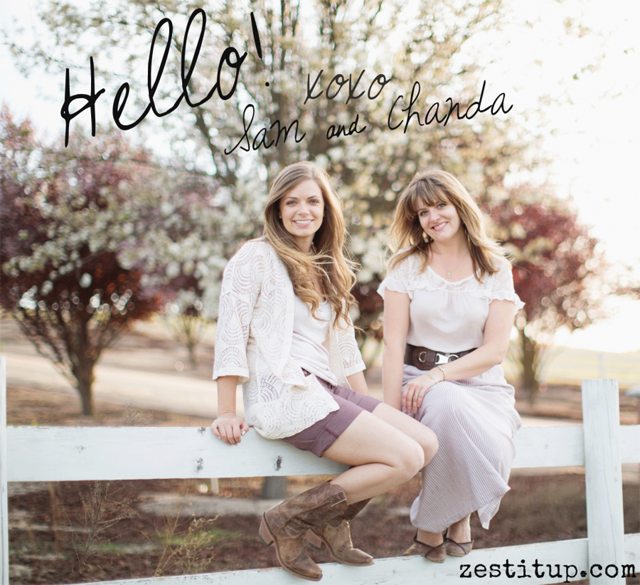 Sam and I are friends who got tired of saying "someday" about our dreams, and decided to switch things up to "someday today!"  As Zesters and fellow thrifters, we literally began our company with the cost of a couple of cans of spray paint and some gorilla glue, transforming a side of the road, beaten up desk into something special.  (And guess what!  We turned around and sold it for somewhere in the ballpark of $250….KA-CHING!)  I guess you could say our seed money was practically the size of a mustard seed, and we are totally jazzed to see how it's growing!
Blogging on zestitup.com for the last 2 years, Sam and I continue to bring that same knack for thrifty zesting to an array of projects that venture from the kitchen, to décor and trends.  Our biggest thrill is when we get the chance to take a discarded object and turn it into a treasure.
That brings us to this first project that we want to share with you.  How about a junked door and a simple pallet?  Everyone loves pallets, and here is a new way to make something fabulous for the garden or the home!
Let's dive in…
Supplies:
large pallet
2 x 4 (two)
wheels (4)
old door
drill
measuring stick
screws/bolts/nuts/washer
long metal supports for the sides (ummm, yah, don't know a more technical name)
mattress
quilt
grommits & eyelits/hammer
twine
pillows
First Chanda Panda started with her muscle power to remove nails from the pallet board to create one larger platform for our bed. Since we want a daybed big enough for a twin size bed we needed to combine two smaller pallet boards…check it out below!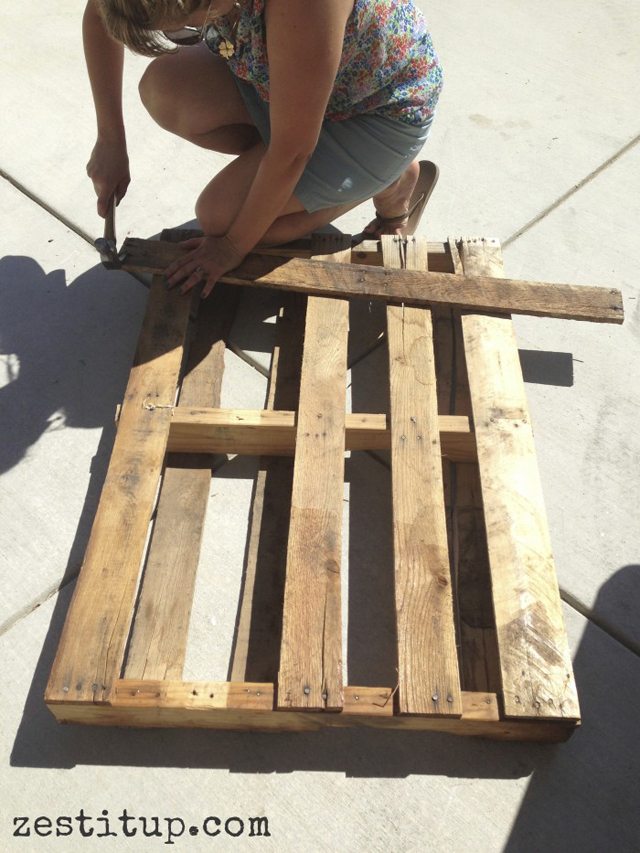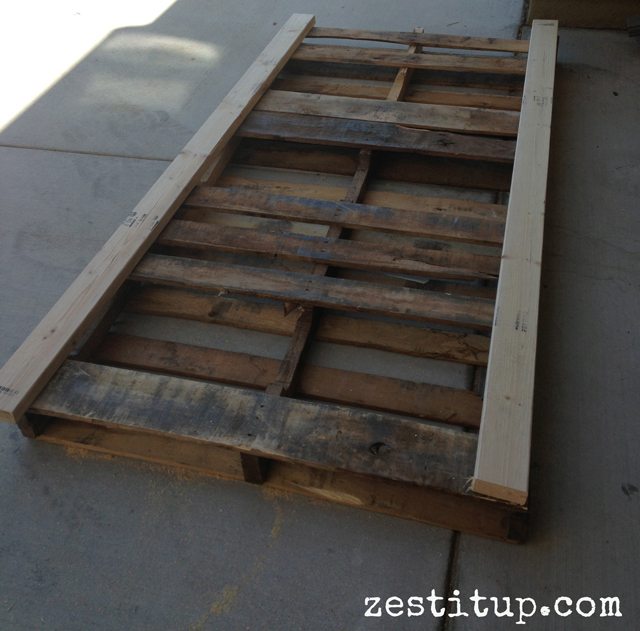 We have our two smaller pallet boards and we are attaching a basic 2 by 4  them with screws to make one larger platform to hold the mattress.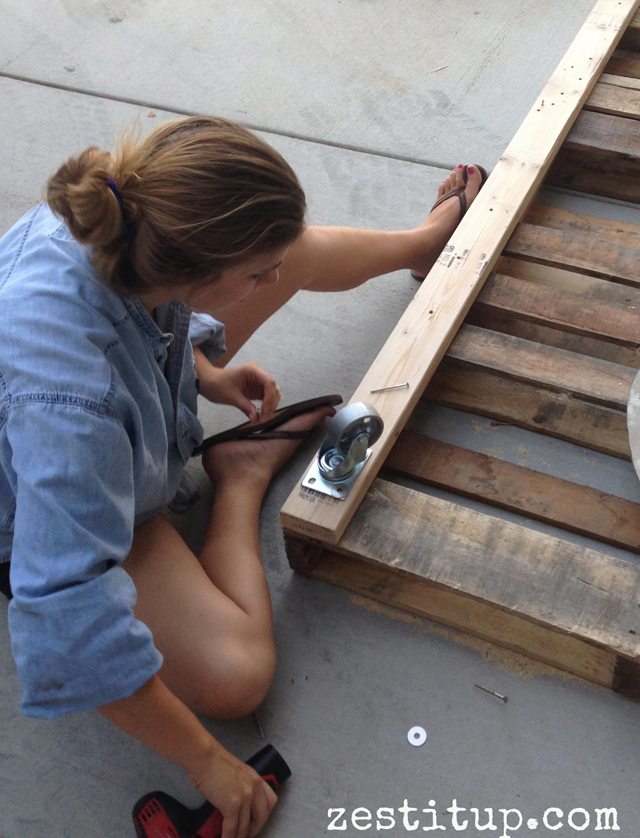 Next up Sam is adding some spiffy wheels to make our pallet bed easy to move around in the space- also elevating it off the floor a bit.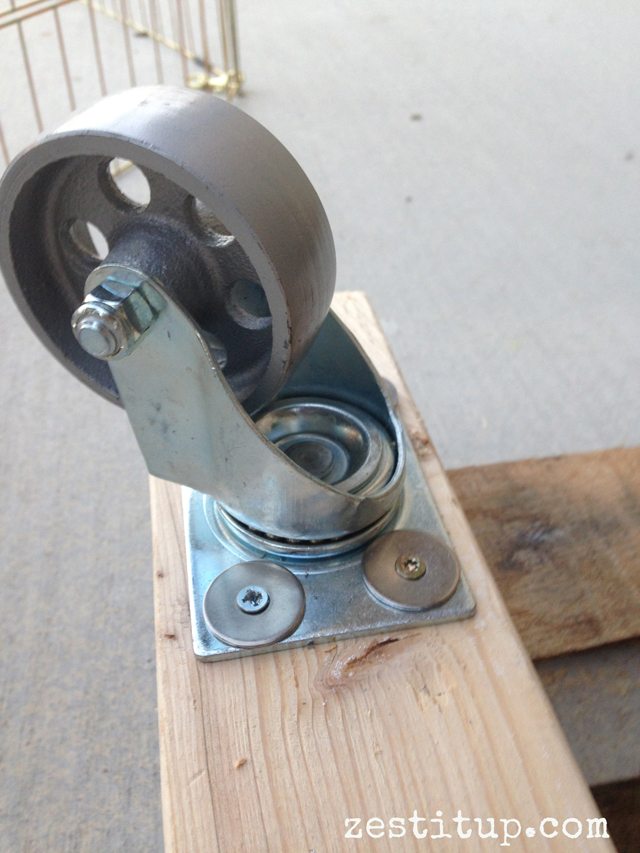 Wheels- check!
Now it's time to lay the door next to the pallet board base and measure exactly where we want to attach the bolts that will hold our "headboard" door into place.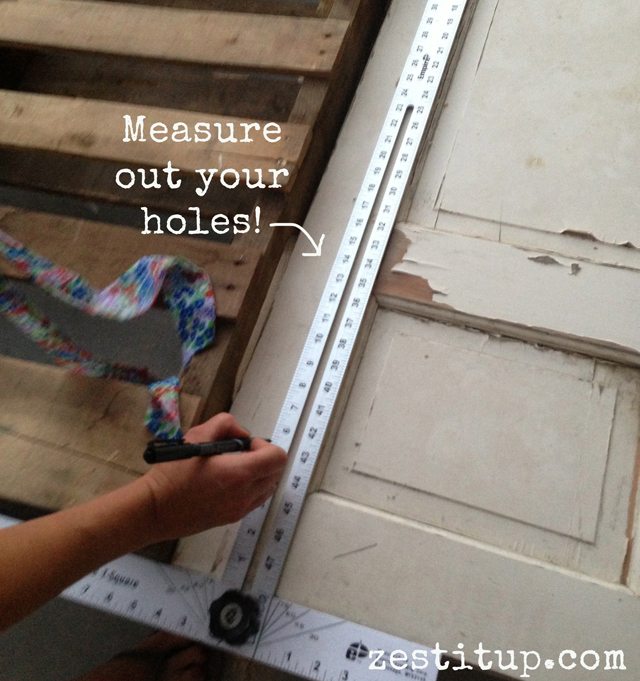 We are marking these spots with a sharpie along the door to know where to drill holes later. We spaced our bolts about every foot or so….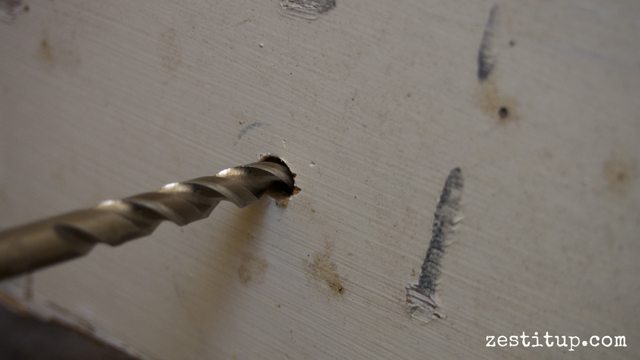 Time to drill the holes for our bolts to sink into and hold the door into place…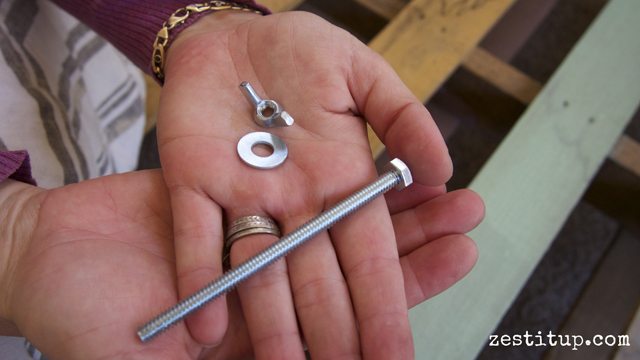 Got all your tools?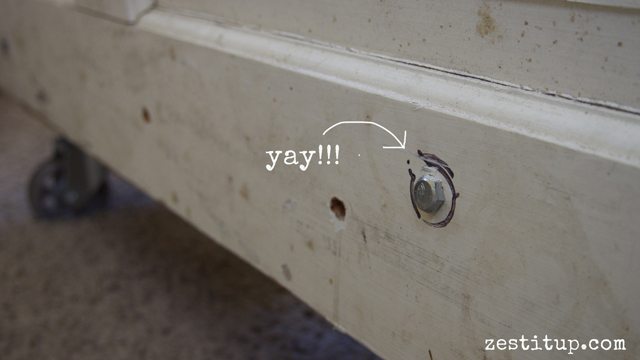 This next step can be tricky- be sure to grab hubby or a friend to help hold the door while you slip your bolt through the hole and then tighten into place on the other side of the door, we are VERY visual so these pics will say it better….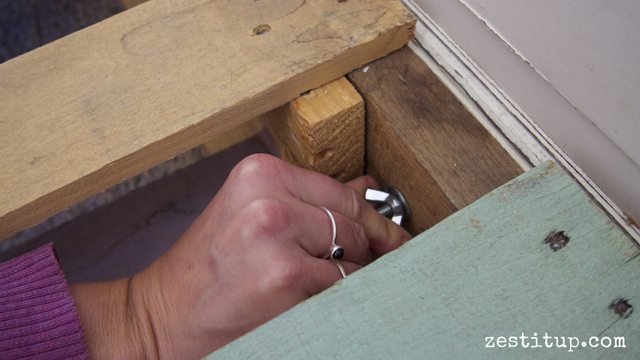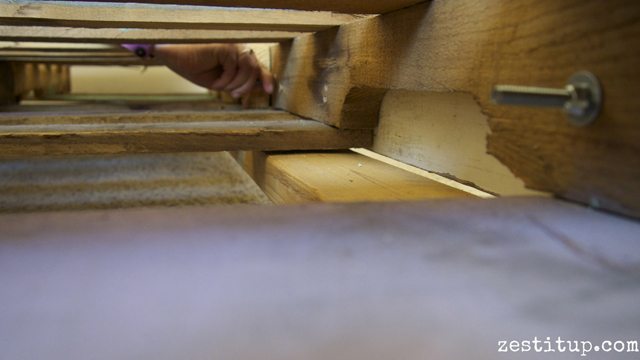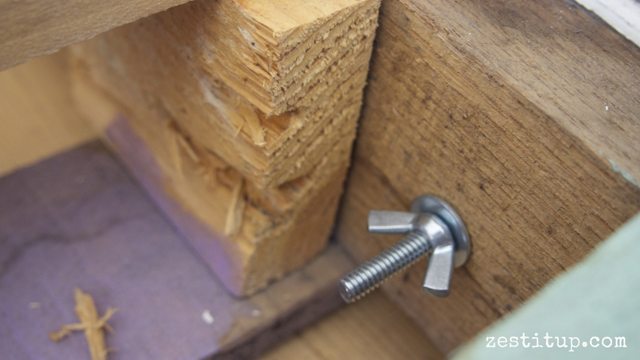 Got your door in place and secure??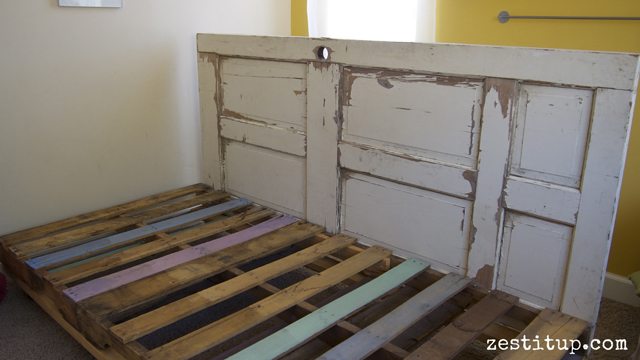 So now that we have the main structure of the door set, time to zest up your mattress!! We had an old mattress from my college days that we were able to snag. But now to make a cute cover…we decided that we needed something durable and cute. After a quick trip to Goodwill we scored this beautiful quilt for only $5 and made our own lace up system to cover the mattress….
Got your grommet tools? Let's add grommets along the edge to lace up the quilt…
Got your blanket turned into a corset?? Snazzy ehh! Makes cleaning easy too- phew!
I think the best part about this little thrifty find was that we saw the same quilt at Bed Bath & Beyond a week later for wayyyyyy too much $$$
Score!
You ready for the final reveal??
We made this daybed for a Secret Garden Bridal Shoot we designed- it was perfect for the bride to lounge on while enjoying mimosa's with her girls on her big day!!
(Do you see those "long metal supports" that we scored at Home Depot for the side supports?
They help take the weight when someone leans back.  Just a few screws and voila!)
But of course now we get to "store" it in our craft room that we often video blog in- whoop whoop!
Thanks for zestin' up your Tuesday with us!!
We love to bring flavor and charm to the kitchen, home, your next special event- and even closet! Check out these zesty ideas below…
We can't wait to show you more fun thrifty ideas soon, but in the mean time check out more zest over at zestitup.com!!
xo
Sam & Chanda
Facebook / Instagram / Pinterest / Tumblr / Twitter