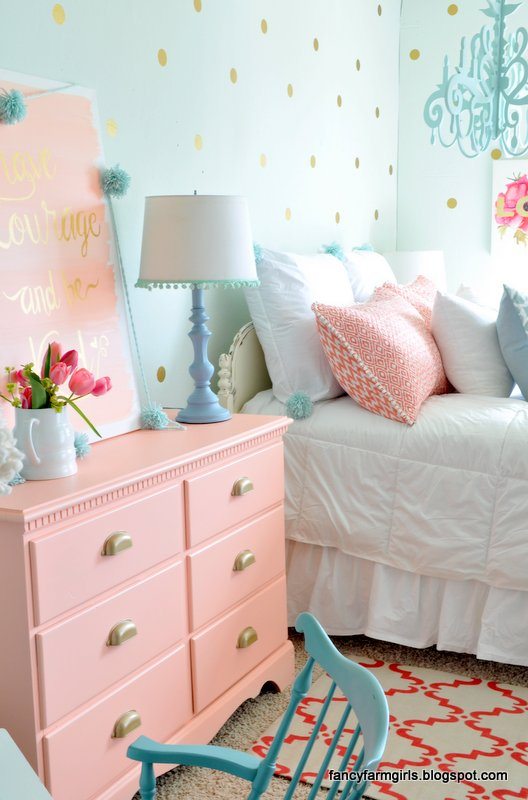 Once upon a time,
a hardworking farmer needed a home to house his many children.  Nine to be exact.
He found a quaint farmhouse that had a date with a wrecking ball,
until,
he stepped in to save it.
He had the house moved to his farm where it became a home for raising those nine children, alongside his wife
and lots and lots of cows.
 We, the Fancy Farmgirls,
 were the middle children, in that bundle of kids.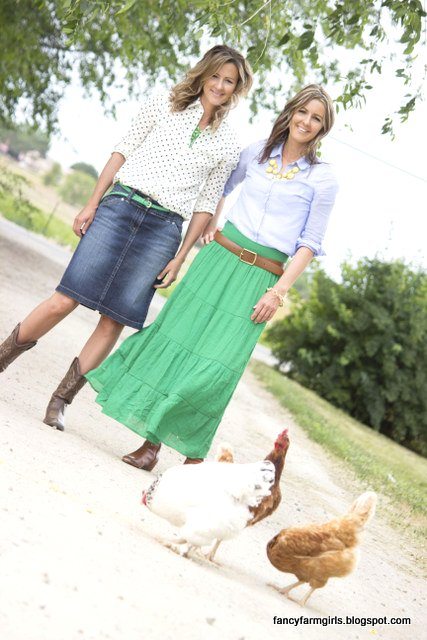 "Middle child syndrome" isn't as rough when you've got a twin sister to go through it with you.:)
We loved our home, but never quite imagined that one of us would call it "home" again.
That's another story for another day,
but 5 years ago, Liz moved her family back into the farmhouse.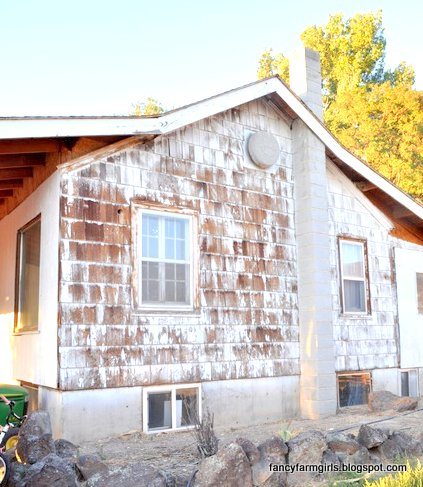 and yes,
there are still parts of the home that look like they are STILL destined for a date with the wrecking ball:)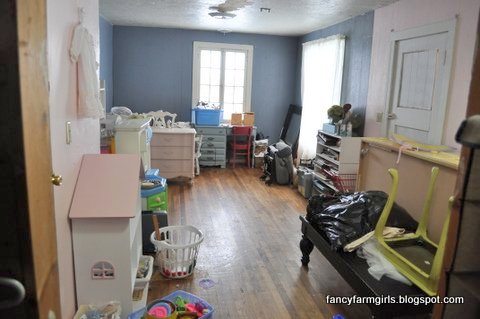 This room with its peeling plaster ceiling and paint splattered floors
quickly became the catch all "storage room"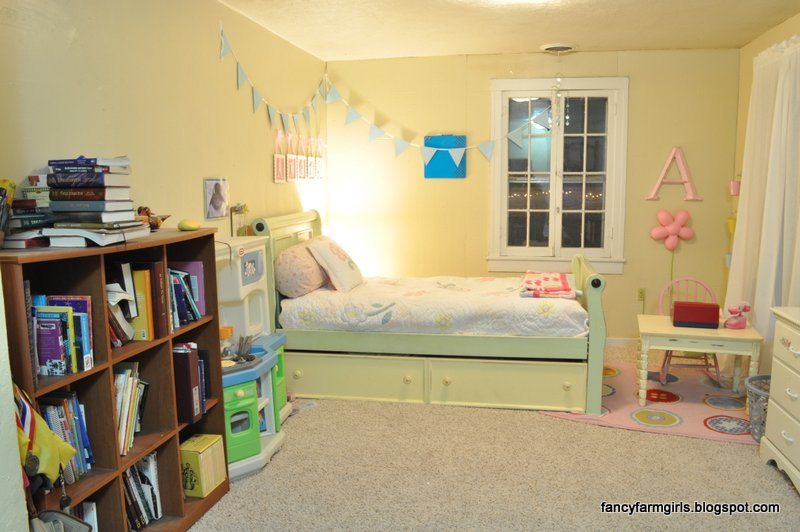 It slowly evolved into a girls room/catchall storage room.
It's enough to make a girl feel like throwing up her arms in defeat,
but, instead,
Liz threw on the paint!
A cheerful girls bedroom using ONLY second hand furniture.
First order of business,
color and personality for the walls!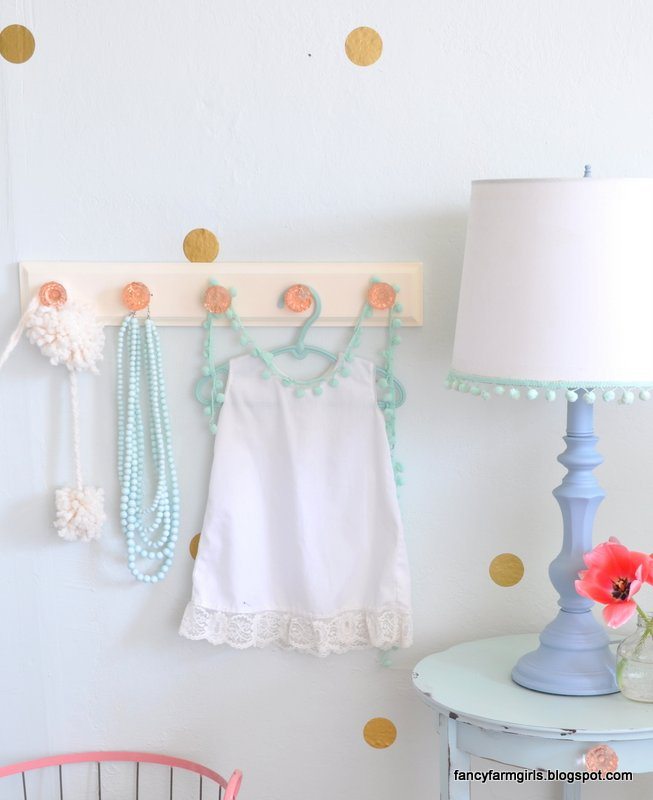 wall color: Sherwin Williams Windowpane 6210
add on gold wall vinyl dots and you've got
fun, quick personality!
This rug was the jumping off point for the rest of the room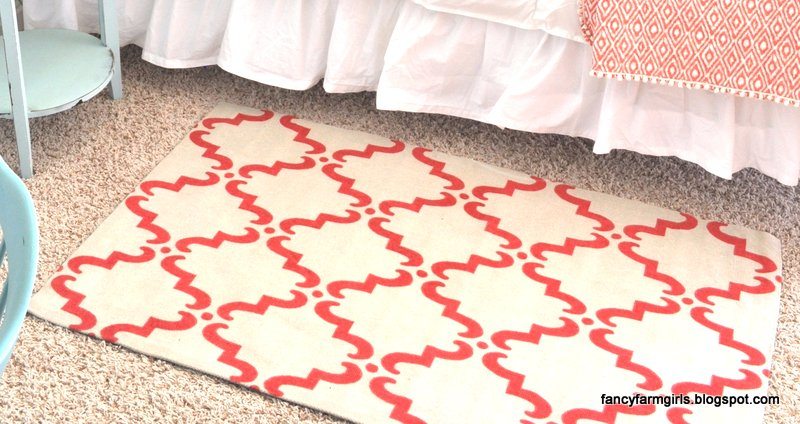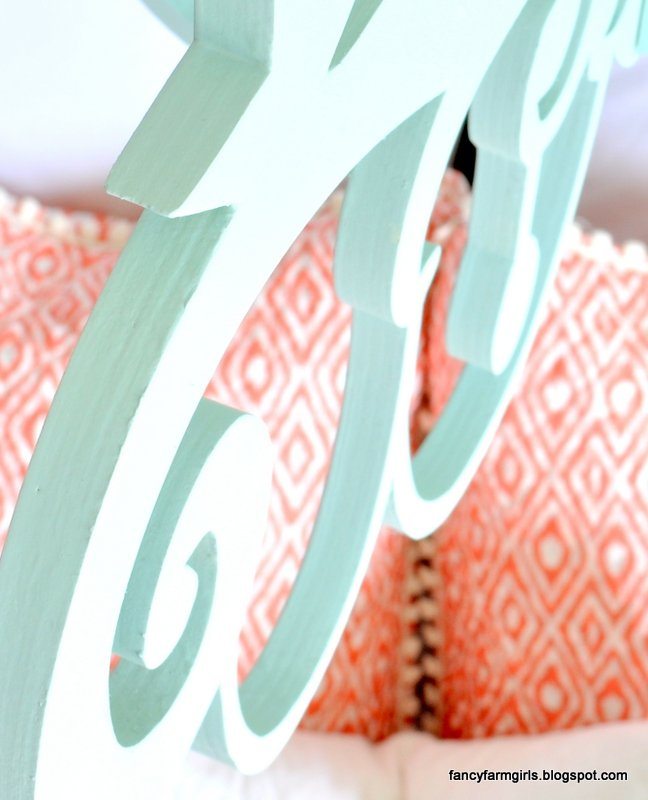 And this color combo was our inspiration.
And remember, all furniture is second hand.
100%!!!
They just needed a makeover to bring them all together.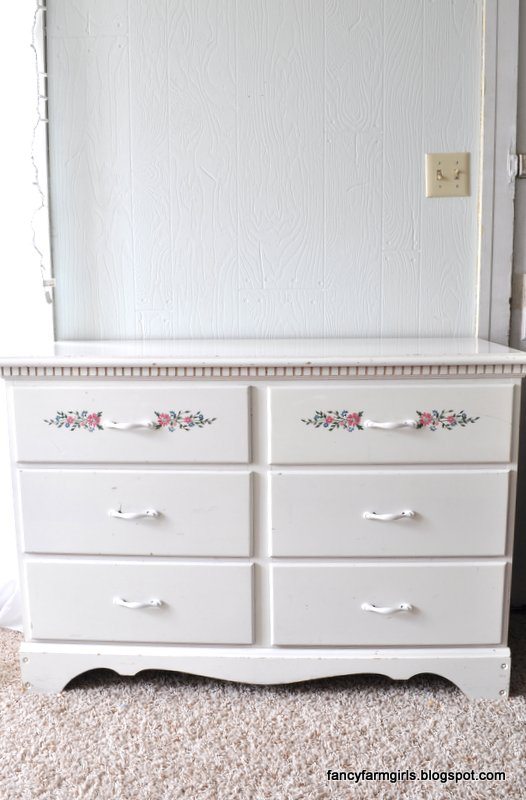 I've had this garage sale find dresser for years and all though it's not overly obnoxious,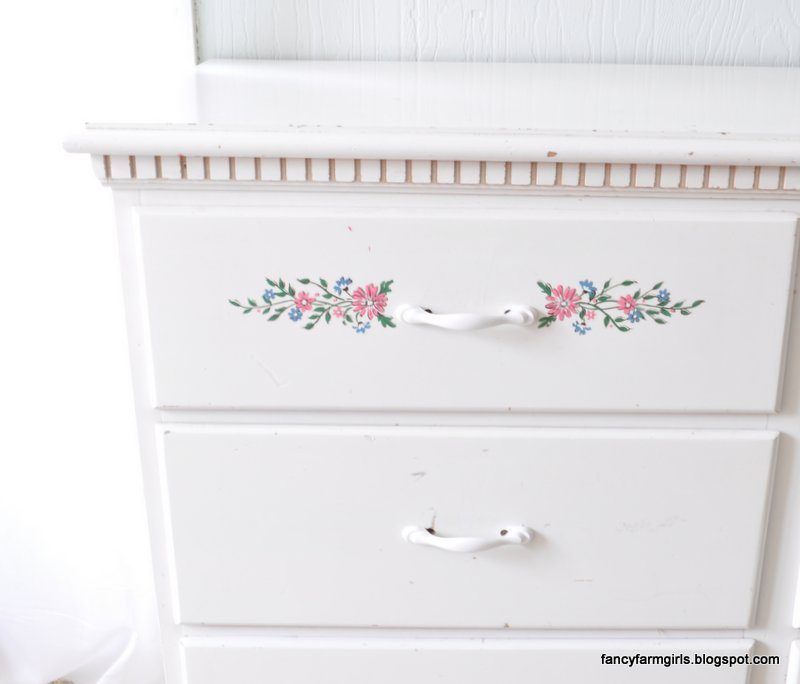 The flower stencil wasn't me and the previous owner had changed out the hardware with pulls that didn't fit.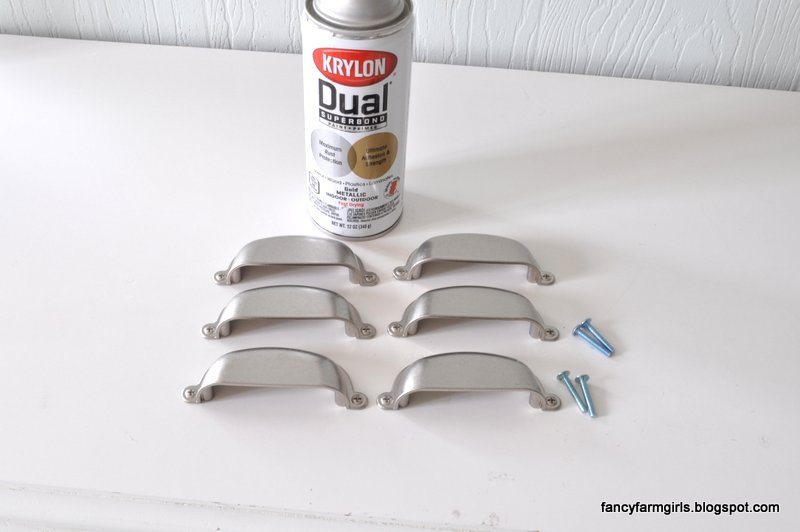 To stick with our gold theme,
these pulls got a spray paint makeover and the dresser, a fresh coat of paint.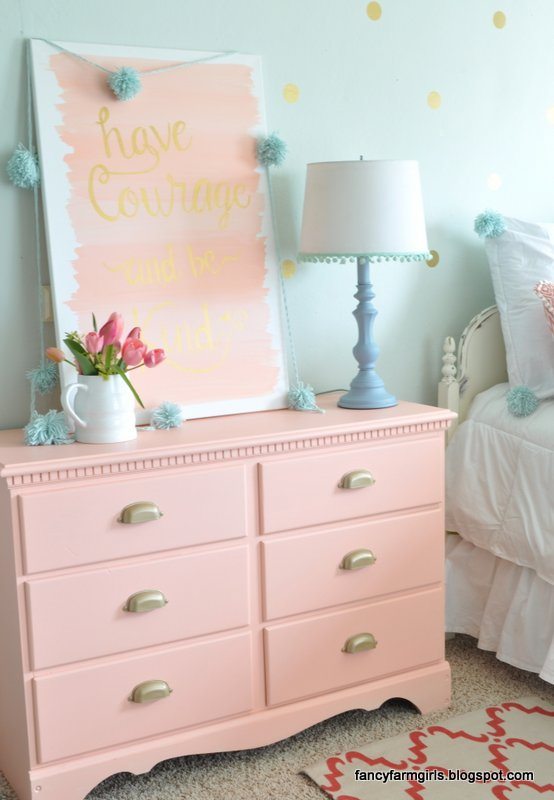 Dresser  After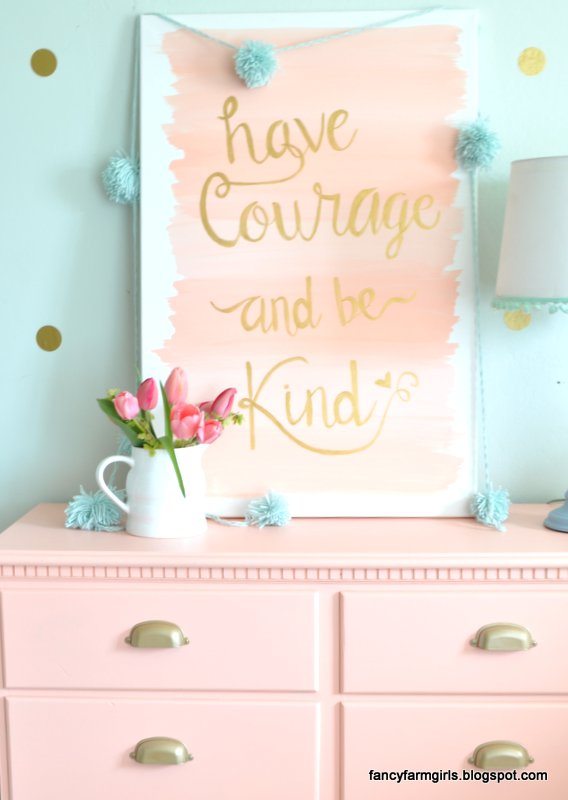 The art piece for over the dresser is hand painted  by using various shades of our dresser color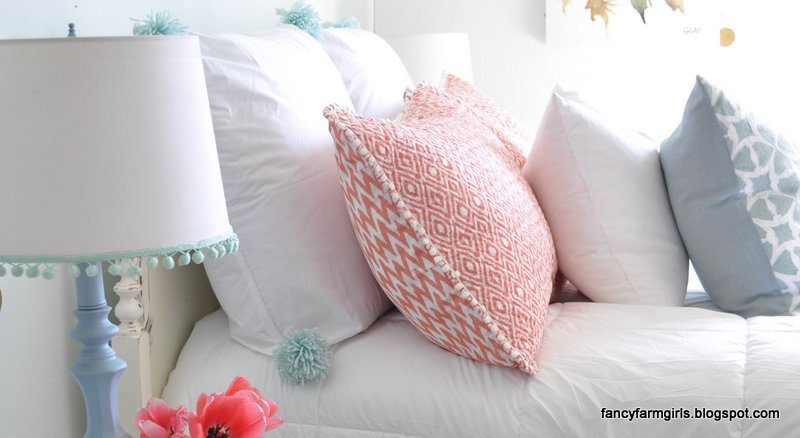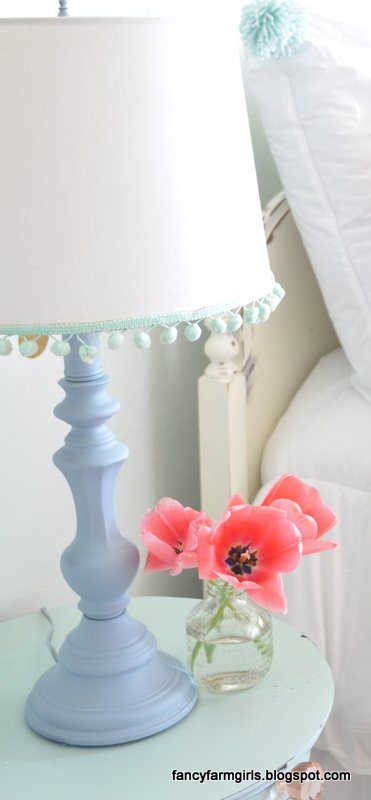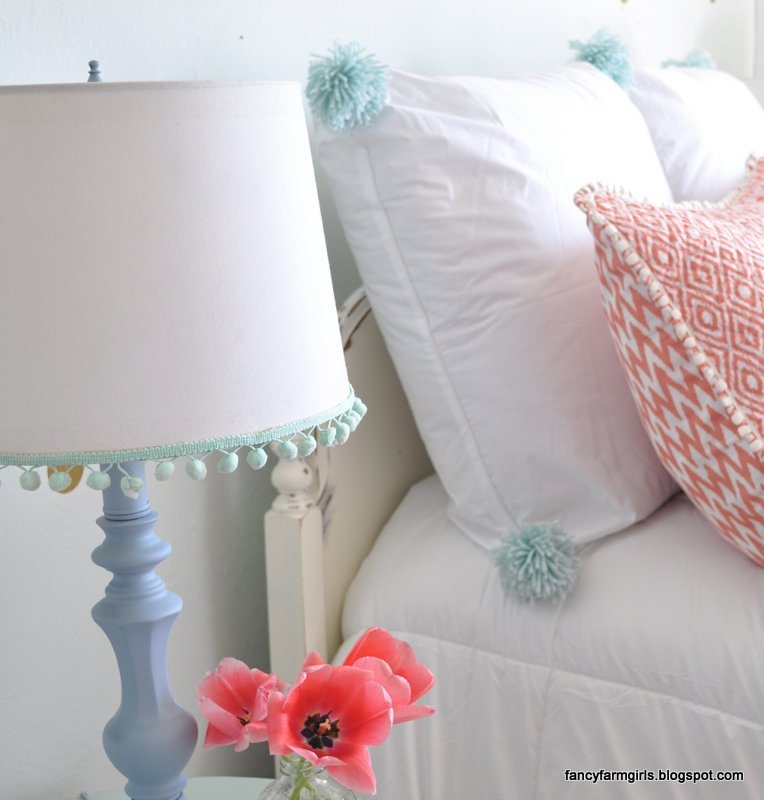 We adorned plain pillows and lampshades with coordinating pom poms.
Can a girl have too many pom poms?
We think not!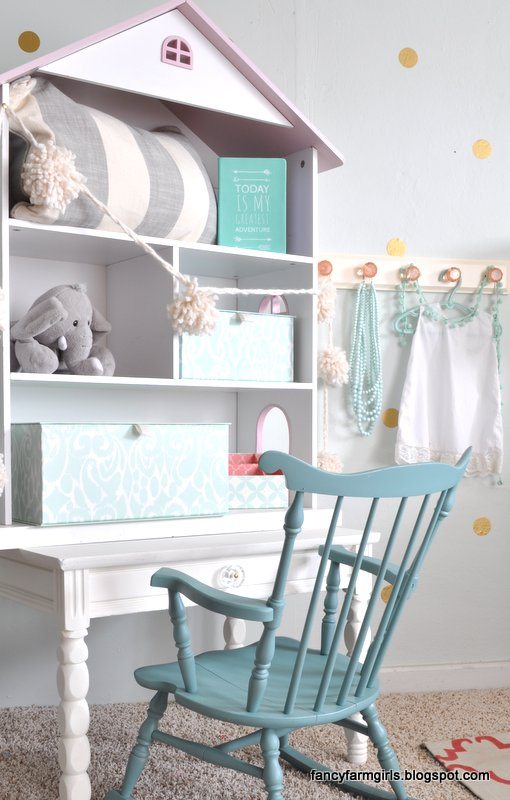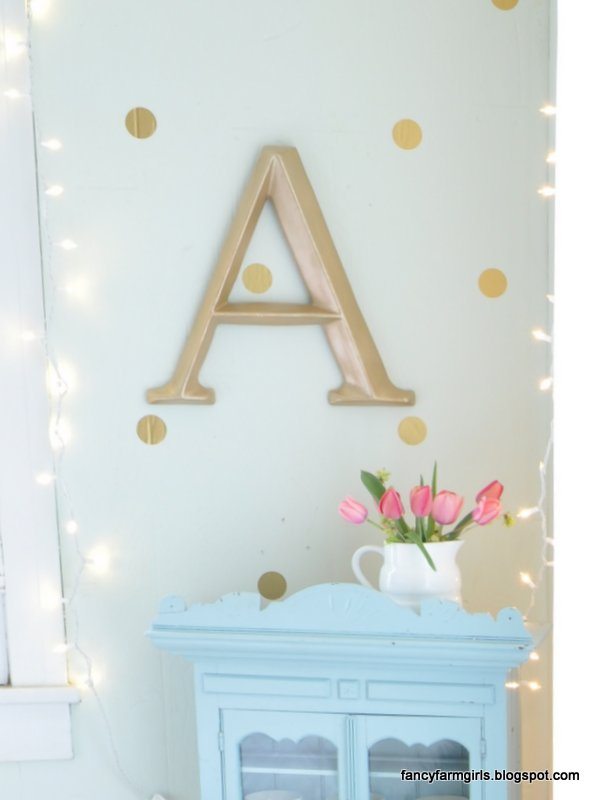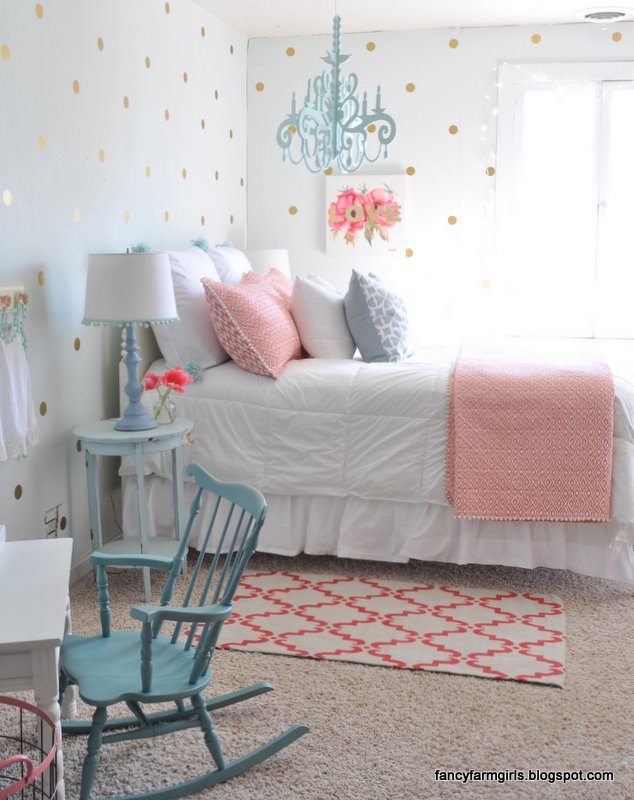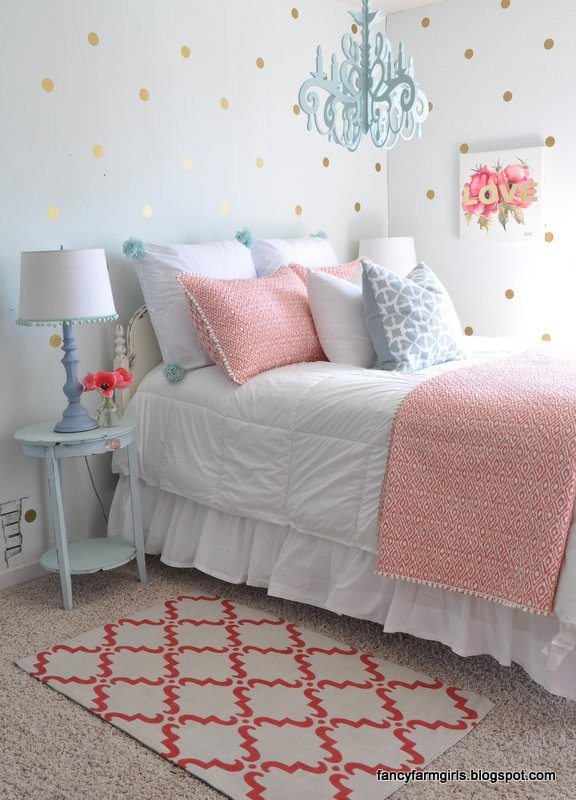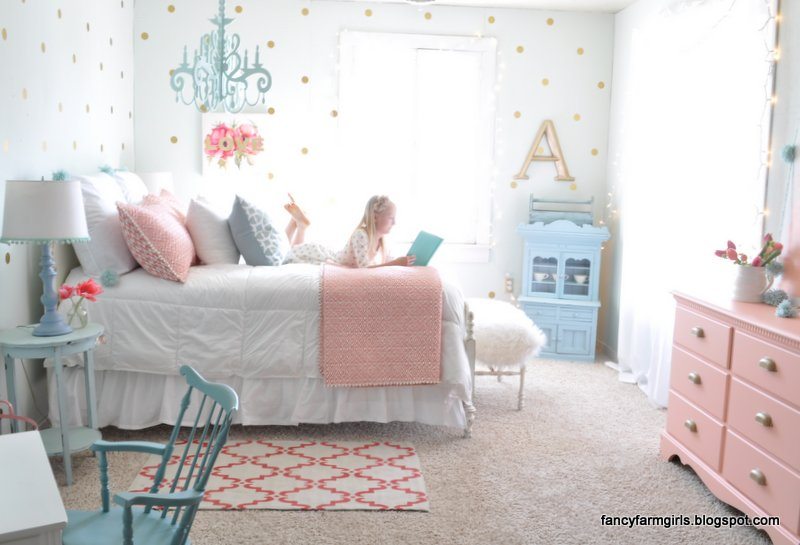 I think the local resident agrees!
I just might move in and be her roomie!
Most of these furnishings have gone through multiple
makeovers in order to fit in with new rooms, new looks and changing tastes.
There's no need to feel like a new makeover requires new furnishings.
Just new paint!
Come see all our painting adventures at
or follow us on Facebook at Fancy Farmgirls Sale
and  Instagram!
at: Fancy Farmgirls
Check out the story of the farmhouse
Here:
http://fancyfarmgirls.blogspot.com/2014/09/our-farmhouse.html
Or
what we make when the roof shingles blow off!
Here:
 http://fancyfarmgirls.blogspot.com/2015/02/ballard-designs-knock-off-shingle-mirror.html
Walls: SW Window Pane
Dresser color:  Valspars Fuzzy Peach (mixed 1/2)
Nightstands, chandelier: Valspars La Fonda Mirage
Lamps: Valspars silver fox
Rocking Chair: Valspars Secluded garden
Bedframe and bench: SW Summer White
Bedding and pillows: Home Goods and Marshalls
Now go forth and paint!